Our Snowbird Trek to the Sunshine State began before dawn. And Dalton Georgia was our first overnight destination.
We love getting an early start on road trips, and watching the sunrise is a new beginning each day.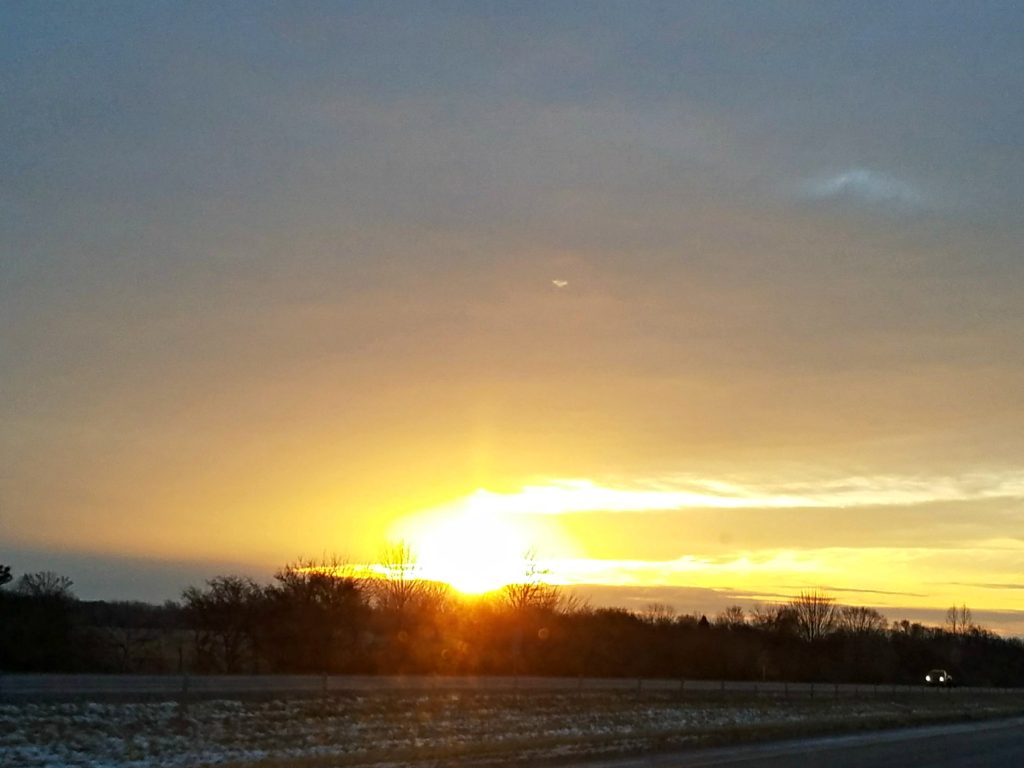 I bet OUR road trips are different from just about everyone else's on the planet. You see, we travel without ever turning on the radio or to books on tape, or to any other distraction. We actually TALK to each other. (A novel concept, eh?) I use my smartphone to dredge up topics for us to discuss…and the miles simply melt away. And sometimes peaceful silence is truly golden on our journey. I guess that's what comes from having been married for almost fifty years. It's a comfortable silence, and the scenery we see along the way leads to even more topics.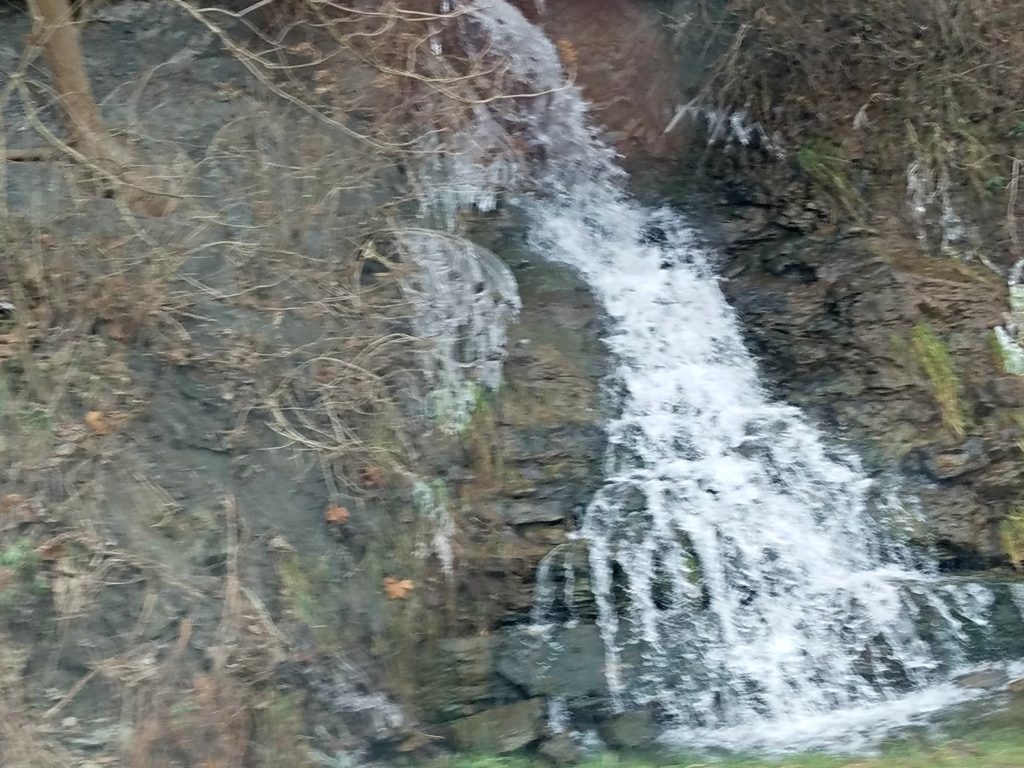 Nature is so amazing. And road trips allow us to see it up close and personal. Like this snowmelt turned to icicles…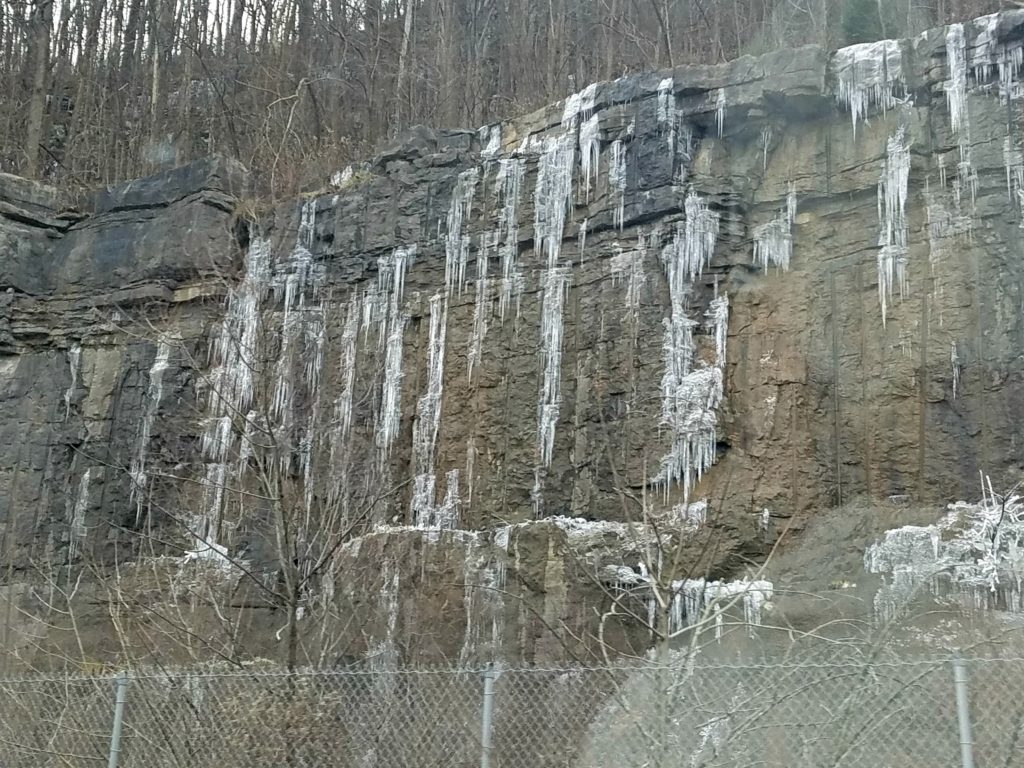 And how about this truck ramp for runaway trucks? Now THAT was a topic we discussed at length! (We wondered what vehicle had made those tracks in the deep sand meant to keep failed brakes from heading over that cliff.)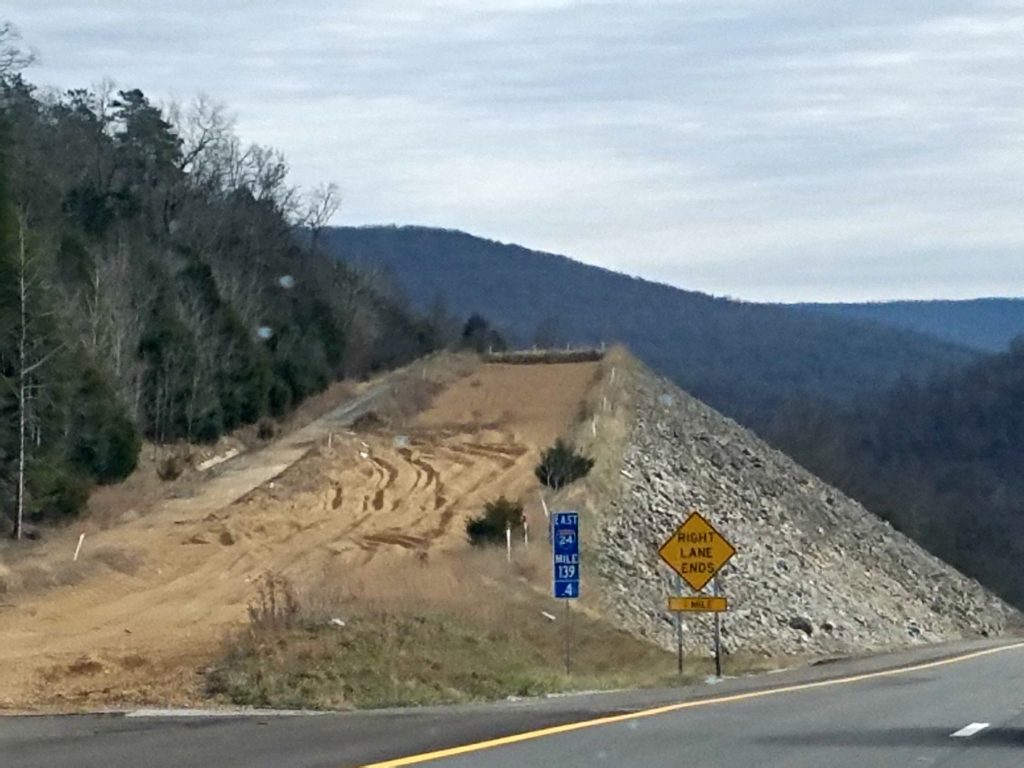 As I said, our destination was Dalton, Georgia that night. We've stayed in Dalton on several other occasions, and we usually stay near the freeway close to O'Charleys where we grab a quick bite to eat before we hit the sack in preparation for our assault on Atlanta early the next morning. (That's the ONLY part of our road trip I dread since the traffic in and around that city is ALWAYS awful! Sorry Atlanta…but you know it's true.)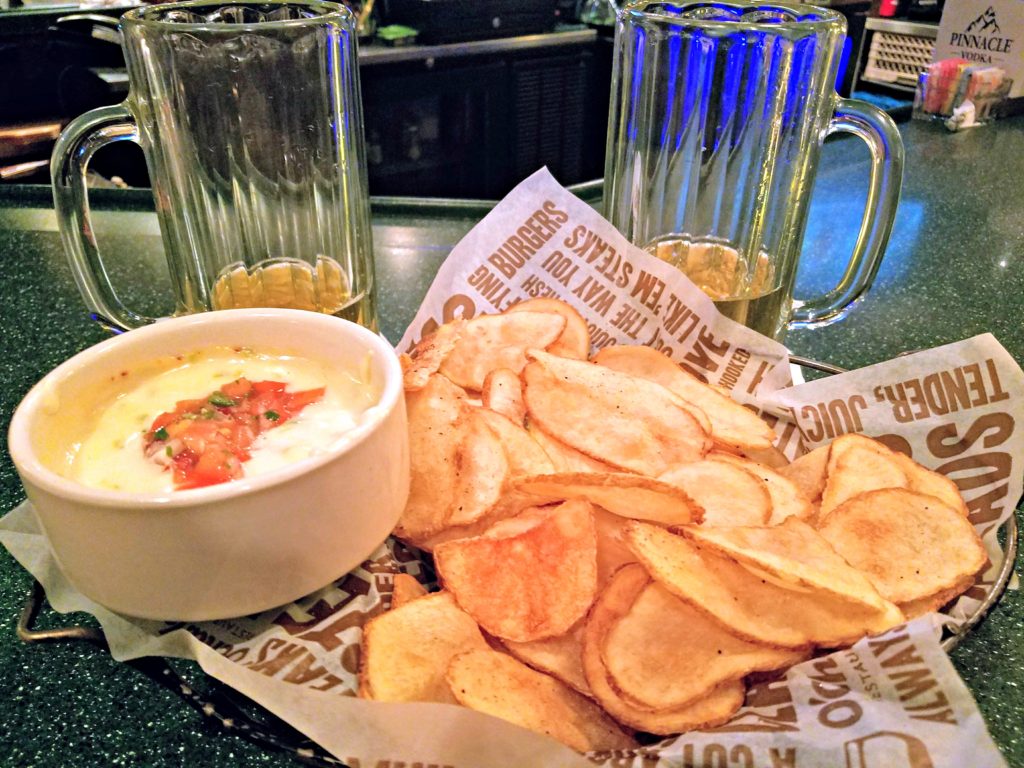 The next morning I asked "Stella" (my smartphone GPS) for some suggestions for a good old fashioned Southern breakfast. And Oakwood Cafe was a top recommendation. (A "local" at the bar at O'Charley's had also mentioned it the night before…so that was a double thumbs up.)
We take the time to drive into towns to look for Mom and Pop restaurants since most places near freeways are of the franchise variety. And the Oakwood Cafe turned out to be exactly the type of place we are willing to drive miles out of our way to find!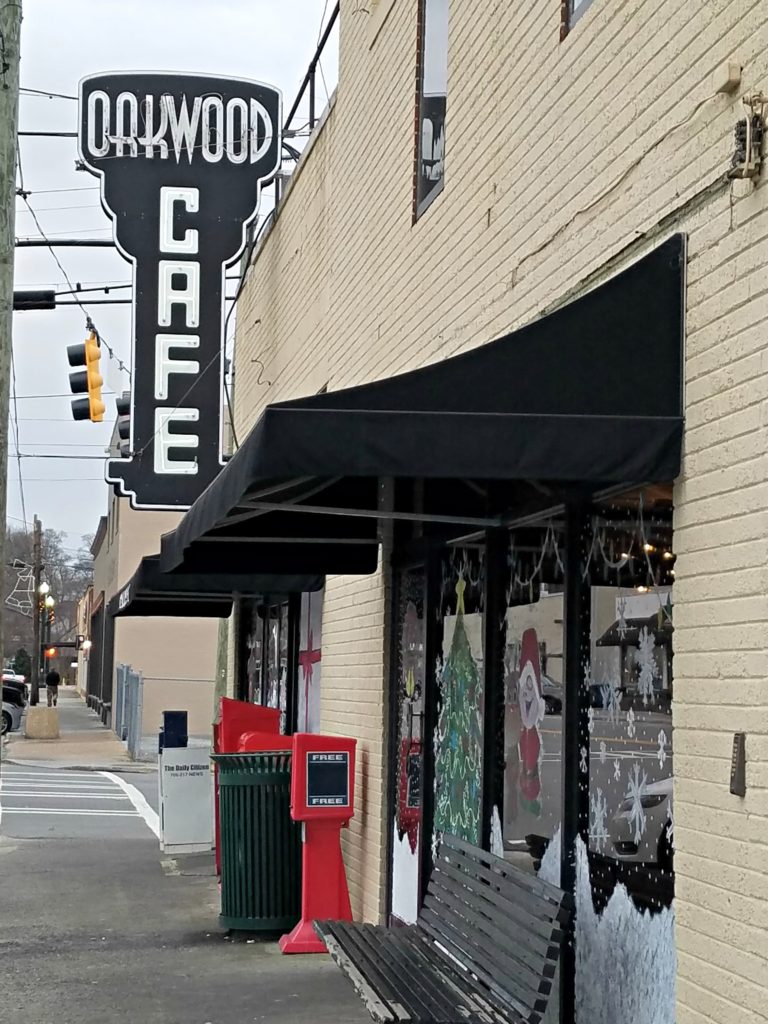 As we walked through the door I loved the open concept of the place. (When the kitchen is in full view it's easy to see how clean and organized the place is.)
The Oakwood Cafe is a modern vibe in a beautiful old Southern town.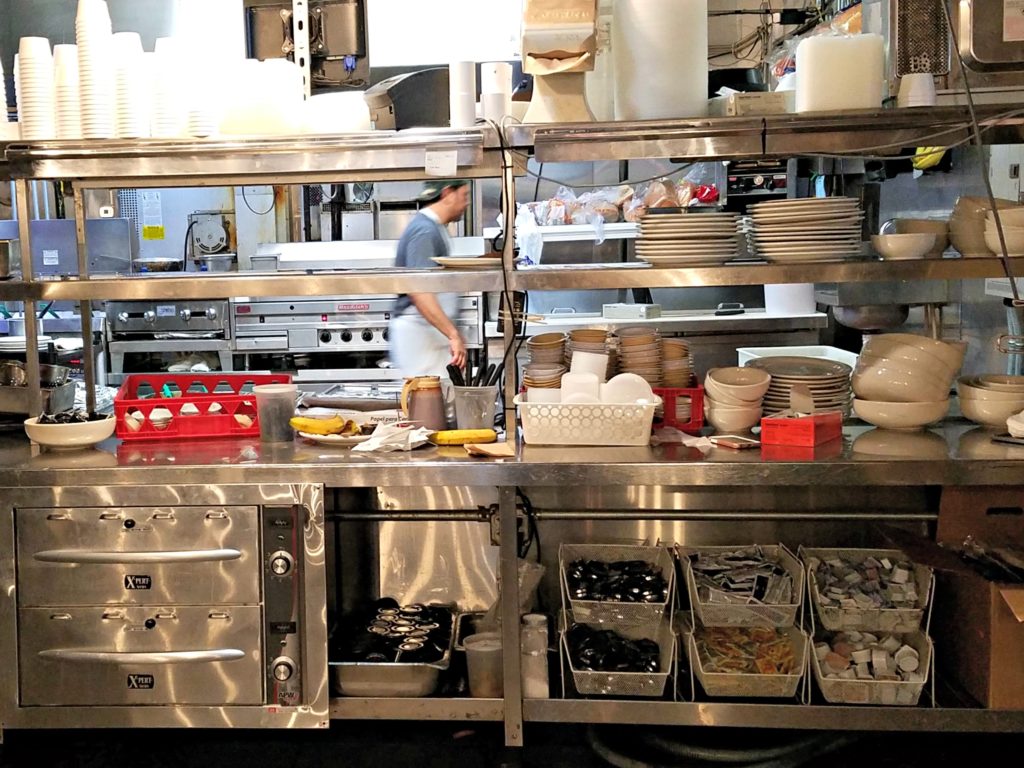 The place was almost empty when we arrived…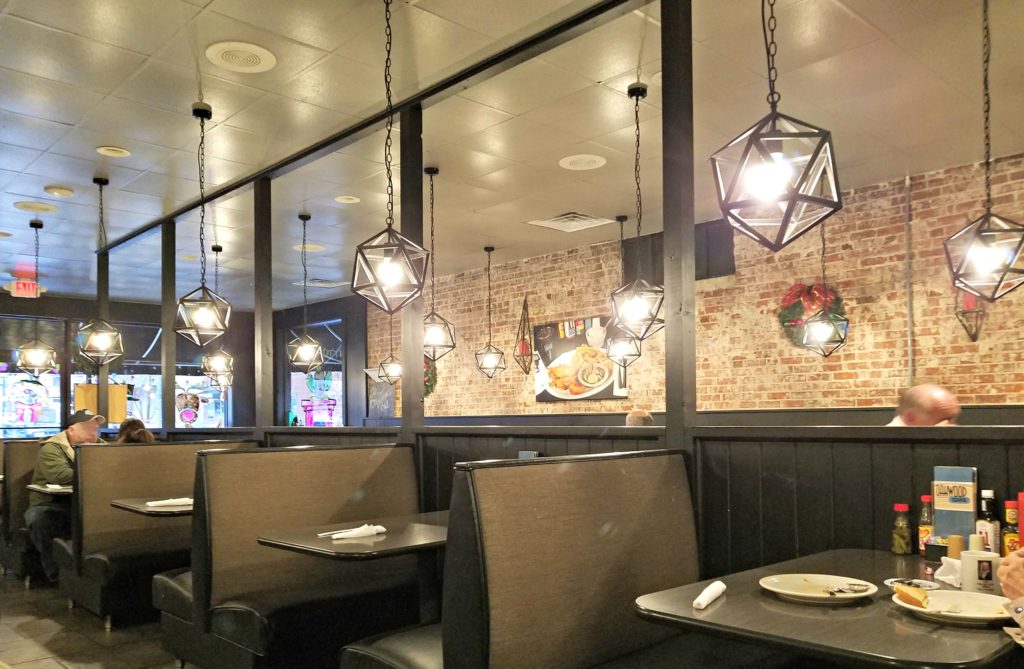 But it wasn't long before it began to fill will "locals" who were heading to work or who just came in like we did…to enjoy a great breakfast.
Now…about that breakfast.
In my old age I have begun to love biscuits and gravy…but not just ANY gravy. I'm a real gravy snop and I'm not ashamed to say so. So here is another MEEMAW TASTY TIP: Don't be afraid to ask for a TASTE of something before you order it!
I asked our wonderful server if I could have a taste of their sausage gravy before we placed our breakfast order and she happily obliged.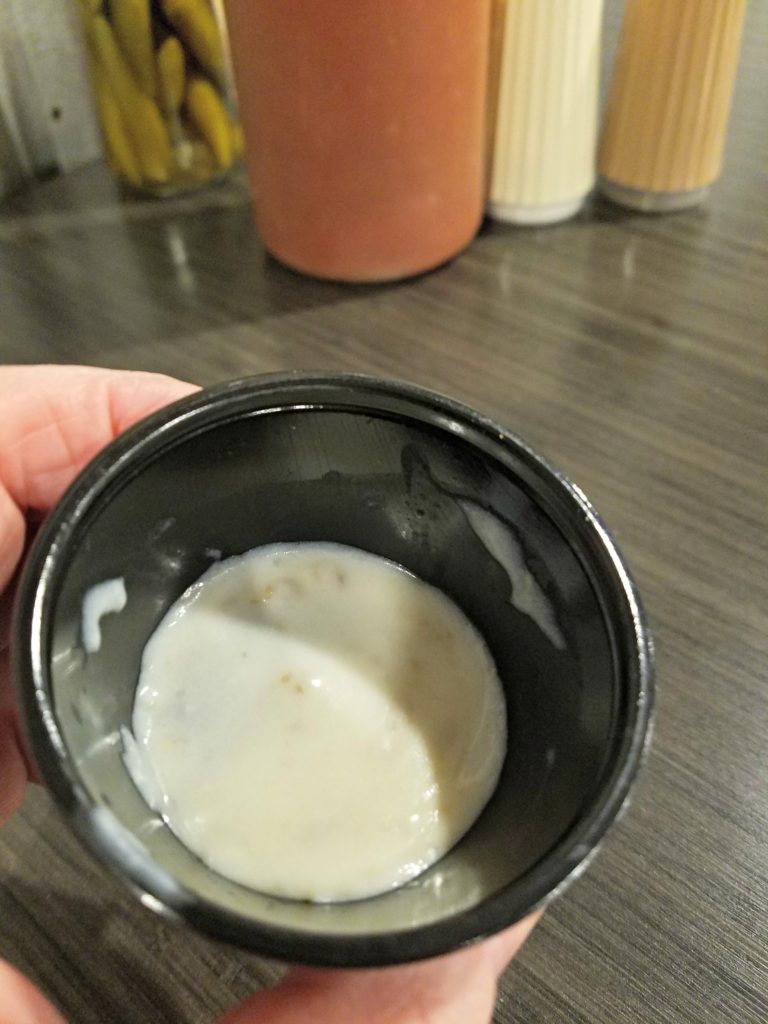 YIPPEE!!! It was DELICIOUS! SO my breakfast order was simple.
And speaking of our orders? The Oakwood Cafe is so modern they even place food and drink orders using a tablet!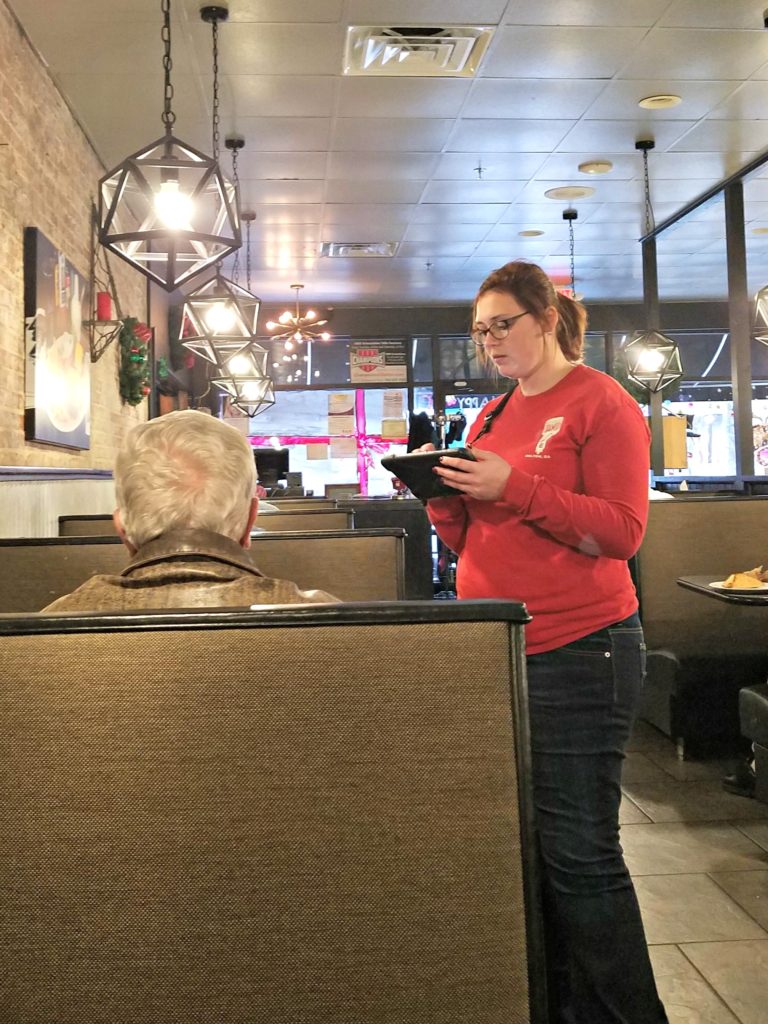 And what did I order? A good old Southern breakfast platter for me!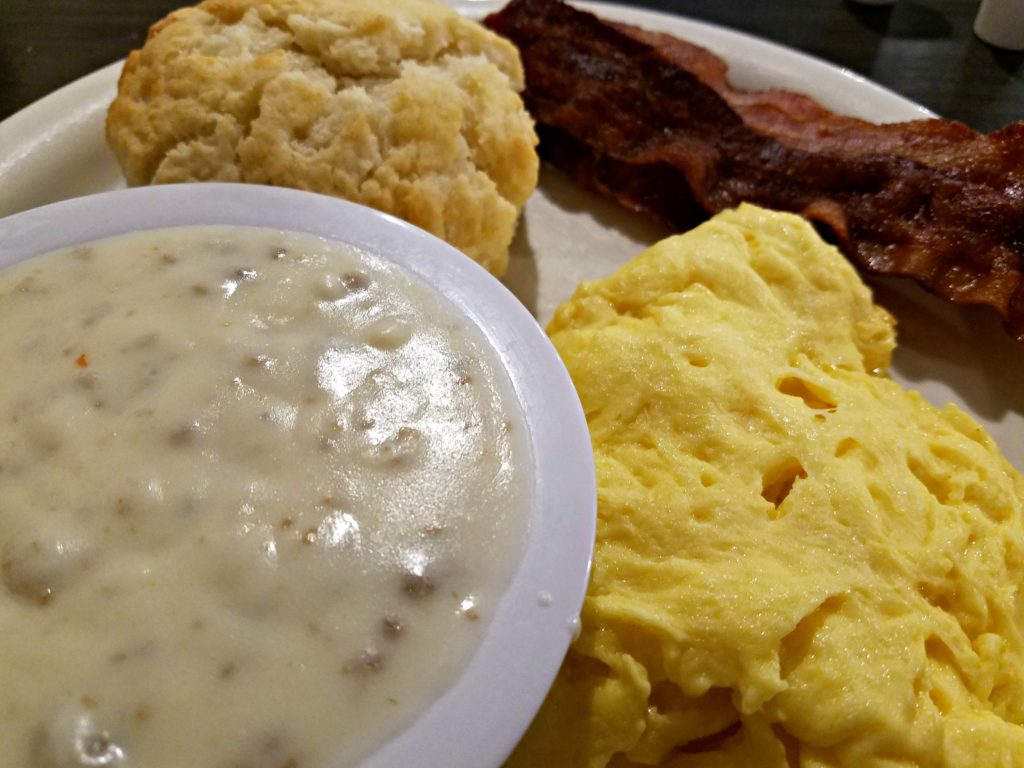 What a wonderful choice! The scrambled eggs were fluffy as a cloud and the bacon was smokey and crisp. And that warm and flakey biscuit?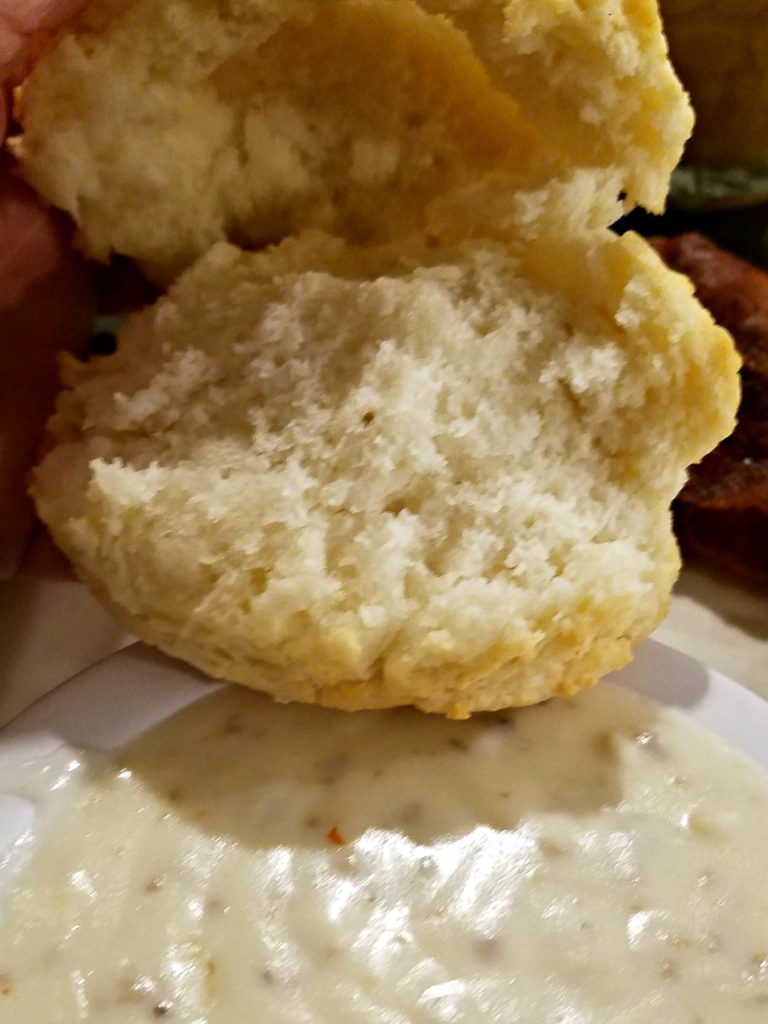 Well…a picture IS worth a thousand of my words! That biscuit and the flavorful sausage gravy were truly a match made in heaven! A taste of the South…in my mouth!
And remember those "locals?" Well, a true Southern Gentleman had noticed our Iowa license plate and he came over to chat since he had an Iowa connection to share with us.
You see, that's what we love about Mom and Pop restaurants. It's a unique way to connect with the "REAL" folks who live in a town. And learning about other places and other ways of life are the spice in every meal we eat on our road trips.
Yes. Dalton Georgia is worth a stop…every time.
Now…About that Atlanta traffic?
Here we go…and wish us luck!