VUE. Sometimes a name says it all.
The best city view in downtown Iowa City is easy to come by. Just head to the 12th floor of the beautiful new Hilton Garden Inn, and when those elevator doors open you'll find yourself at VUE. It's the newest, most amazing restaurant and cocktail lounge in Iowa City. Yes, VUE does have the best views in Iowa City. Period.
Last Fall I had an opportunity to spend a night at the hotel, and I dined at VUE.
(Thanks to Kinseth Hospitality Companies and VUE for hosting both my stay and my meals while at the hotel. But, as always, the opinions expressed in this post are 100% my own.)
As the sun began to set in downtown Iowa City I was anxious to head for those elevators that would whisk our writers group to the restaurant and bar on the 12th Floor. And as those doors opened…the view of the setting sun was everything I had hoped for.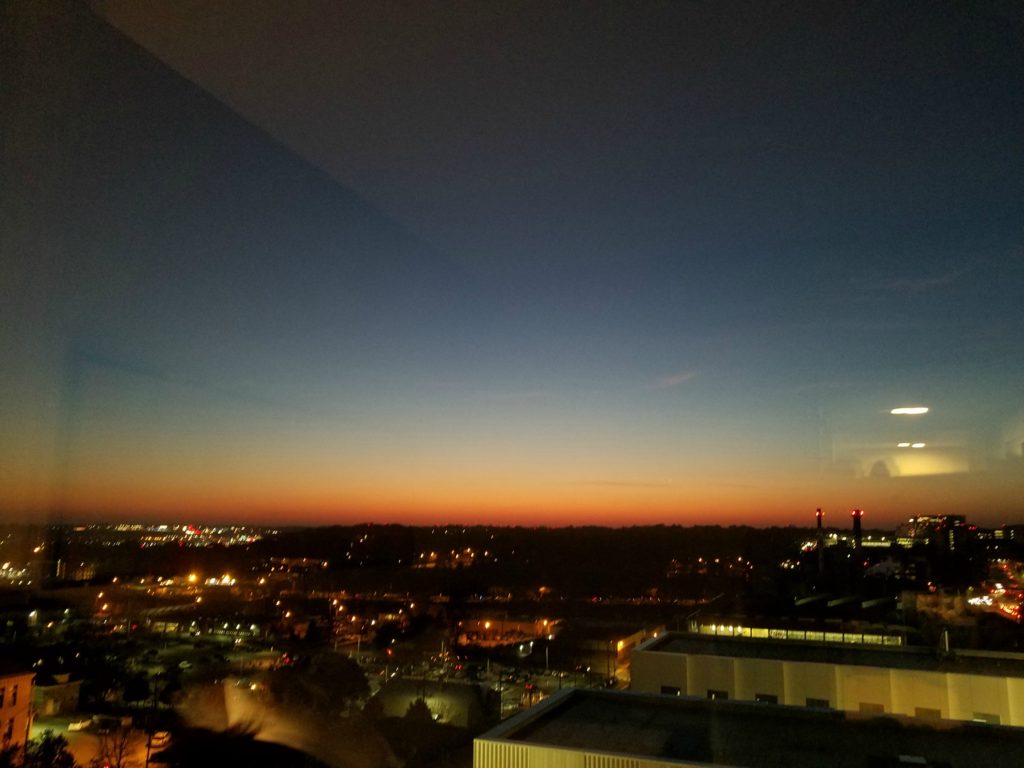 We were ushered into a private bar area where dinner was to be served, and the lighting was immediately the star of the show.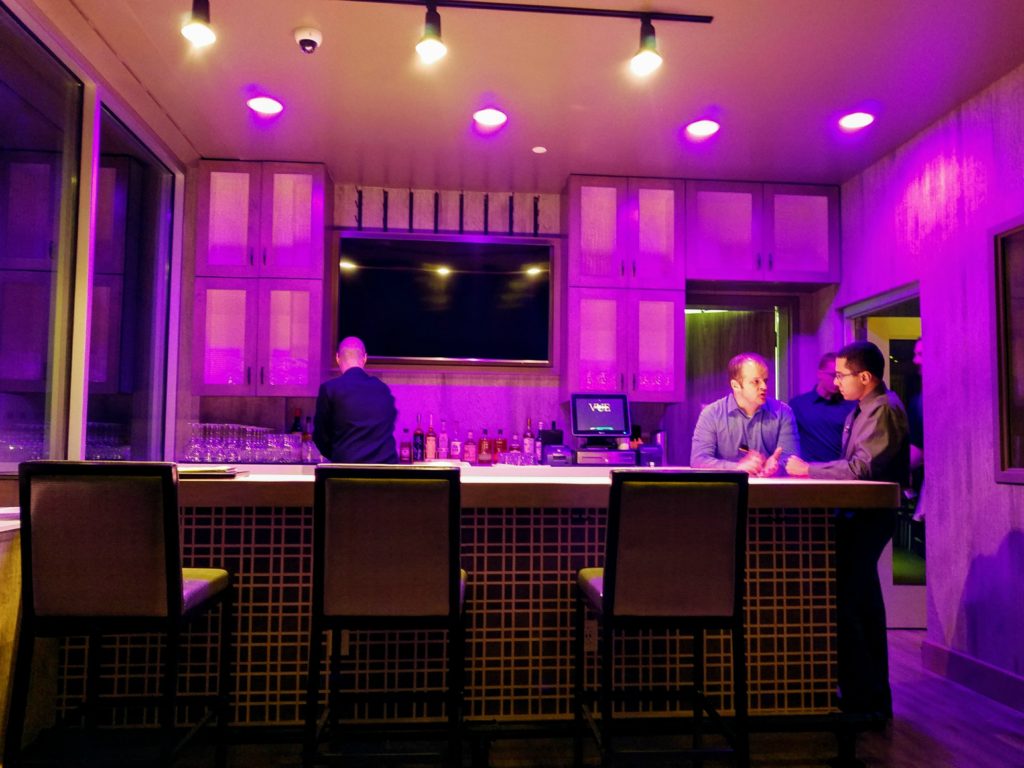 The LED lighting in the entire restaurant can be controlled by a laptop…and the range of lighting is unparalleled. With a keystroke or two, the entire restaurant (or individual areas) can be bathed in a totally different light. (A perfect touch when live music is being offered.)
We walked out the back of the bar area to explore the outdoor patio, and even though the night was quite chilly, the fireplace seating area was a welcoming spot. (That glass enclosed 12th Floor patio will be one of the most popular spots in Iowa City next summer…guaranteed!)
The well stocked bar offered many local and regional craft beers as well as signature cocktails and other drinks of all kinds. Their wine selection was stellar, and what a glamorous place to sip a cocktail in our college town!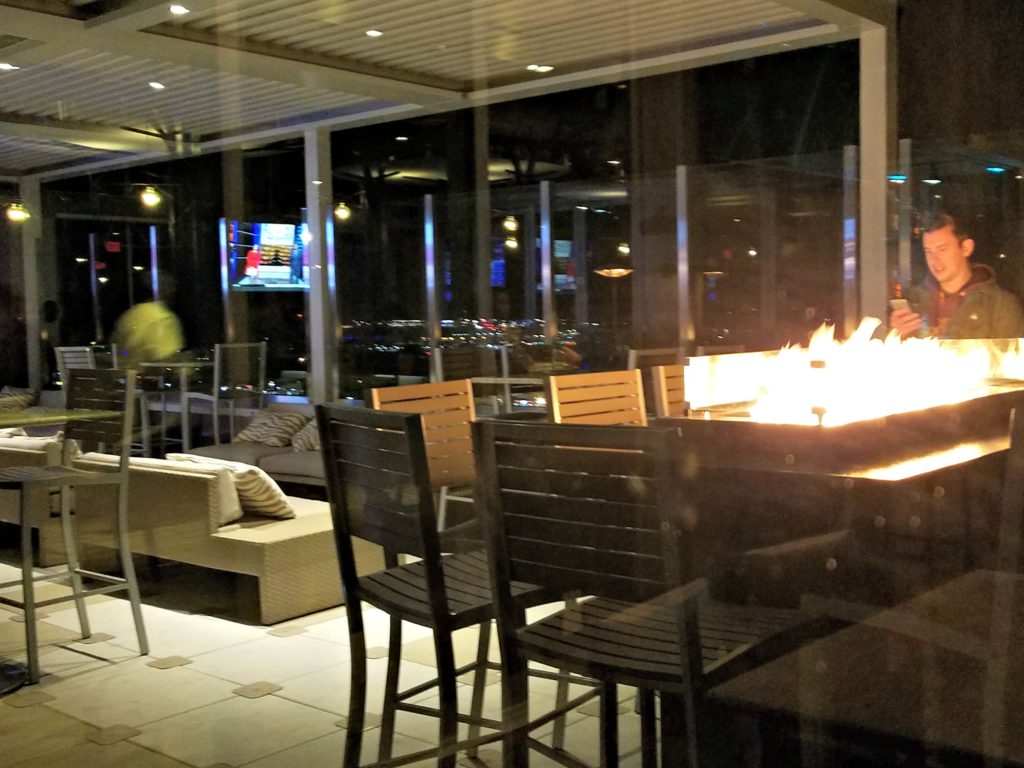 The view from that comfortable patio? Fantastic!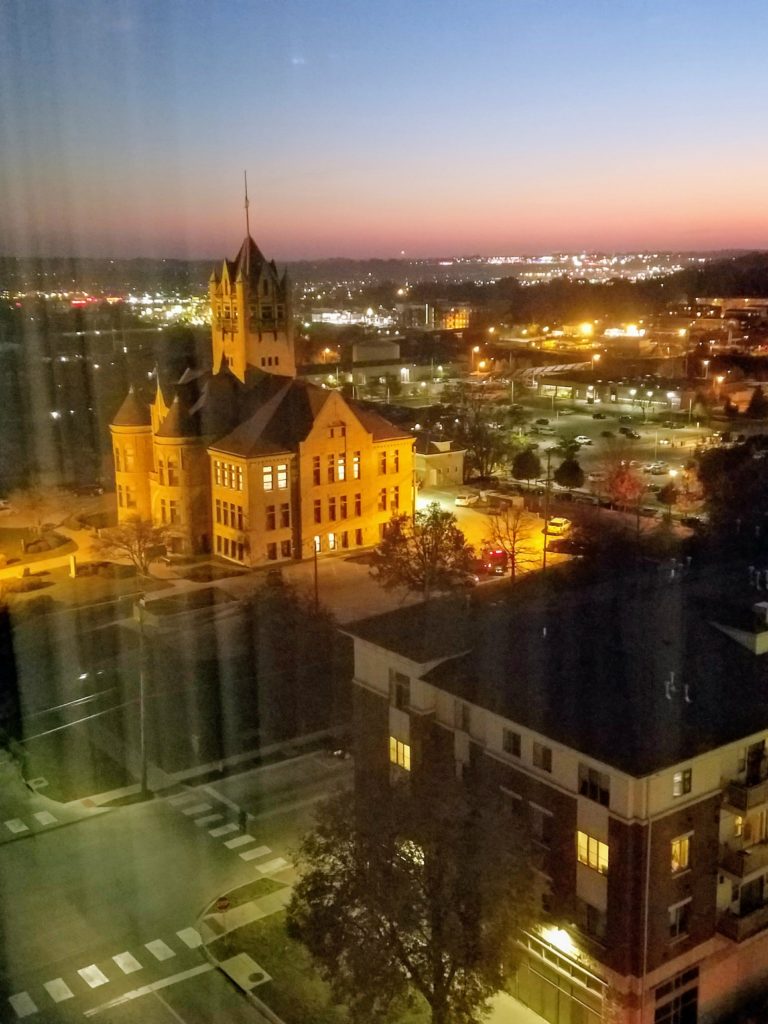 We headed back into our private dining area for dinner where we were joined by Gary Kinseth, Vice President of Kinnseth Hospitality Companies, as well as a number of the hotel and restaurant staff and Iowa City business representatives.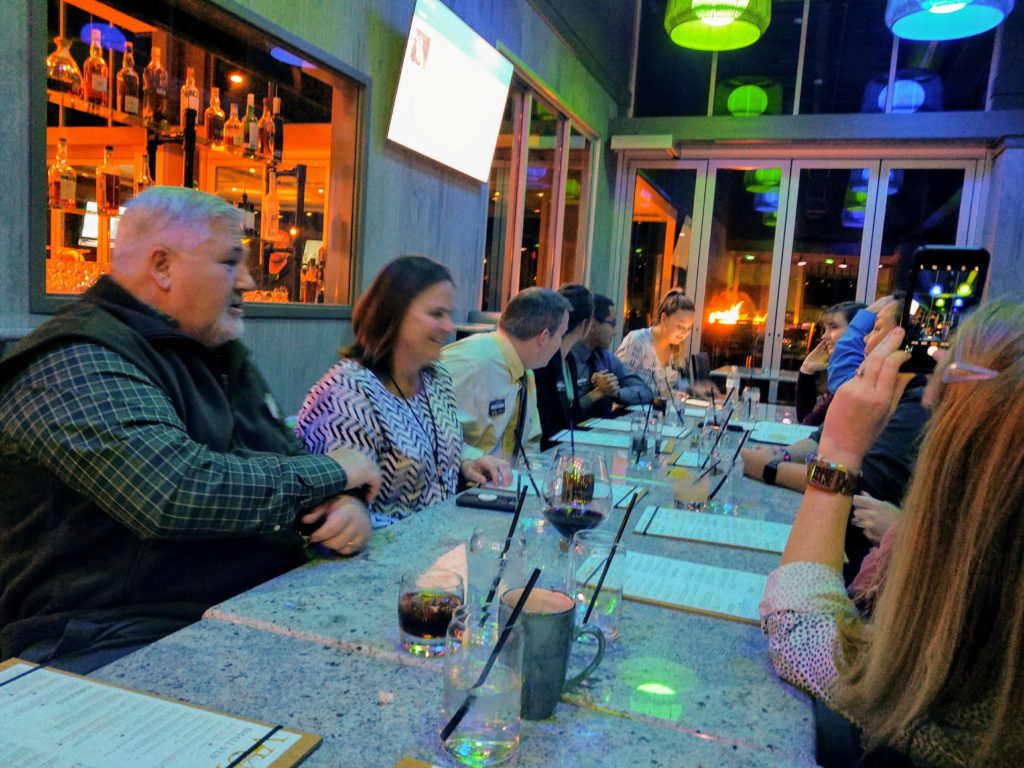 I thoroughly enjoyed my conversation with Mr. Kinseth during the meal. He shared his story about how his family turned a tiny motel into the diverse portfolio their companies have now become. In the late 1950's Kenneth and Cyrena Kinseth (Gary's Dad and Mom) bought a small hotel property called The Deluxe Motel in Decorah, Iowa. That entrepreneurial Iowa couple turned that one small business into a Midwestern hotel and restaurant empire that is now owned and operated by their four children. Those children literally grew up in the Hospitality industry…and they each play an integral part in the huge business today. It's an amazing American success story. You can read much more about the family and their many properties and company divisions right HERE.
Mr. Kinseth explained that his goal at VUE was to offer "something for everyone" and to make every guest feel comfortable. So whether you want a $10 burger and fries or a filet mignon you'll find it on the menu at VUE, and even though the restaurant had only been open for two weeks when we dined there, the food was delicious and beautifully prepared.
The innovative lighting made taking food photos somewhat challenging, but the food at VUE is amazing.
We started our meal by ordering a number of menu items meant to be shared, such as the Deviled Eggs made with truffle oil and topped with bacon…delicious!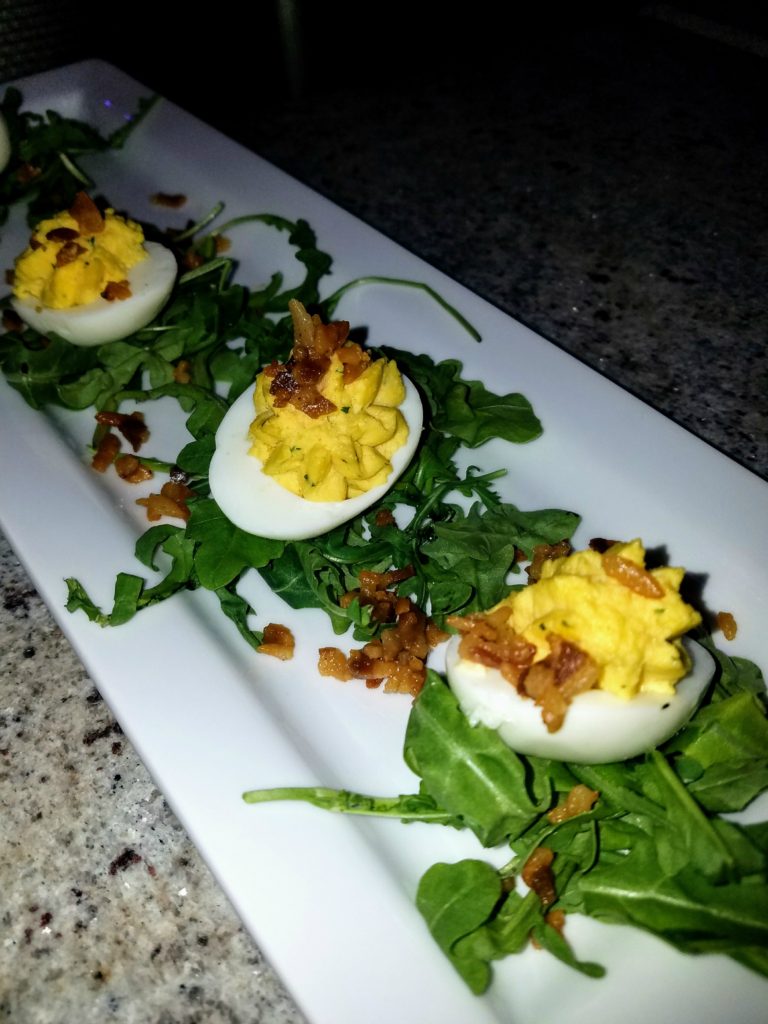 The Charcuterie Board was also a big hit with our diners. It included a selection of high quality meats and cheeses, plus stout mustard, house pickles and a tasty baguette.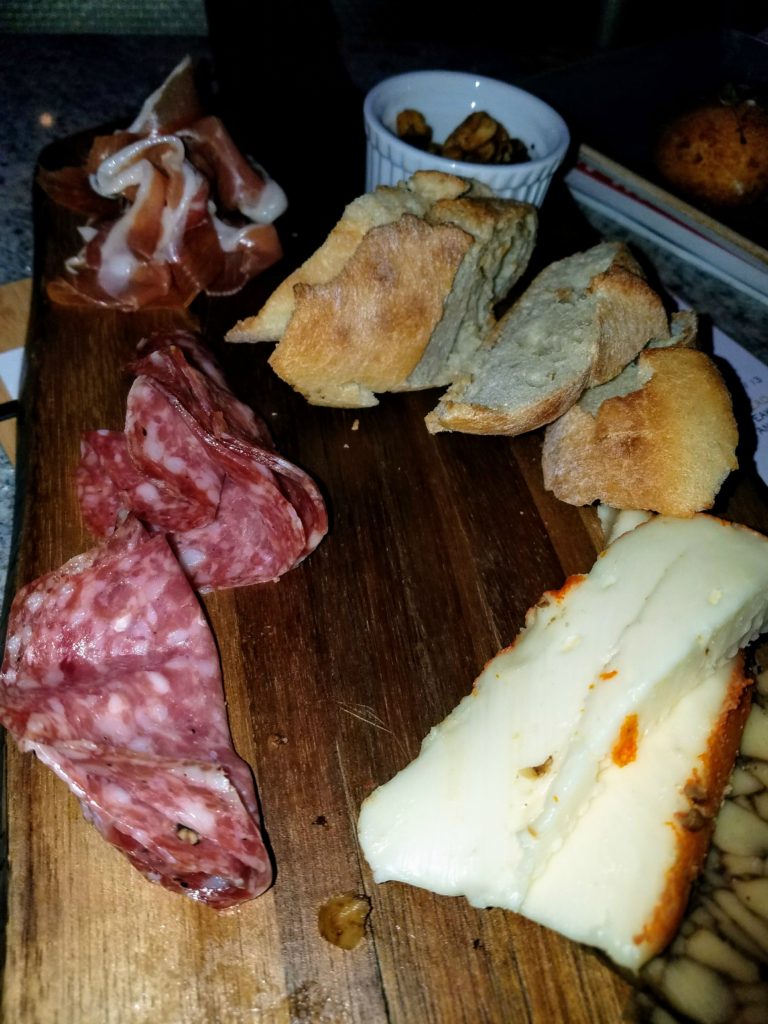 You'll also find old bar food standbys like Chicken Wings and Fried Cheese Curds. But those dishes are also joined by some high end choices like Jumbo Lump Crab Cakes.
Lobster Arancini…a delicious choice!
For my main course I chose the USDA Choice Filet Mignon. It was served with Milton Cheddar Mashed Potatoes and sided with Bearnaise Sauce.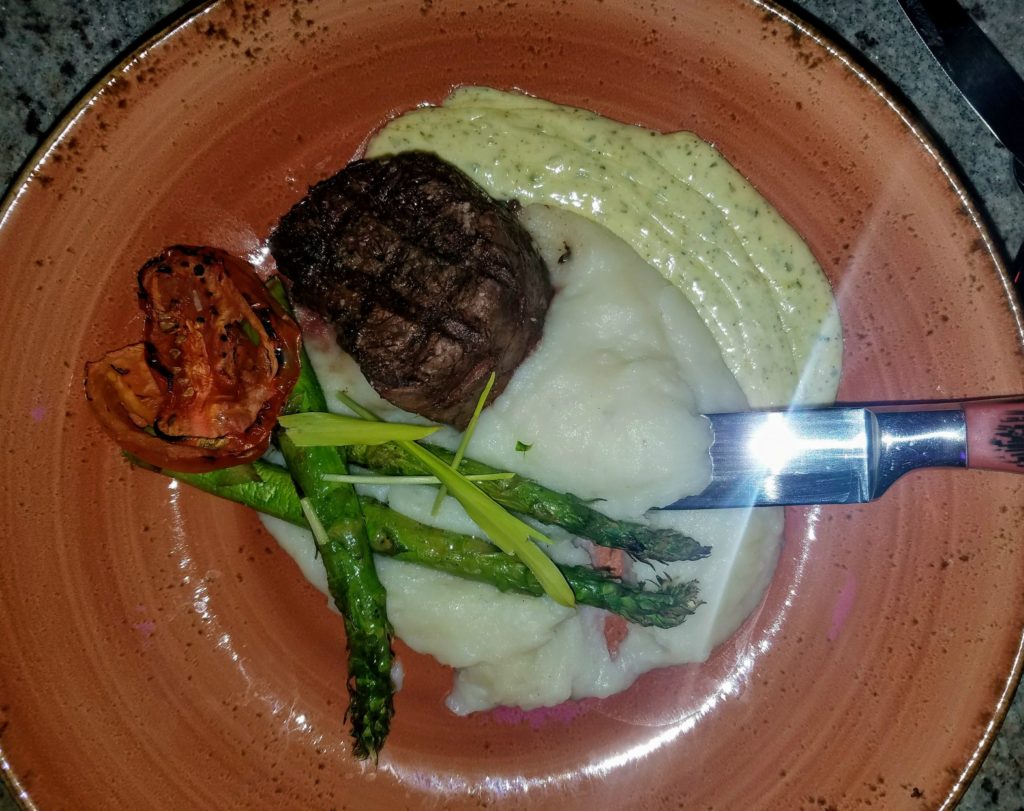 That steak was truly one of the best I've ever had. I cut it with my butter knife. It was perfection.
And the best part of the menu at VUE? Many of the dishes come in two sizes! The filet is offered in 5 oz. and 8 oz. portions, and the salads come in Full and Half size portions. (I LOVE that option, and Peepaw and I will often split an entree in most restaurants since the full size is too large for one person anyway.)
Our meal and the level of service was delightful…and as we prepared to leave the restaurant Mr. Kinseth said he would be glad to bring us back up the next morning so we could see the view from VUE during the daytime.
It was a wonderful meal served with the best view in the city.
After a great night's sleep our Midwest Travel Bloggers group met in the lobby where The Hilton Garden Inn offers several breakfast options.
The $8.95 Cold Buffet includes many items such as cereals and fruits…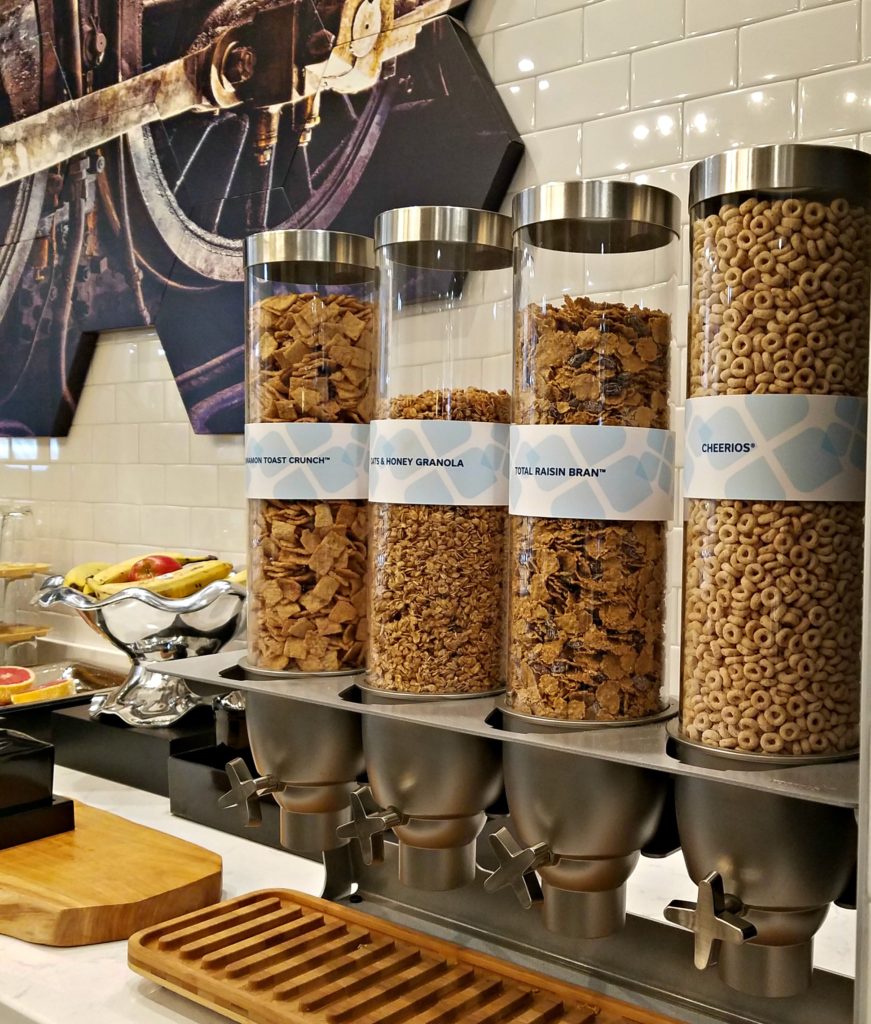 And many types of pastries and toasts…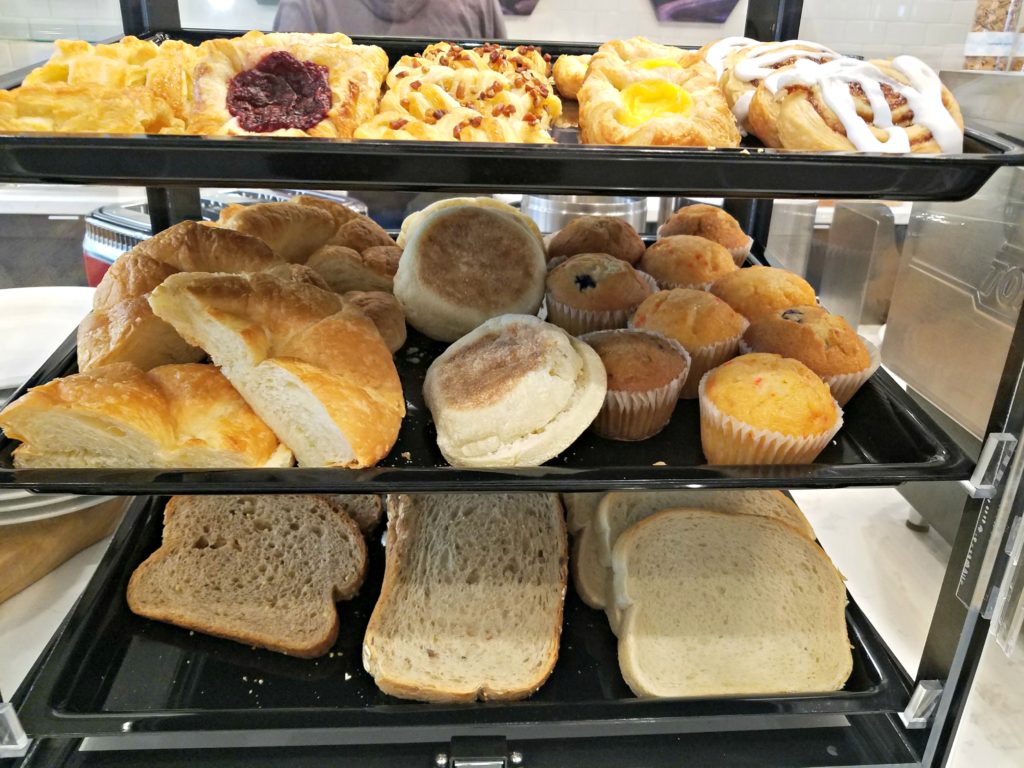 If you're looking for heartier fare, the $10.95 Hot Buffet includes all of the Cold Buffet foods as well as scrambled eggs, potatoes, bacon and sausage as well as a "Chef's Special"…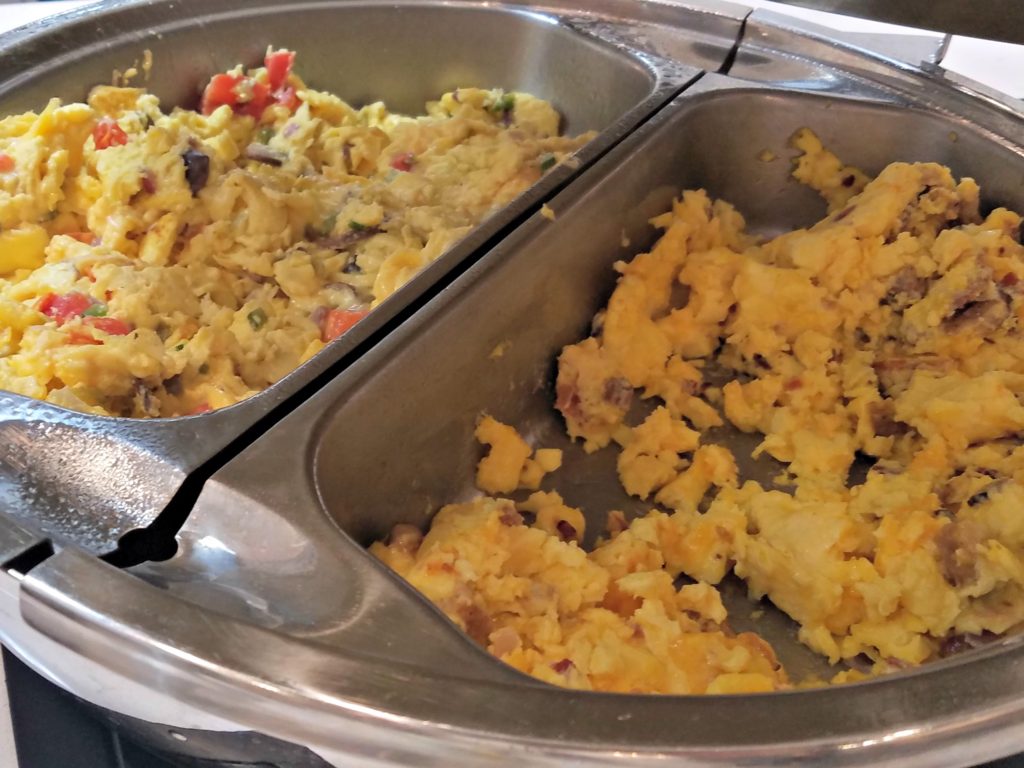 Or if you want to pamper your taste buds you can choose the $12.95 Cooked To Order breakfast including eggs (fixed to your liking), French toast, pancakes, or an omelet (made to order) and stuffed with your choice of ingredients…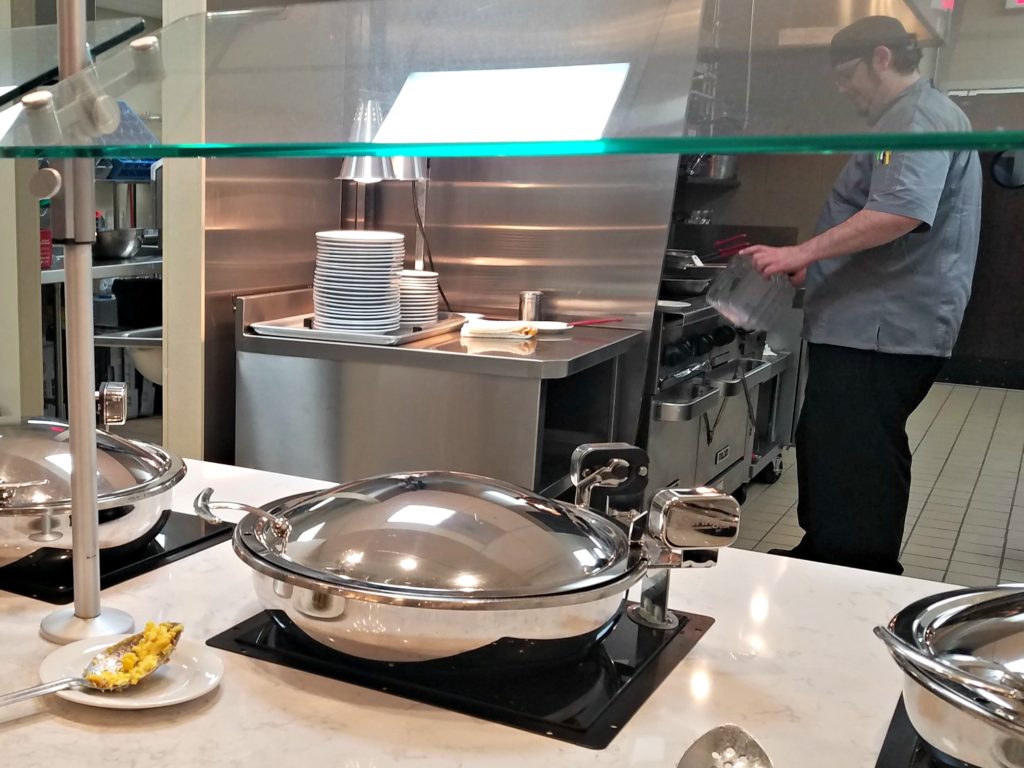 A perfect omelet to start my day!
After breakfast Mr. Kinseth kept his promise to give us a daytime bird's eye view of downtown Iowa City, so he led us back onto the elevator and he escorted us back to the 12th Floor to VUE.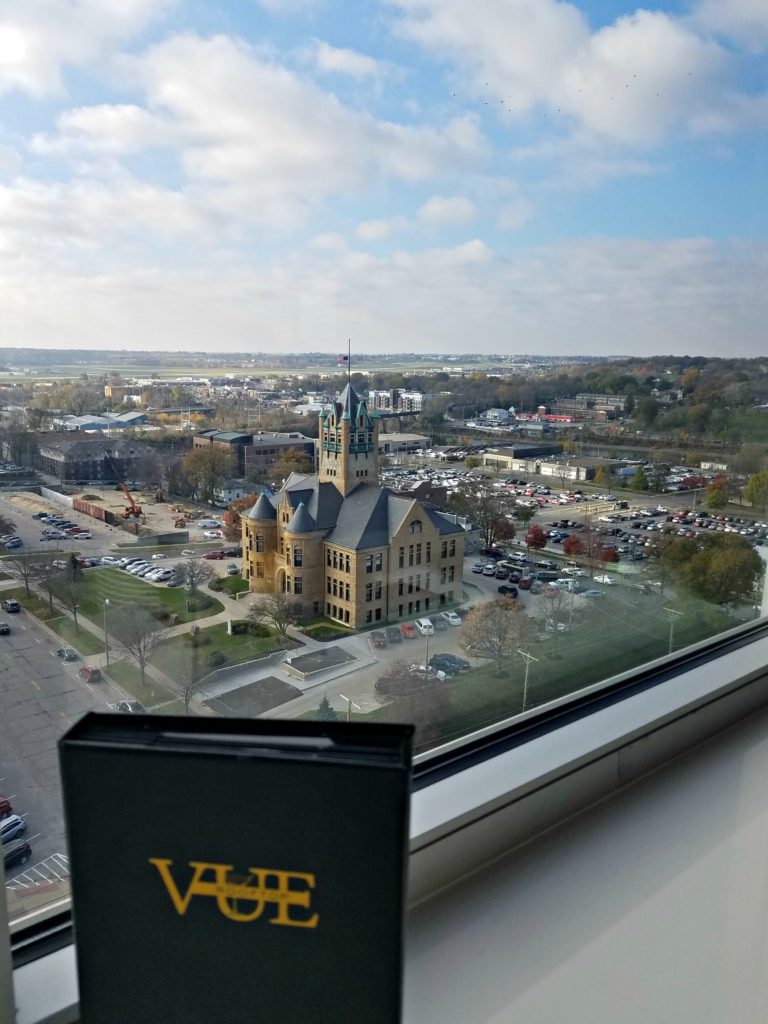 And what a view it was!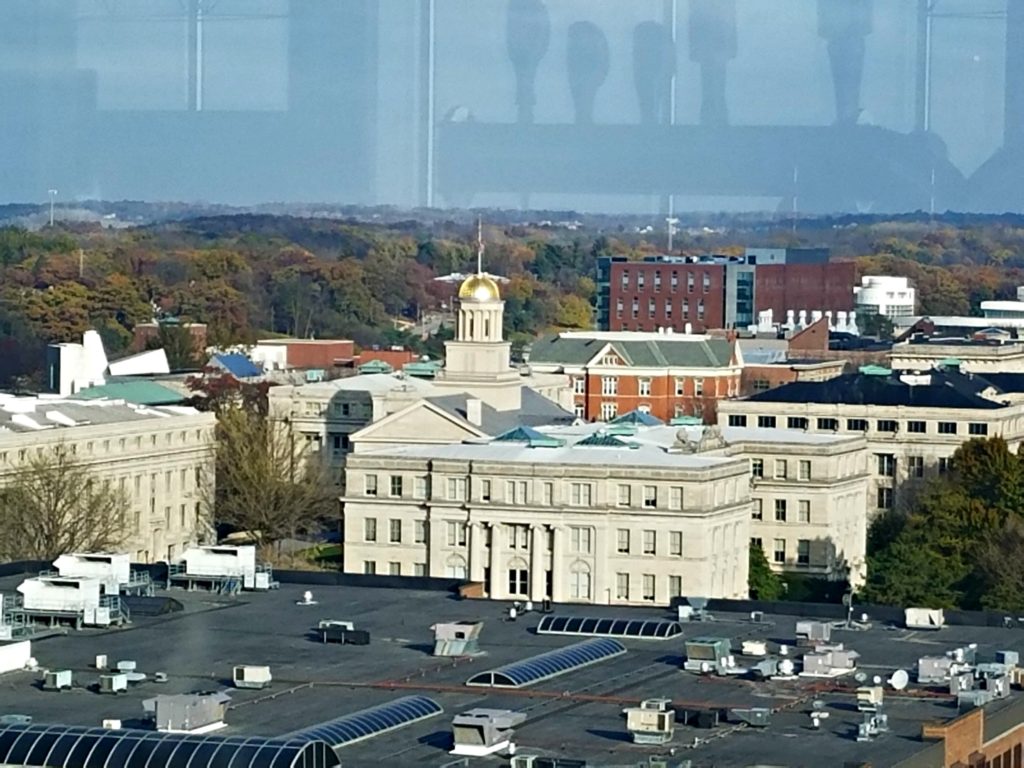 Even though the restaurant doesn't open until 4 p.m. they will schedule daytime corporate functions, meetings, luncheons and seminars as space and time permits. And I can't think of a more impressive spot to host such an event. It's truly one of a kind in Iowa City.
My personal experiences at the Hilton Garden Inn and VUE Restaurant made one thing very clear to me. Kinseth Hospitality Companies take customer comfort and satisfaction very seriously at ALL of their properties including their newest hotel and restaurant in Iowa City. It's a gem…from the ground up!
And to think it all started with a little Iowa place called The Deluxe Motel.