Our Indy son Nick is a great cook, but when I arrive for a visit I like to give him a break in the kitchen. But as hard as I tried, one morning several days before Christmas he beat me to the kitchen and he served up a creation that will become a "go to" breakfast dish for our family. My version of Eggs Benedict Casserole took on a whole new twist when he substituted sausage for the ham or Canadian bacon usually called for in that dish.
I'll share Nick's recipe in a minute.
Our car is always more than overloaded when we pack for our winter in Florida, at least until we get to Indy. You see, I clean out all the food in my refrigerator and freezer and take it all to Indy where I leave it with our family there. I left everything there this year…except an awesome six pound chunk of Gruyere cheese! That prize is now safely ensconced right here in our Fort Lauderdale refrigerator. (Stay tuned for some recipes using that!)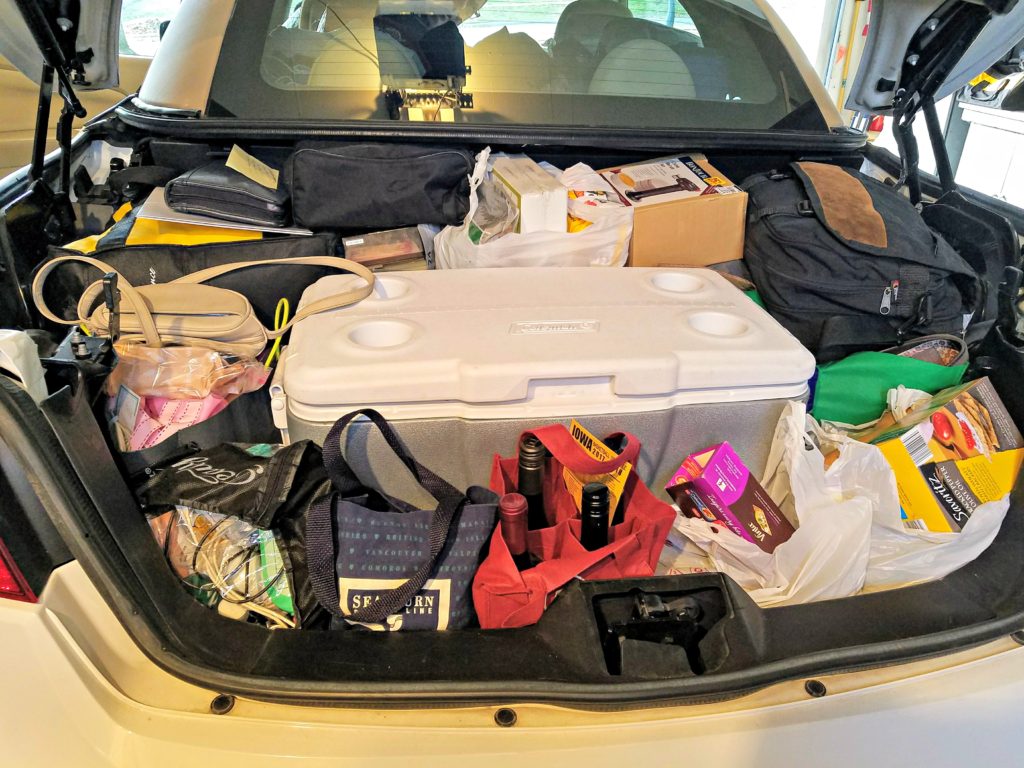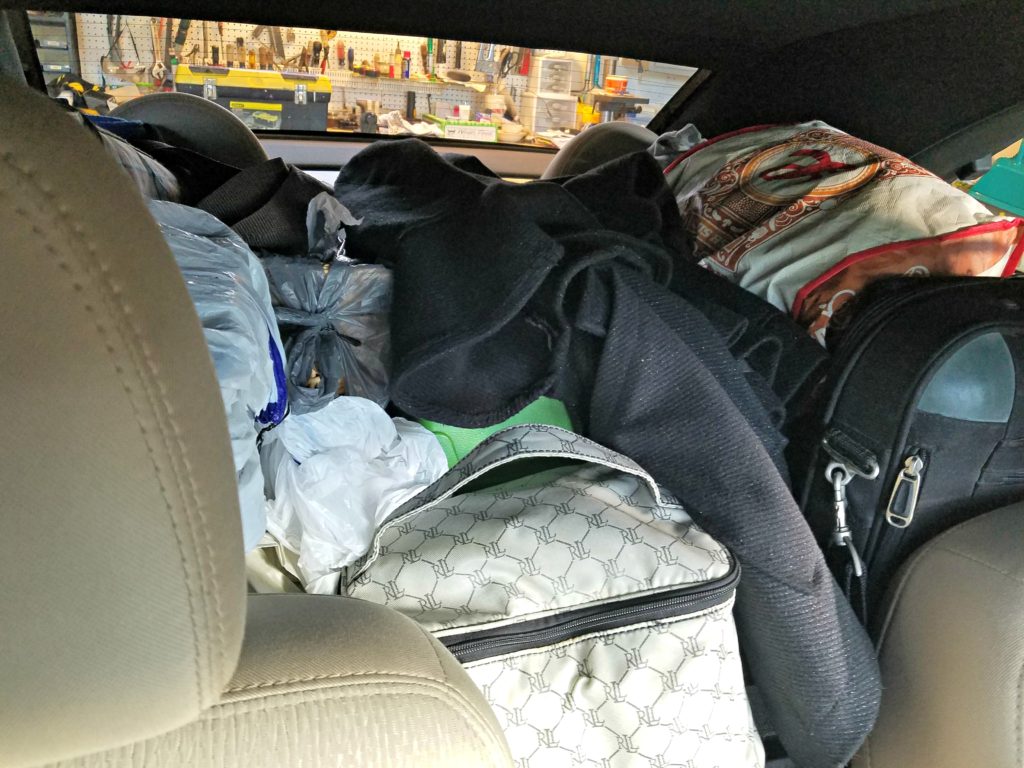 Yes…all of my Iowa perishable food is left behind in Indiana. And all of that fresh and frozen food is like an early Christmas gift of surprises for future meals for our son and his family.
We usually arrive in Indy by mid afternoon, and when those three Indy grandgirls burst through the door from school it's a HugFest of epic proportions.
For the past twelve years we have been blessed to spend lots of time with those three girls, since we usually stay for at least a week whenever we visit. And that's always time well spent…especially when we all get together in the kitchen…to cook!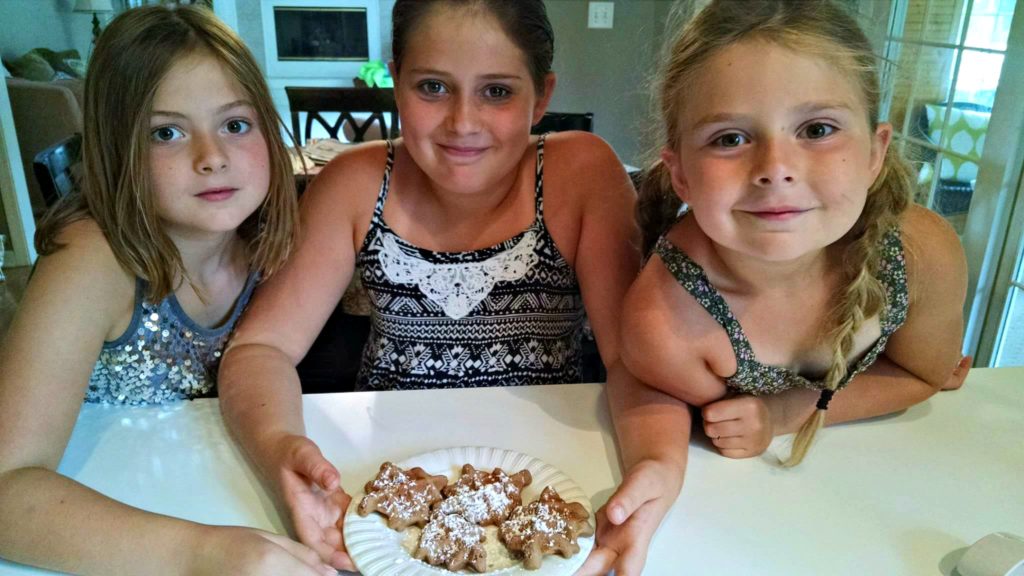 But their dad Nick beat me to the kitchen that weekend morning and he got to work to invent a new recipe using what he had on hand…and I crawled out of bed just in time to snap a few photos as he assembled his creation. You'll notice he is NOT measuring anything. It's the old Dump and Stir method of cooking. (I guess the apple didn't fall far from the tree…and that warms my heart!)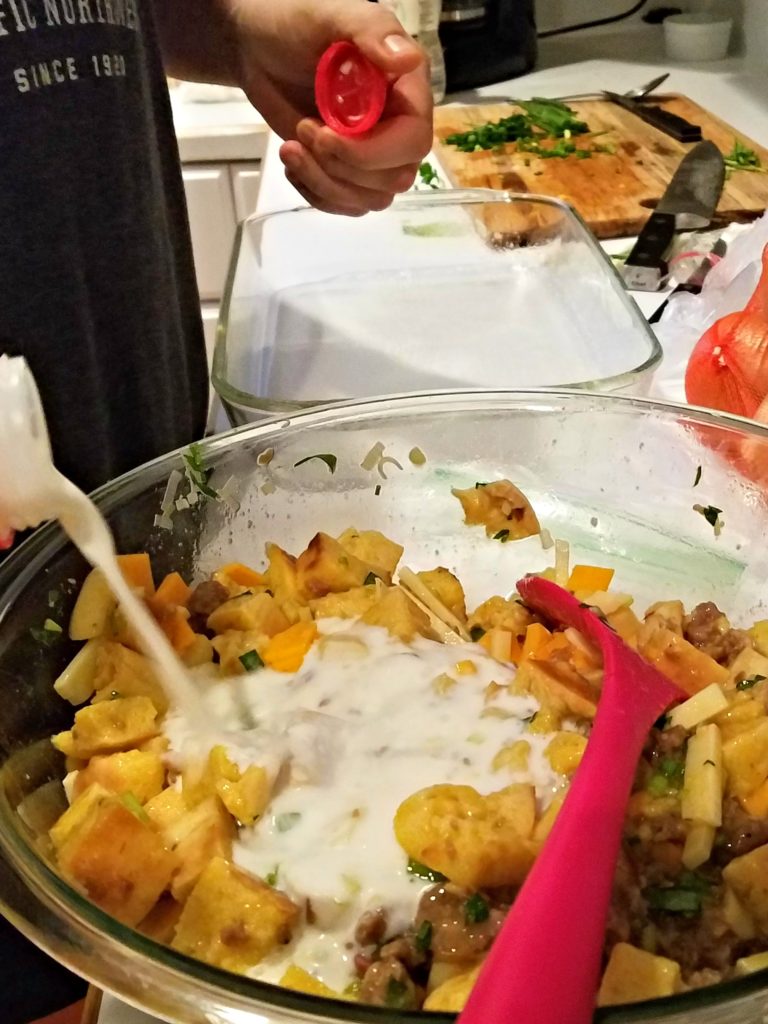 He grabbed the eggs, cheese and English muffins I had brought, and he pulled out a tube of sausage he had purchased, and he began to create what turned out to be an amazing breakfast for all of us.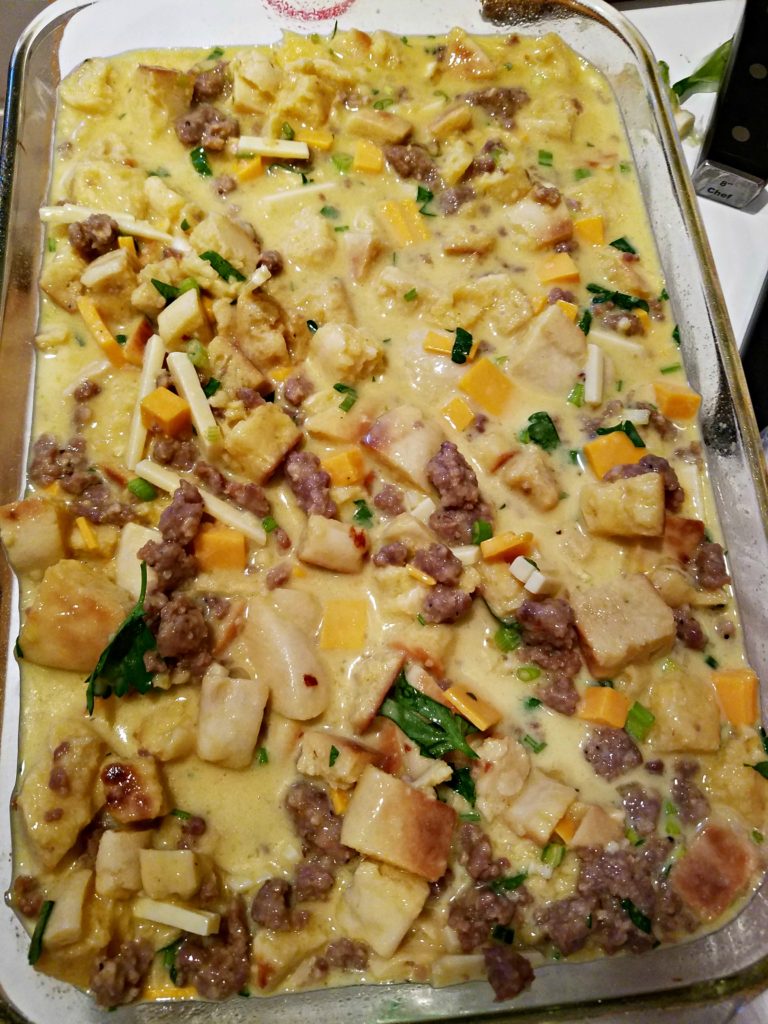 The best part about a breakfast benedict casserole like this is that all the work is done ahead of time. There are no last minute eggs to poach!
The finished dish was as pretty as it was delicious…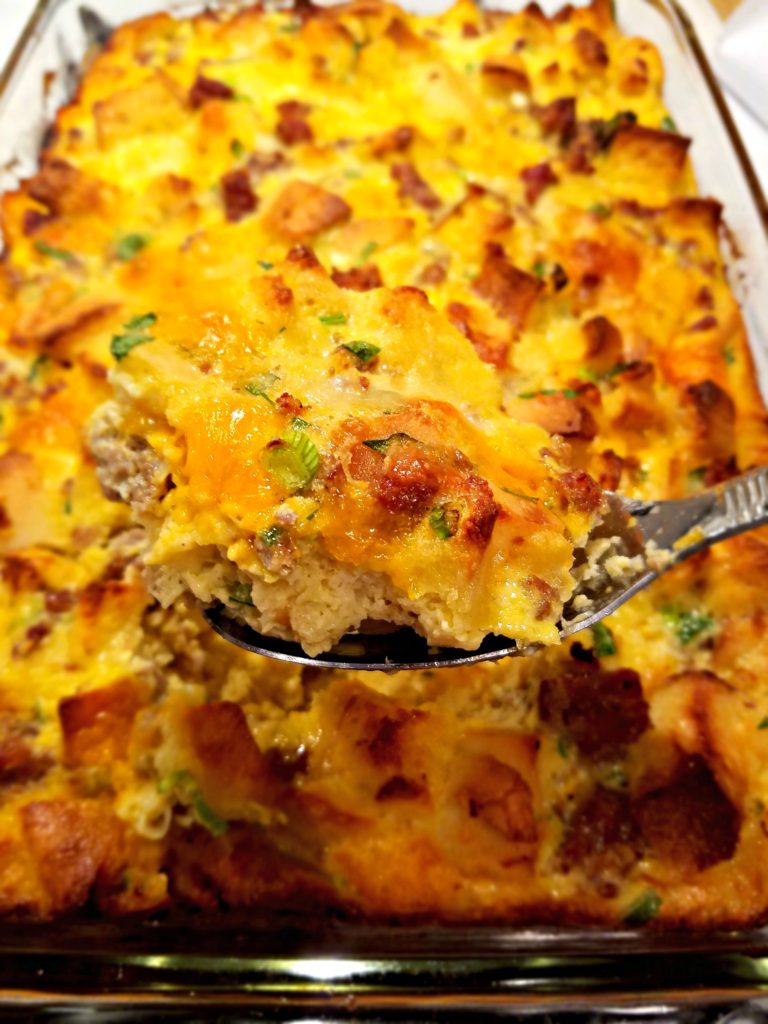 All it needed was a drizzle of Hollandaise sauce to make it perfect!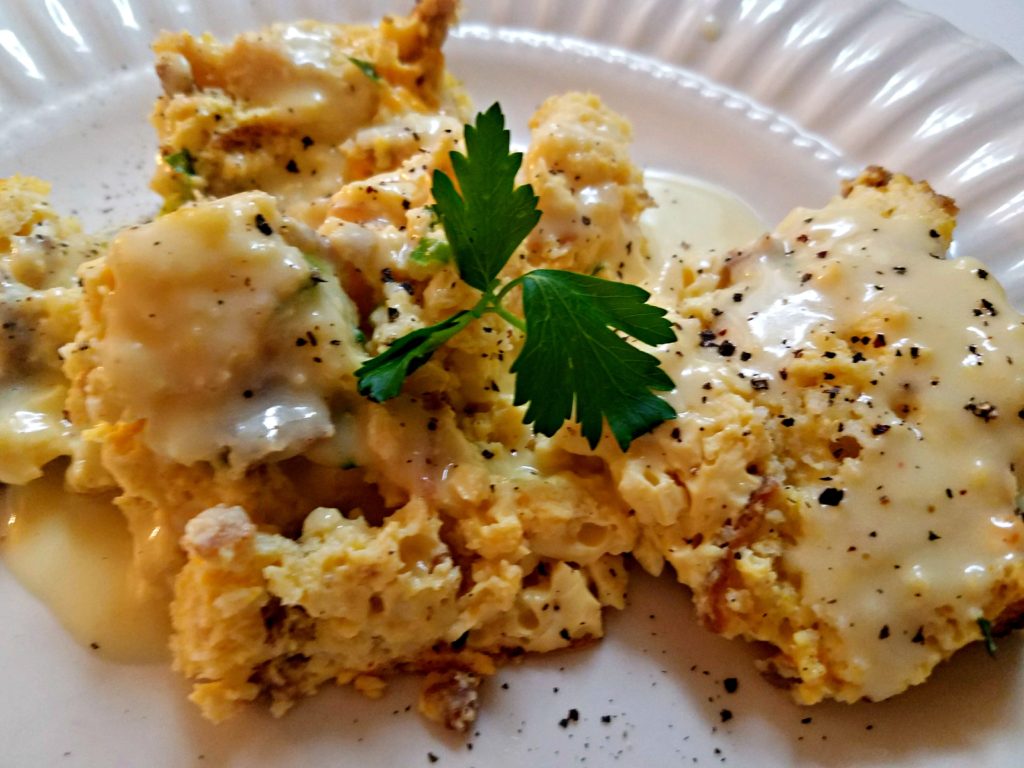 Hmmm…Maybe I'll start sleeping a little later when we visit Indy because this was a wonderful breakfast to wake up to!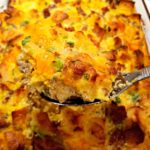 Nick's Sausage Eggs Benedict Casserole
Ingredients
1

Pkg

6 English Muffins (diced)

1

16 oz. Pkg.

Jimmy Dean Regular Pork Sausage

4

Green Onions (diced-both green and white)

12-14

Large

Eggs

1 1/2

Cups

Whole Milk

1

Knorr

Large Beef Bouillon Cube

1

Knorr

Large Vegetable Bouillon Cube

1 to 2

"inches"

Velveeta

2

oz.

Grueyere Cheese (shredded)

2

oz.

Sharp Cheddar Cheese (shredded)

Fresh Chopped Parsley

1

pkg. (0.9oz.)

Knorr Hollandaise Sauce Mix

1

Cup

Whole Milk

1/4

Cup

Butter
Instructions
Brown the sausage and drain off excess grease. Break up the two bouillon cubes and stir them into the cooked sausage. Set mixture aside to cool. In a large mixing bowl, beat the eggs and milk together. Dice the English muffins and add to the egg mixture. Dice the Velveeta and shred the other cheeses, and stir them into the egg mixture. Add a big handful of chopped parsley. Add the sausage to the egg and cheese mixture and fold together to combine well. Pour into a greased 9 x 13 in. baking pan and bake at 375 for about 45 minutes or until knife inserted in center of dish comes out clean.Allow the dish to "rest" for about ten minutes to firm up. While the dish "rests" prepare the Hollandaise sauce per package instructions. Spoon sauce over each serving of Benedict...and ENJOY!