The holidays are upon us, and this Potato-Fennel Gratin would be a wonderful addition to any holiday meal.
Earlier this Fall I spent an amazing day with my totally awesome "Foodie Friend" Jim. We spent the entire day in his kitchen…prepping and cooking a five course dinner for some of our luckiest friends. And one of the dishes we served was Ina Garten's recipe for this amazing gratin prepared by Jim. (It's from Ina Garten's Barefoot Contessa TV show.)
First, he sauted onions and fennel in some Extra Virgin Olive Oil and butter. (Sorry I missed the photo op on that step!)
He poured the cooked mixture into a large mixing bowl. Then he used a mandoline to thinly slice the Russet potatoes into the bowl. The blade on a mandoline is extremely sharp, so Jim is wearing a special glove that protects his pinkies…like the chainmail armor worn by the knights of old.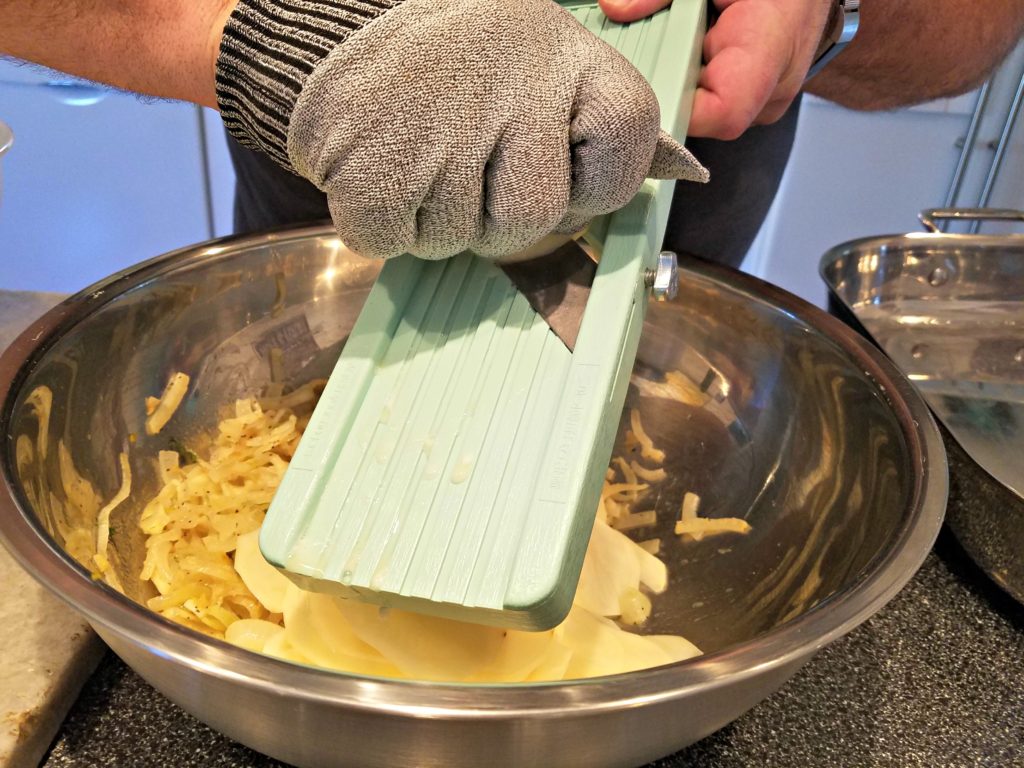 Then he added heavy cream. LOTS of heavy cream. (As Ina says, "How bad can THAT be!") He also added a generous amount of freshly grated Gruyere cheese, and freshly ground black pepper and coarse Kosher salt.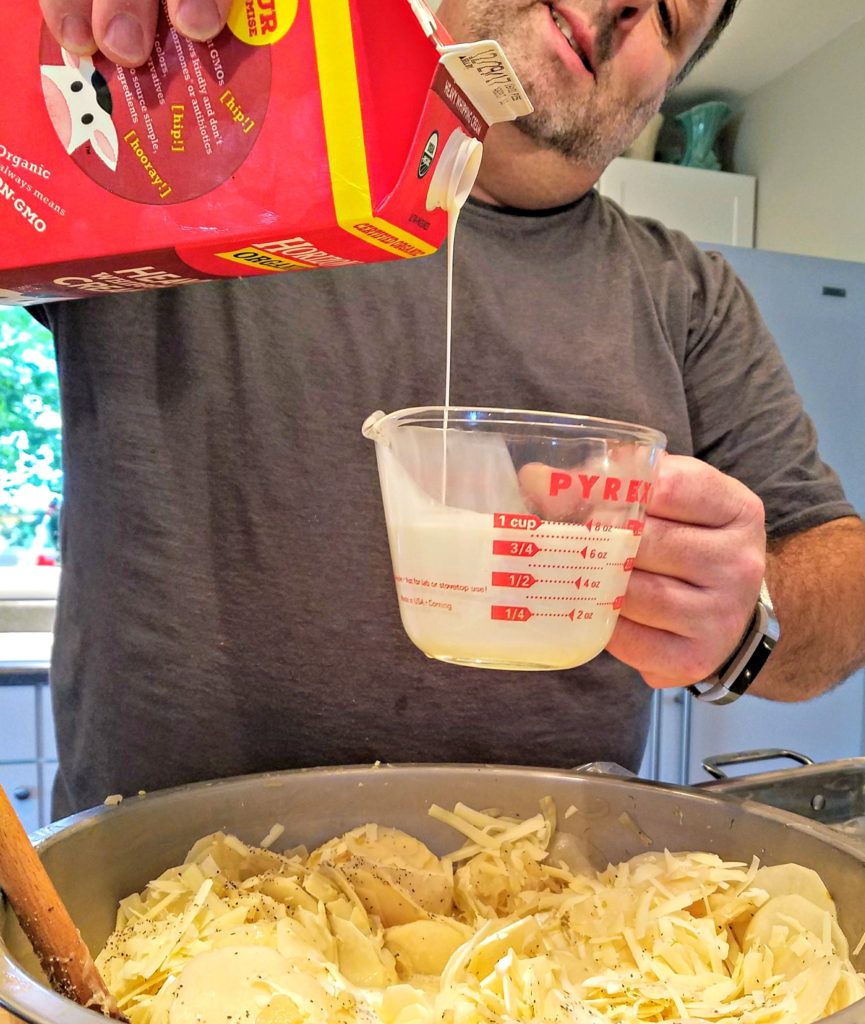 Then he poured the mixture into a baking pan and added more cream to make sure the potatoes were submerged in the cream.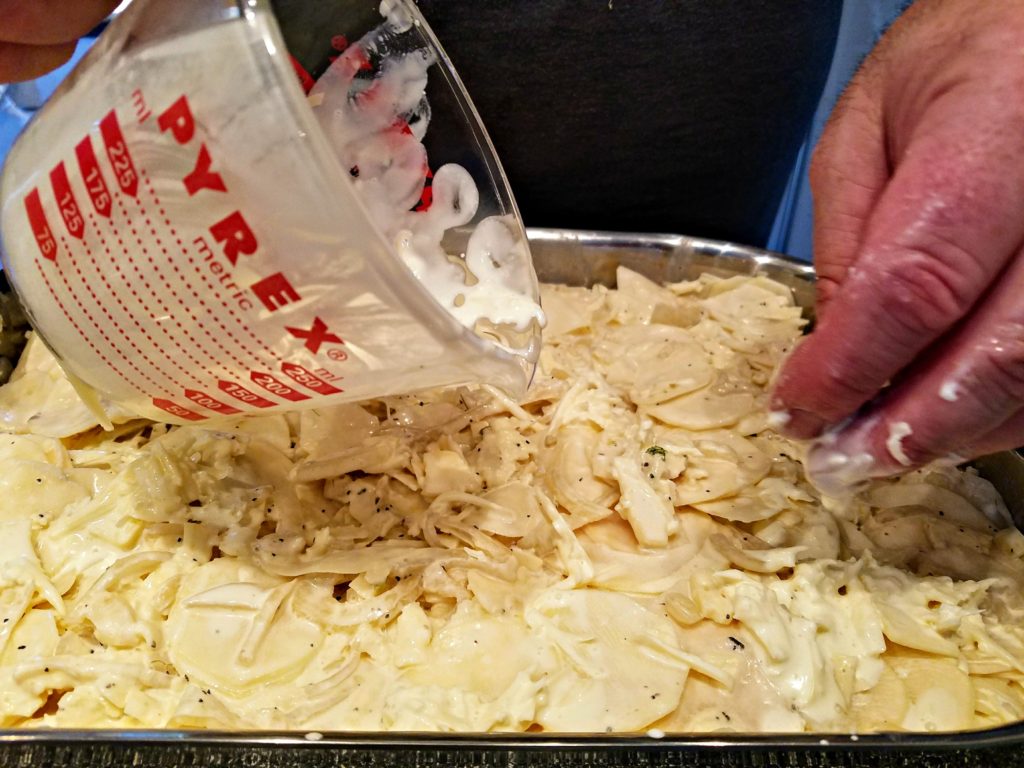 Then he added another sprinkle of cheese and a few more grinds of black pepper.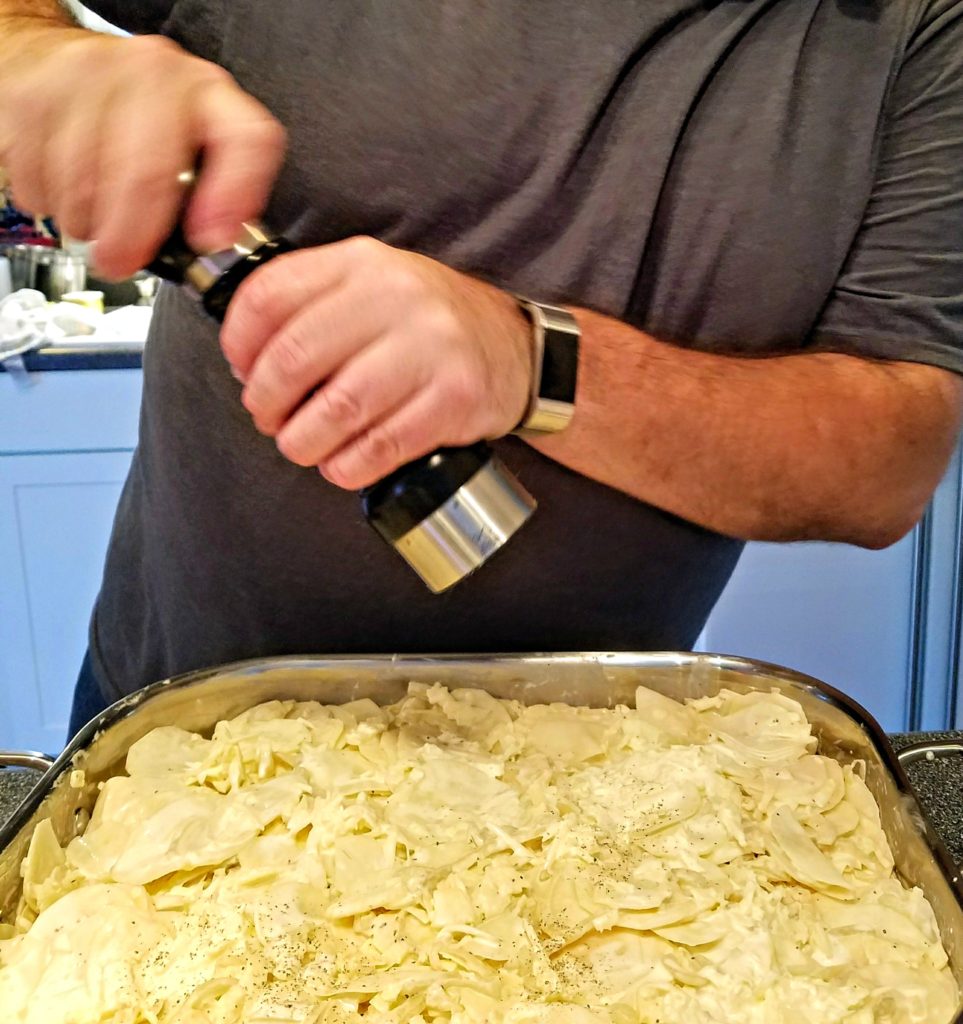 Those delicious spuds baked until they were very tender and golden brown. And the best part about this dish? They hold very well until you're ready to serve them.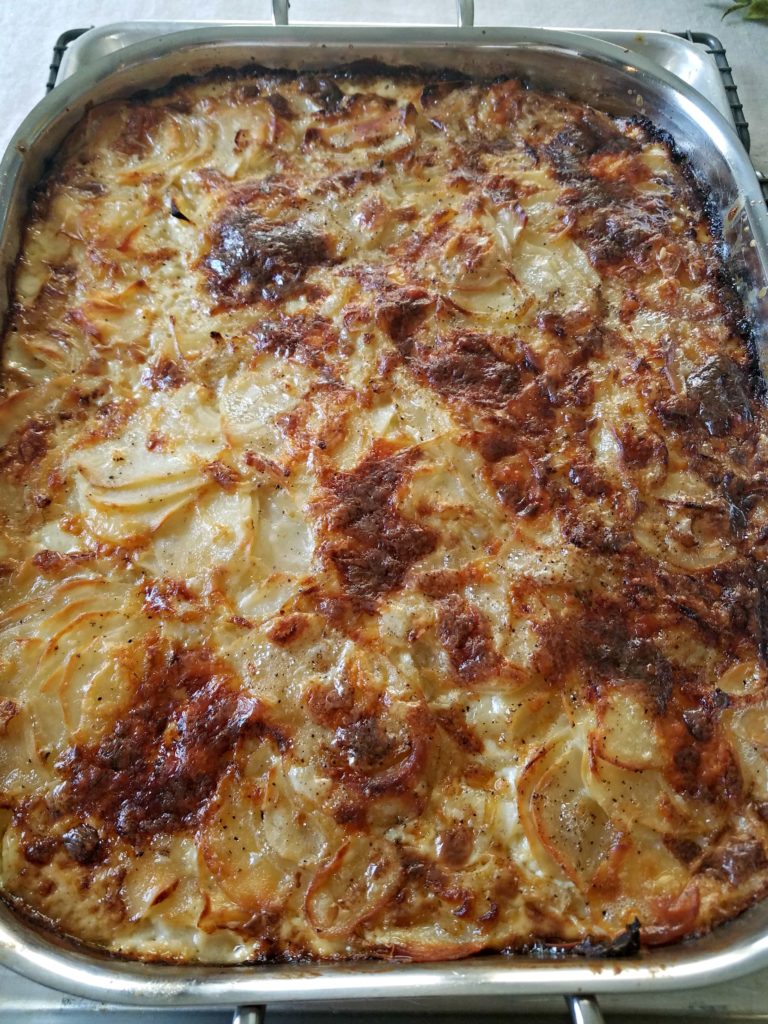 In fact, they should "rest" after baking to allow them to firm up. They can be cut into squares for serving.
As you can imagine, this is a very rich dish. And I will tell you they are worth every last calorie.
Yes…Ina is right. How bad can THAT be? I bet your guests would agree.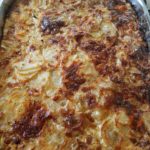 Potato-Fennel Gratin
Ingredients
1/2

tsp

freshly ground Black Pepper

2

small

Fennel Bulbs

1

yellow

Onion, thinly sliced

2

tblsp

"good" Olive Oil

1

tblsp

Unsalted Butter

2

pounds

Russet Potatoes (4 large potatoes)

2

Cups

Heavy Cream

2

Tblsps

Heavy Cream (for topping)

2 1/2

Cups

Gruyere Cheese (grated-divided)

1

tsp.

Kosher Salt
Instructions
1. Preheat oven to 350 Degrees.

2. Butter the inside of a 10-by-15-by-2-inch (10 cup) baking dish.

3. Remove the stalks from the fennel and cut the bulb in half lengthwise. Remove the cores and thinly slice the bulbs crosswise making approximately 4 cups of sliced fennel.

4. Saute the fennel and onion in the olive oil and butter on medium low heat for 15 minutes, until tender.

5. Peel the potatoes, then thinly slice them by hand or with a mandoline. Mix the sliced potatoes with 2 cups of cream, 2 cups of Gruyere, salt and pepper and the sauteed fennel and onion mixture.

6. Pour the mixture into the prepared baking pan or dish and press down to smooth the potatoes.

7. Combine the remaining 1/2 Cup of Gruyere and the 2 Tablespoons of cream and sprinkle on top.

8. Bake for 1 1/2 hours or until the potatoes are very tender and the top is browned and bubbly. Allow to set for at least 10 minutes before serving.