Travel has been in my blood since I was a child, and as a travel agent I had many opportunities to explore hotels in many worldwide destinations. So I was anxious to see how the brand new Hilton Garden Inn in Iowa City measures up.
(Disclosure: Thank you to Kinseth Hospitality Companies and the Hilton Garden Inn for hosting my stay. As always, the opinions expressed in this post are 100% my own.)
The new hotel is only about a mile from my home in Iowa City, but Peepaw dropped me off at the front door. (Guests will find ten minute free parking spaces right outside the lobby to allow ample time for check-in, and long term guest parking is located in the connected ramp for $14 per day.)
As I stepped into the lobby I was drawn to the warmth and beauty of the stacked stone walls and the unique light fixtures.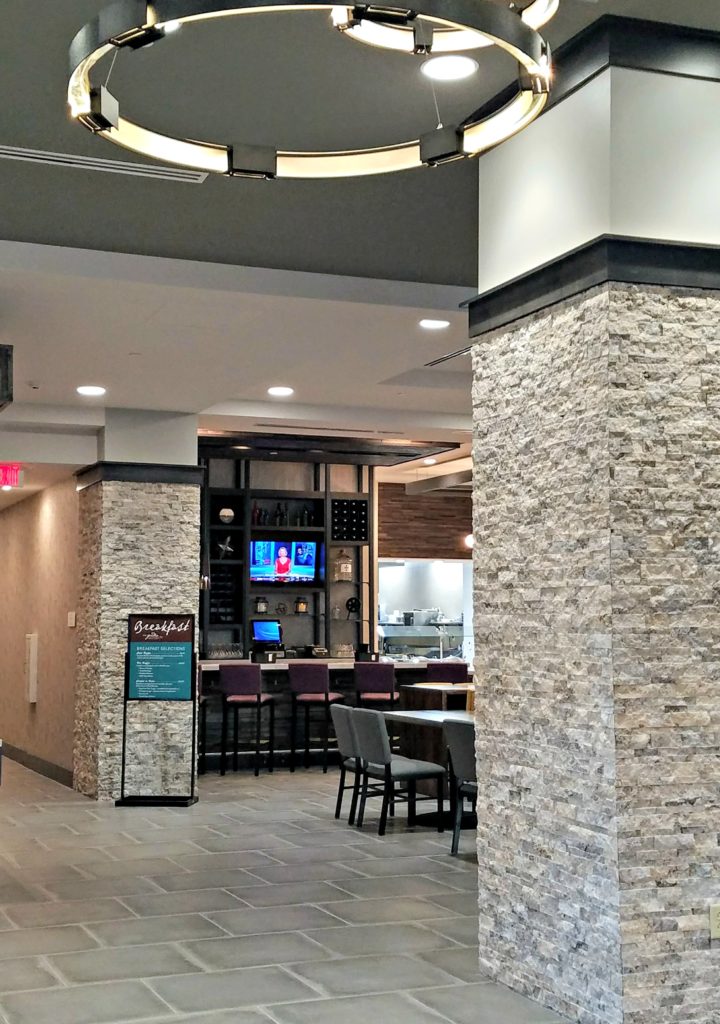 I quickly realized that the close proximity to the University of Iowa campus and the downtown business district make this new hotel a perfect location for business travelers as well as for tourists. (When we travel we ALWAYS look for hotels and motels in the heart of a city since we love to walk to restaurants and bars. And "window shopping" is always a fun pastime too.) This hotel is truly in the heart of Iowa City.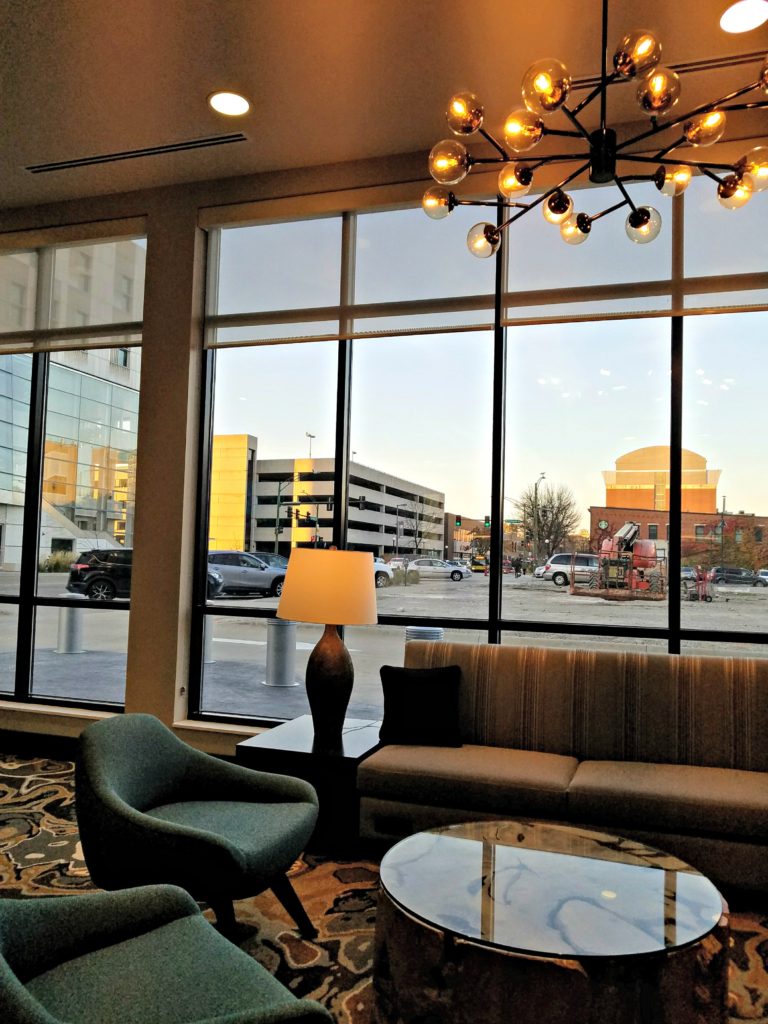 And speaking of business…the Hilton Garden Inn offers almost everything a business traveler could want. They provide a 24 hour business center, same day dry cleaning service, a complimentary local shuttle service, and an indoor pool and hot tub on the lower level. Free WiFi and a great view of the downtown business district obviously made working a pleasure for this gentleman. (He certainly looks relaxed!)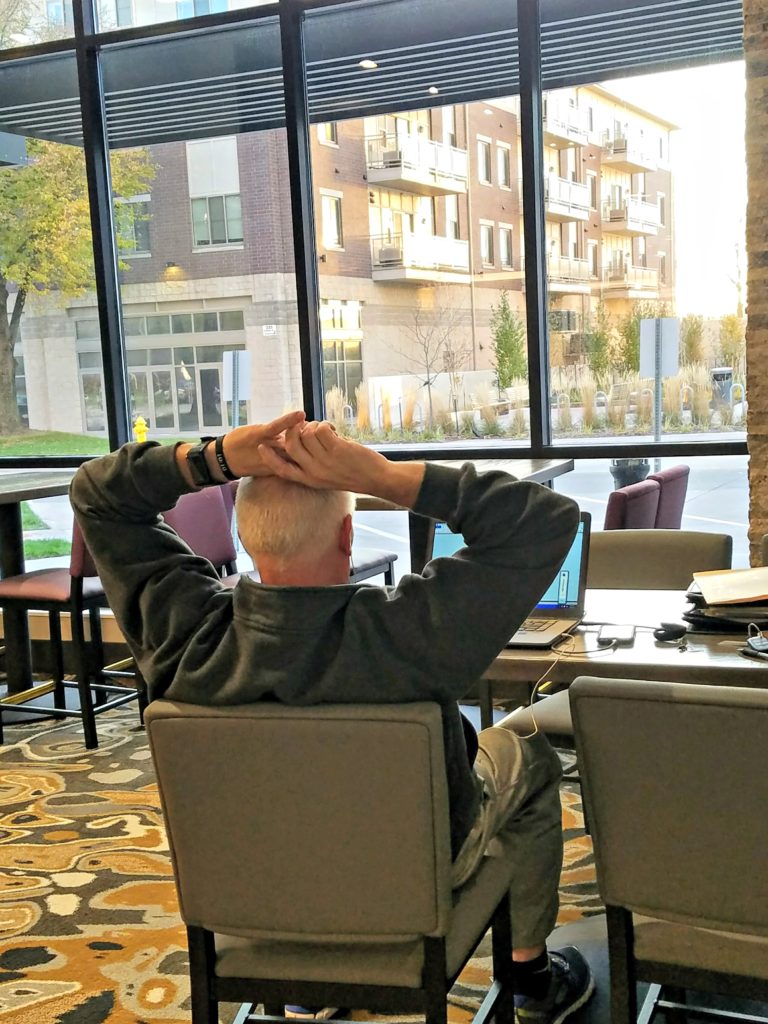 The lobby furniture is both comfortable and extrememly functional. Check out the electrical outlets built right into the couch!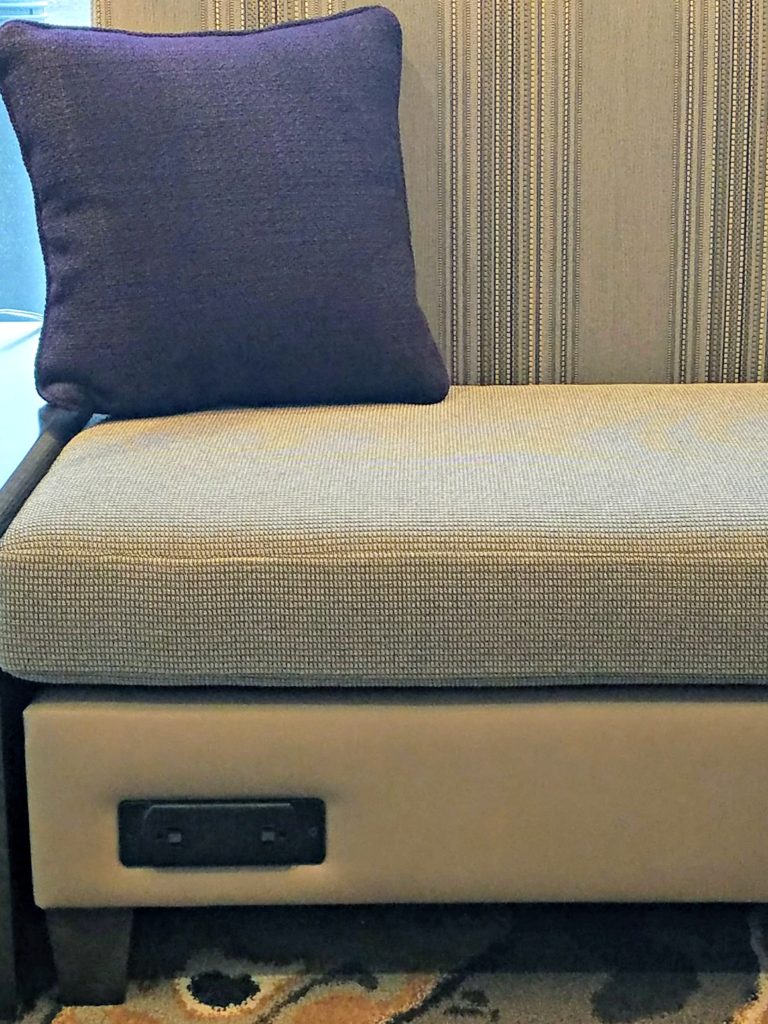 I can't tell you how many times I have found myself sitting on the floor against the wall in an airport or a hotel lobby to connect my laptop or my battery-draining smartphone to an outlet. And I'm getting much too old for those shenanigans! I could totally picture myself curled up on that couch with my laptop plugged in while writing about my adventures in Iowa City. (And trust me…I've had some adventures!)
A well stocked snack bar is located near the check-in desk where guests can purchase some late night snacks or an Iowa Hawkeye souvenir.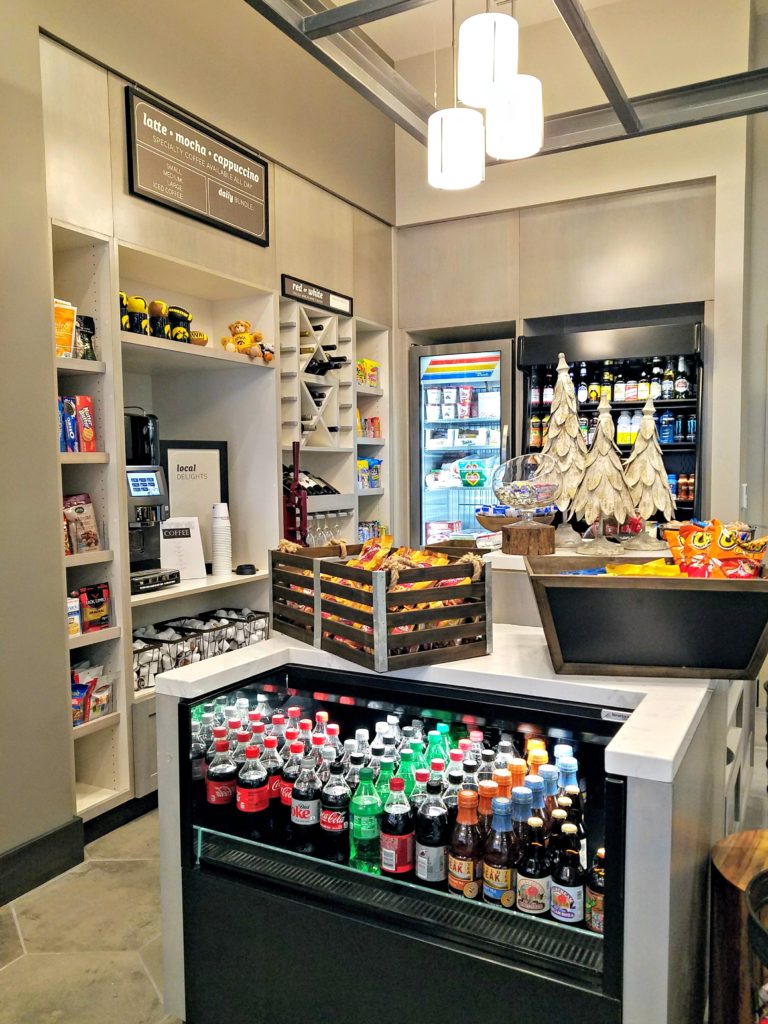 And speaking of check-in…I was warmly greeted and I was soon on my way through the lobby to the elevators to head to my room.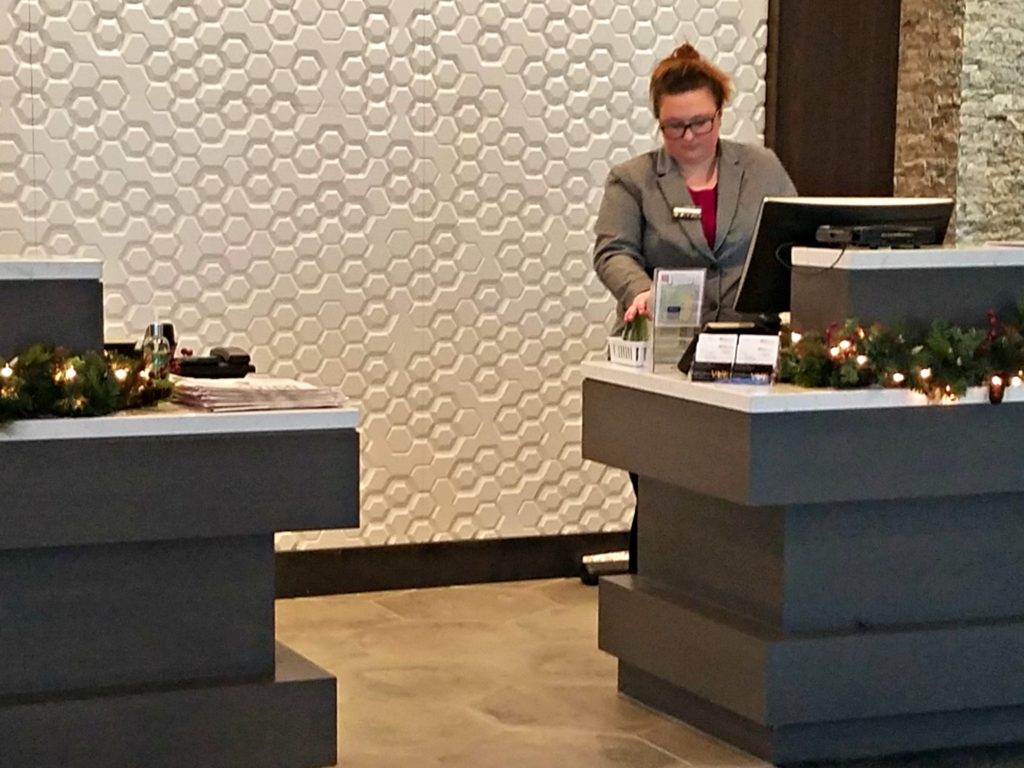 I couldn't help but notice the small cozy lobby bar and the breakfast area as I headed to the bank of elevators. (I'll share the hotel breakfast options and details in a later post.)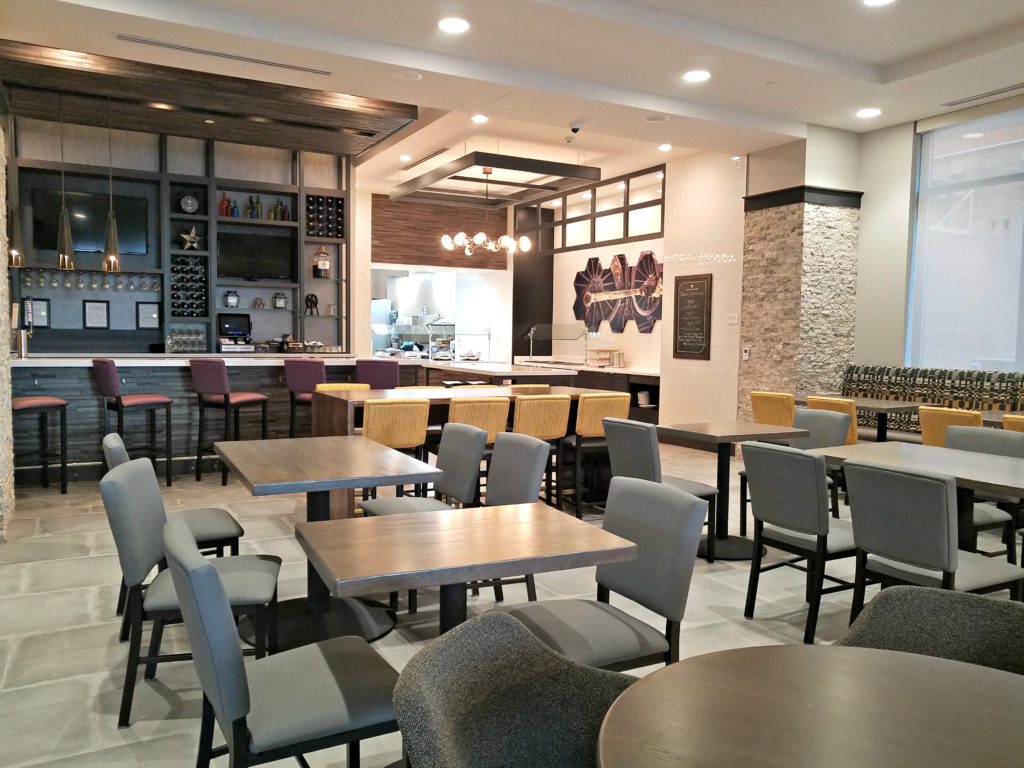 I often traveled alone in my previous life as a travel agent, so I am always conscious of the security offered to guests in hotels. The Hilton Garden Inn has considered those concerns in their elevator access since hotel guests must swipe their room key on a keypad in the elevators in order for the elevator doors to open on guest room floors. (There are 143 guest rooms and suites in the hotel.) The only floors that do not require key access are Floor 2 and Floor 12.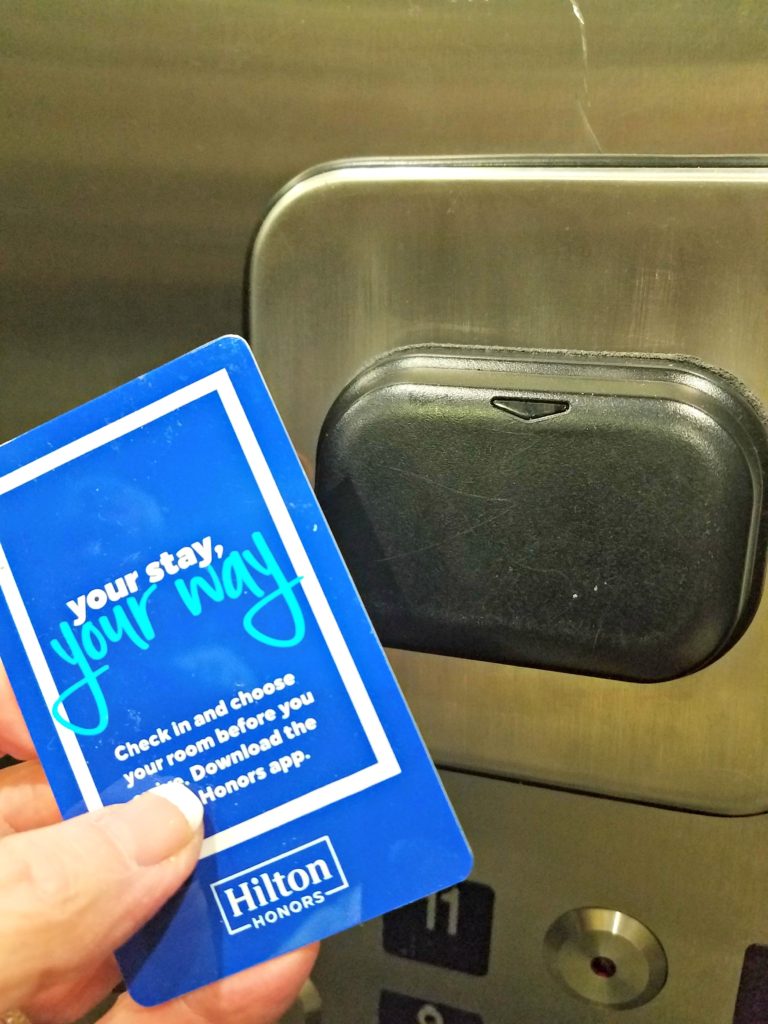 I got a brief glimpse of the ballroom and meeting spaces on the 2nd floor. The 3,000 sq. ft. area can can be divided into three separate meeting spaces. The hotel catering department offers a wide variety of options for both food and meeting equipment. I loved the Art Deco vibe in the light fixtures and decor, and the second floor is also the location of the ramp leading to the public parking garage for guests and for those attending events at the hotel.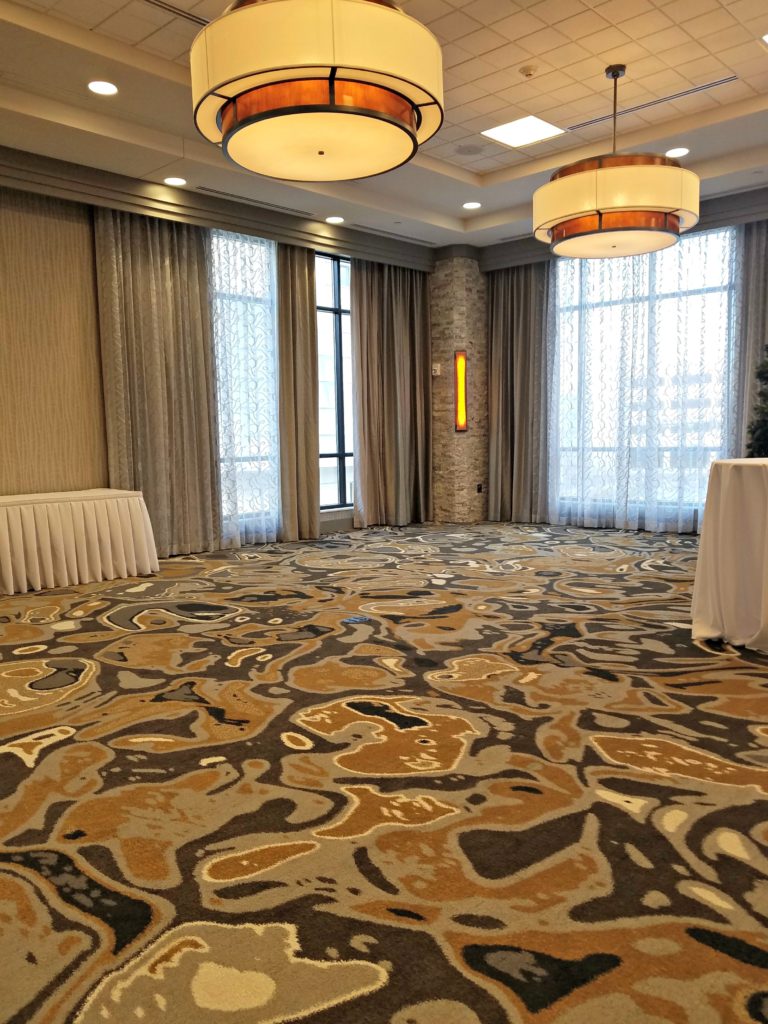 The "open to the public" 12th floor houses the beautiful VUE Restaurant and Bar which is already becoming one of the premier locations in the city for dining and drinks. And let me say the view from VUE Rooftop is amazing! (I'll share those details and photos in a later post too.)
My Junior Suite on the 4th floor was both beautiful and functional. The living room provided ample seating. The small, moveable "TV tray" was perfect to use while working on a laptop or for holding a drink or a snack while relaxing on the sofa. (The couch is actually a sofa bed, so the Junior Suites would be the perfect choice for families.) Every guest room at the Hilton Garden Inn features a refrigerator, a microwave and a Keurig single-cup coffee maker in each room. And the 50 inch TV offered on-demand movies, video games and complimentary HBO. (There was also a second TV in the bedroom.)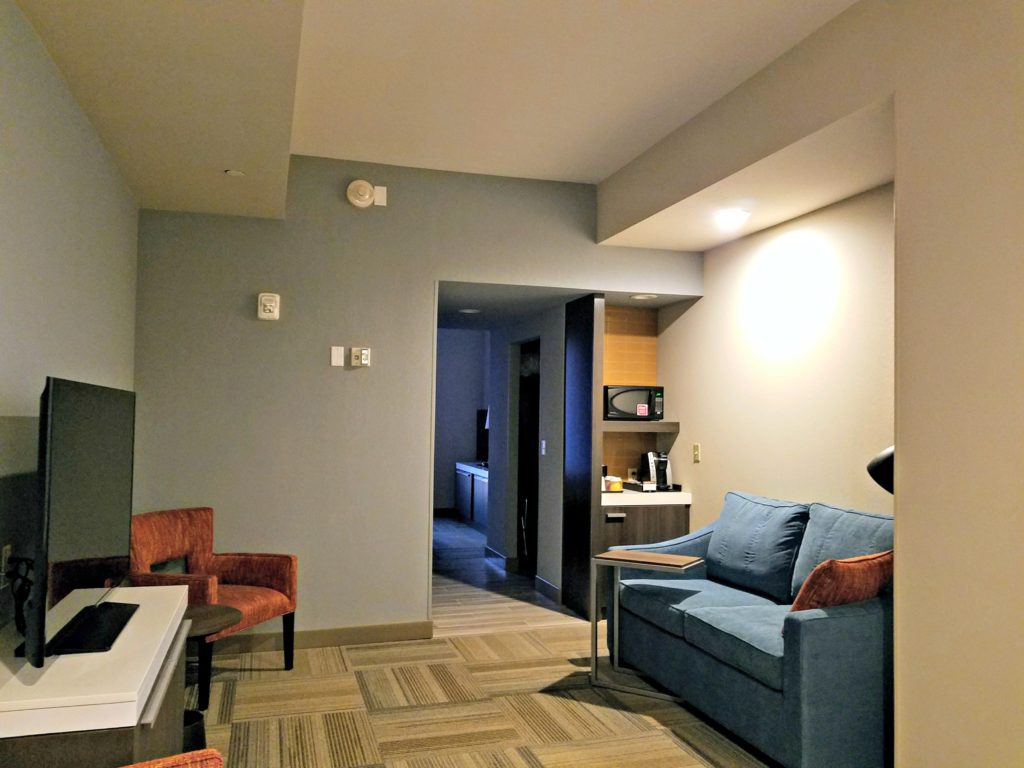 A large work desk was also provided, and the lighting throughout the suite was both tasteful and functional. Both wired and WiFi internet service are provided in each room, and secure remote printing is also available. Once again, the Hilton Garden Inn has thought of almost anything a business traveler might need, like desk level outlets and even a comfortable ergonomic desk chair for those road warriors with aching backs!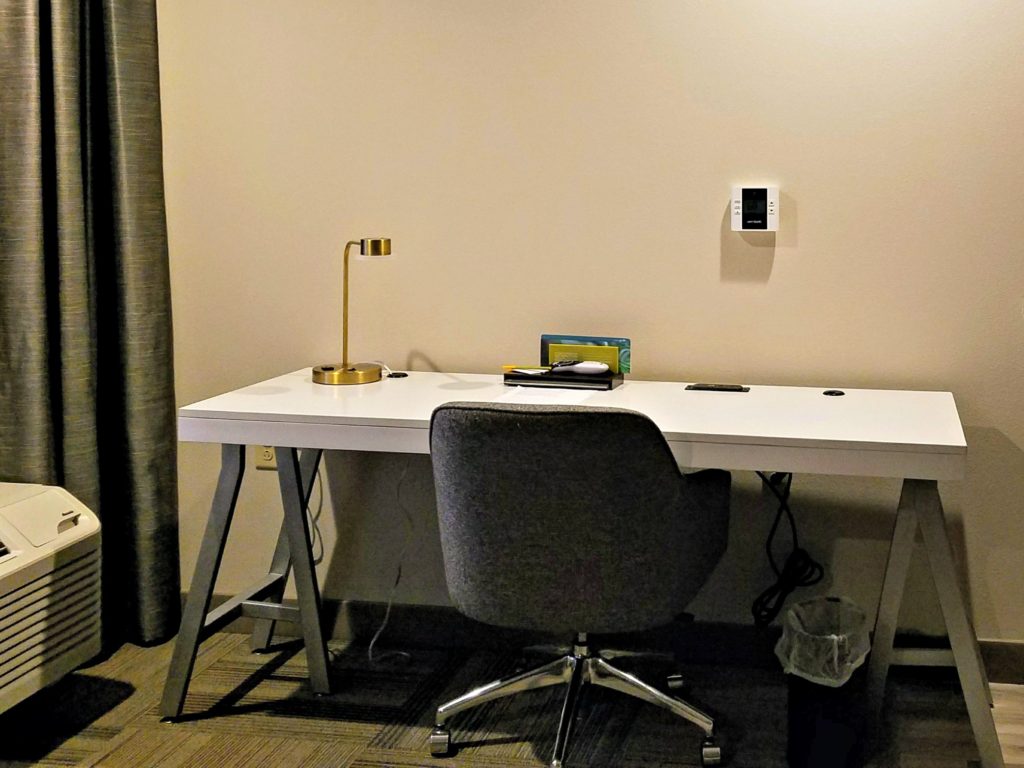 The bathroom was well stocked with plush towels, and the shower was spotless. A hair dryer, and ironing board and an iron are also provided in every room.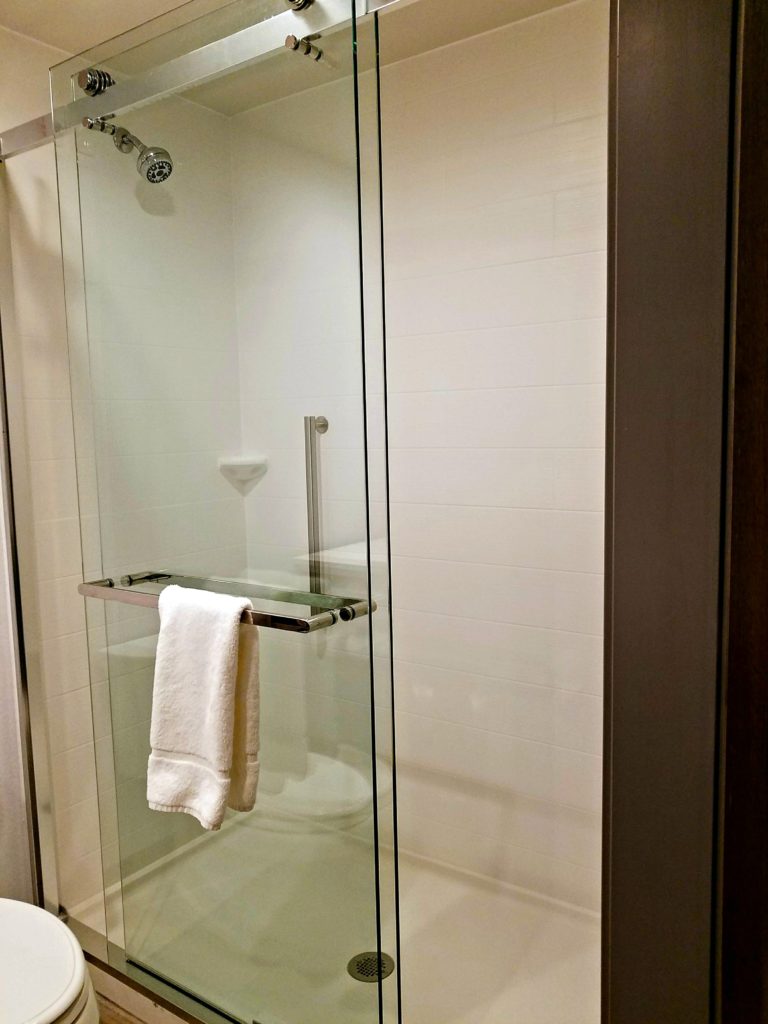 The Neutrogena toiletries were the high quality I expected to find in a Hilton hotel.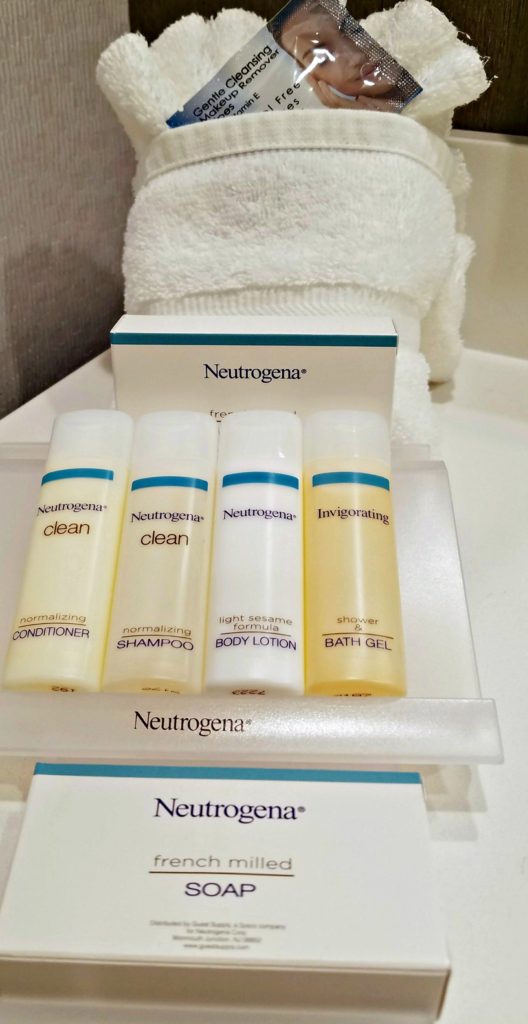 The bedroom was tranquil and tastefully appointed, and the Serta Sleeper bedding was much appreciated. (I might skimp on many things in my life, but high quality bedding is NOT one of them!)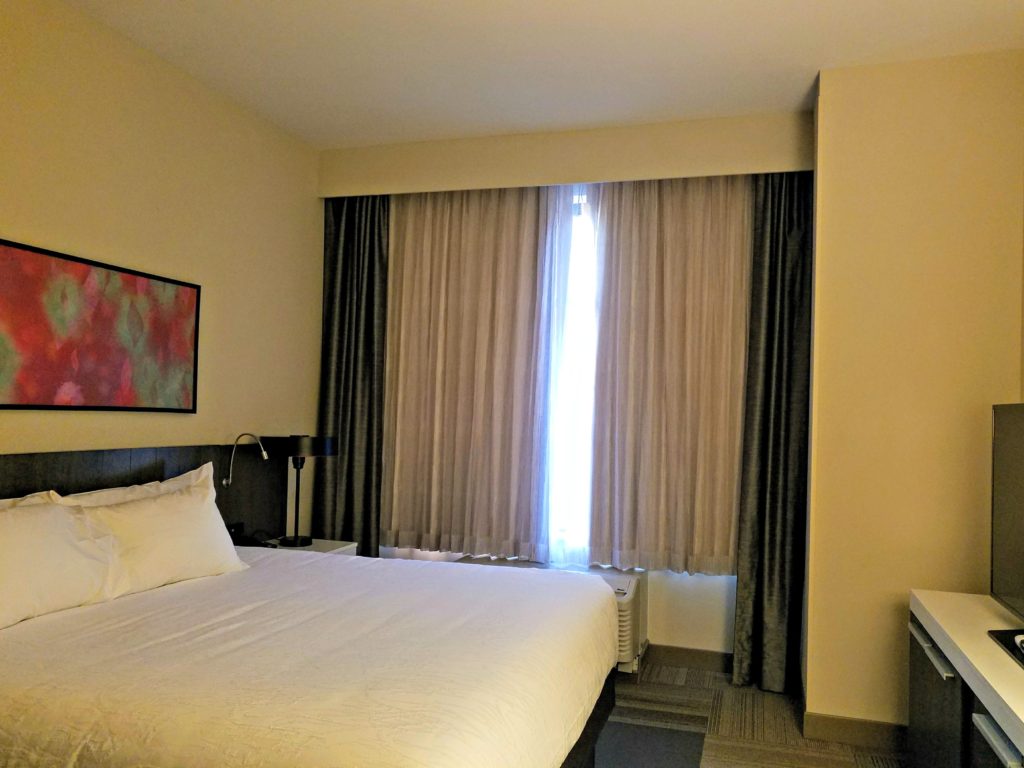 The view from my window was unique since my room faced the beautiful new University of Iowa Voxman Music Building.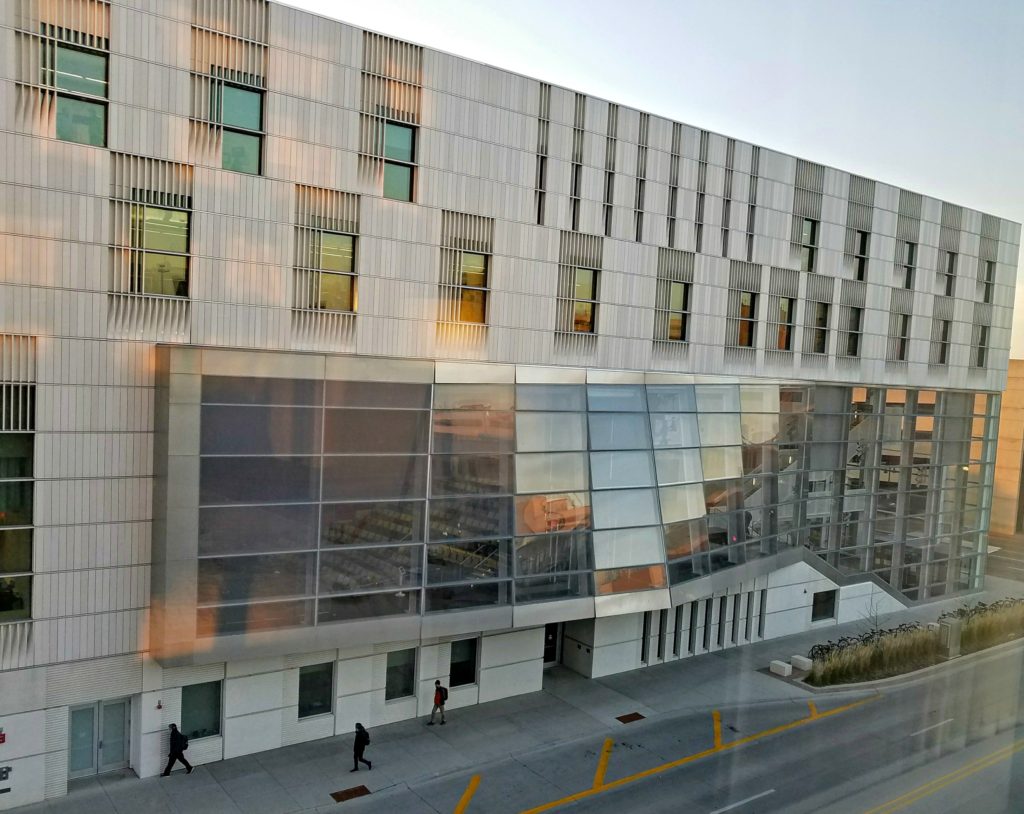 As I marveled at the design and architecture of the building I noticed something even more amazing. Each window in that building was filled with a student perfecting his or her musical talents!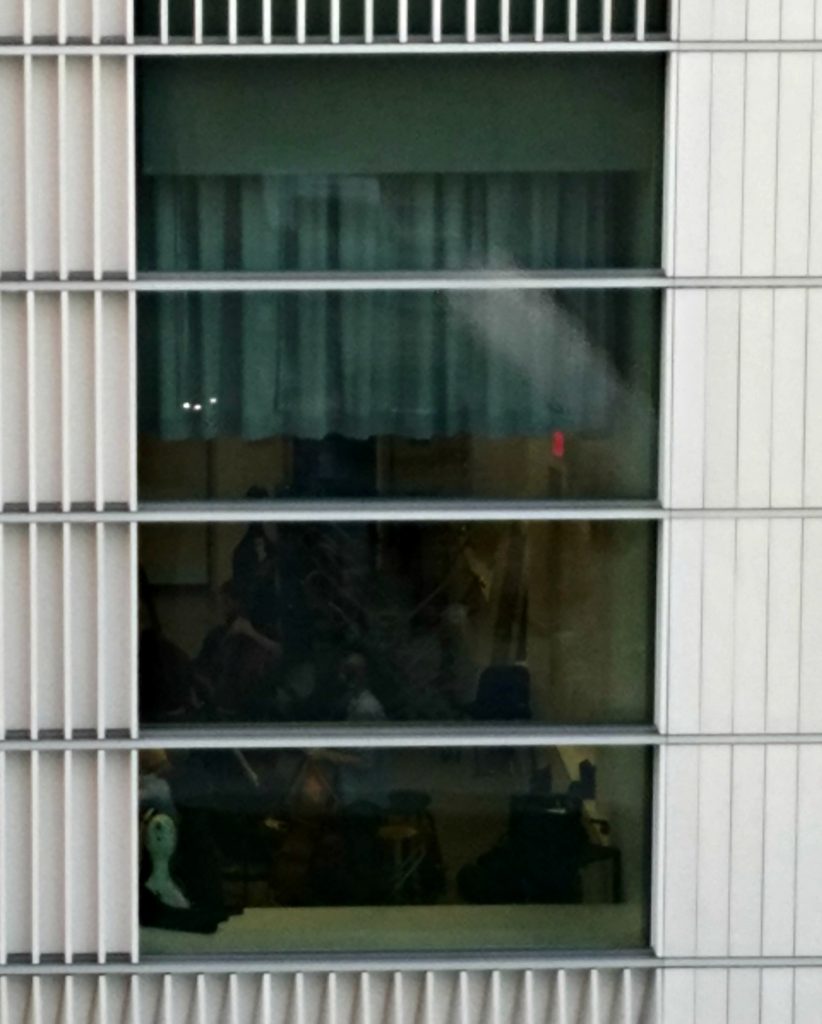 In one window a young woman was playing a cello. In another window a man was playing a grand piano. And the huge window displayed an orchestra rehearsal. It was fascinating…and something I've never seen anywhere else.
As the sun began to set it was time to join the rest of our group for dinner at VUE, so stay tuned for those details and I bet you won't be disappointed.
I know I wasn't!