Meatloaf is a dish people love…or they hate. But there are so many variations on how to "doctor up" ground beef that even true meatloaf haters may need to think twice about writing it off.
On a recent trip I decided to make meatloaf and mashed potatoes for our Indy family. The girls were thrilled, but our son turned up his nose. I was surprised to learn that he is not a fan. (He turns thumbs down on the sweet ketchup and brown sugar glaze many people use.) So I assured him I had other ideas for the meatloaf I planned to make.
The ketchup topping is OK, but through the years I have begun to make mine with mushrooms and a topping of mushroom sauce that turns into the best gravy ever. And who doesn't love mashed potatoes and gravy?
In fact, when we visit our Indy kids I have to make SO MANY mashed potatoes I have to stand on a stool to be able to accomplish that mashing!
My version of meatloaf starts by dicing onion, garlic, portabello mushrooms and fresh parsley in a little extra virgin olive oil until the veggies give off their moisture and the onions are translucent.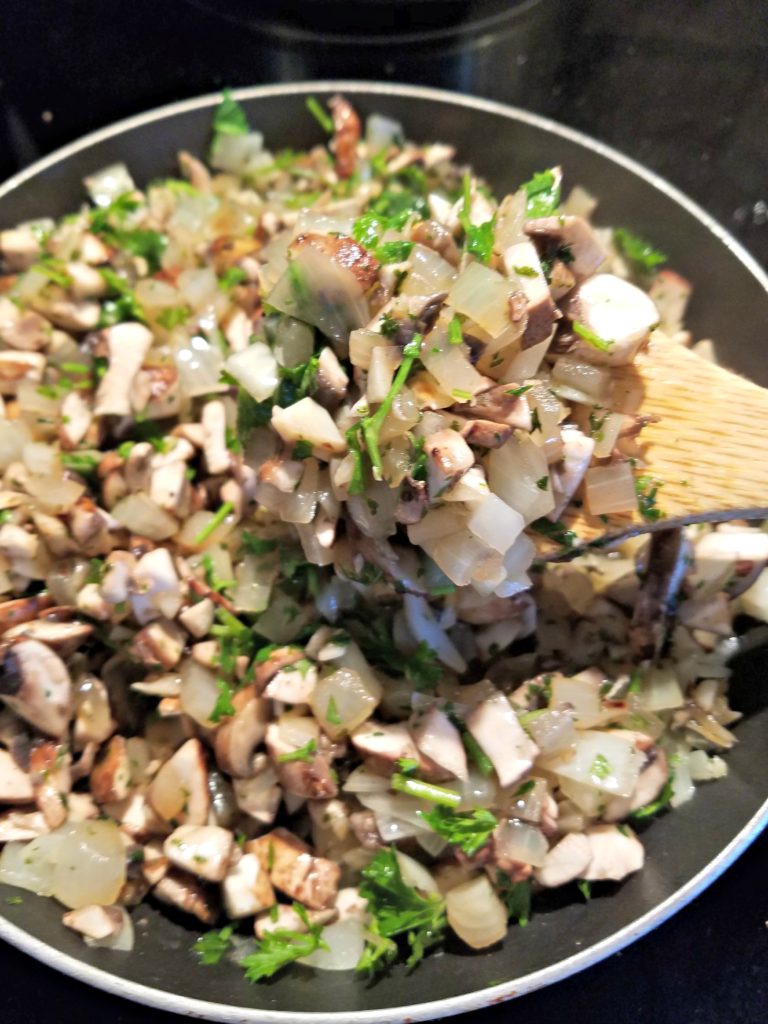 Next, I add 1/2 of a can of mushroom sauce. (reserve the other half to top the meatloaf before baking.)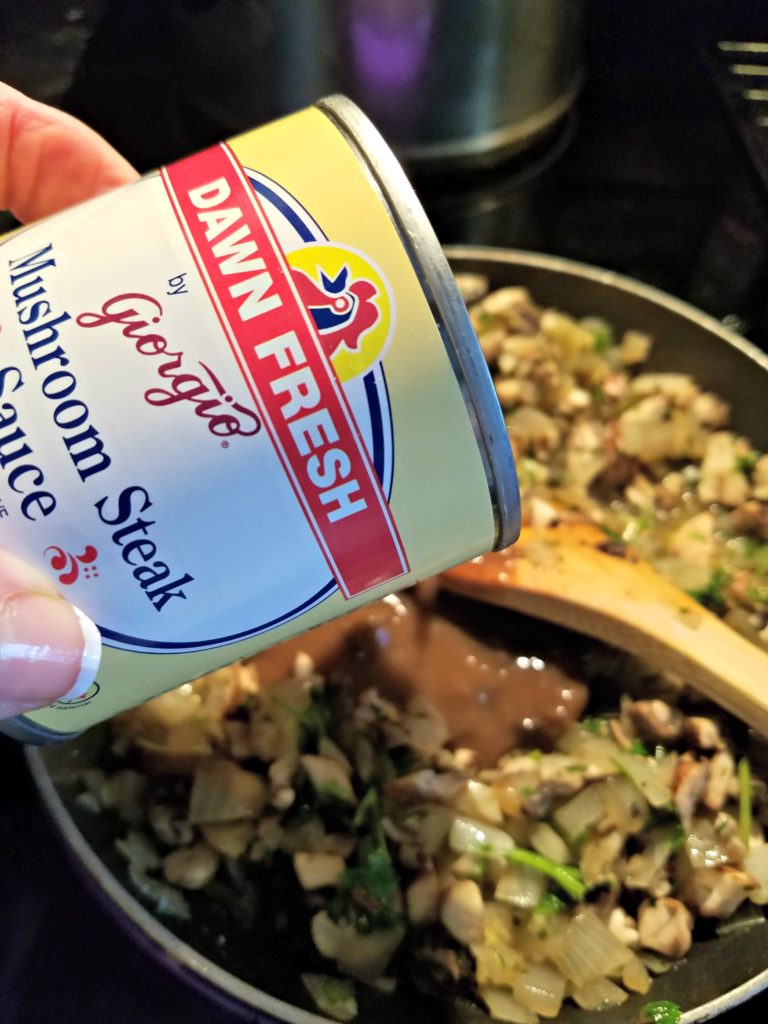 I allow the mixture to cool while I prepare the other ingredients.
In a large mixing bowl I combine the ground beef, eggs, panko bread crumbs and more fresh parsley.,,and I add some salt and fresh ground black pepper.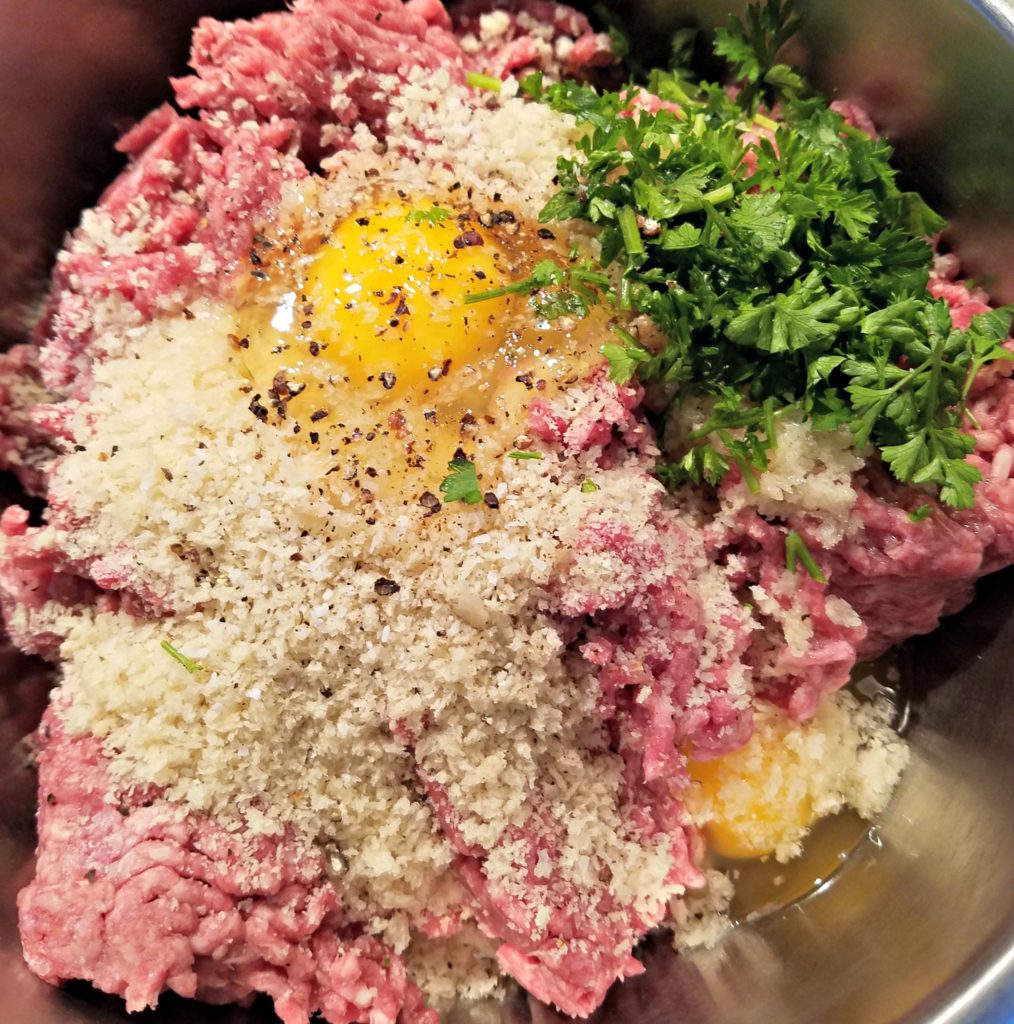 I GENTLY mix the ingredients together, then I stir in the cooled vegetable mixture and lightly mix to combine. (Never over-mix meatloaf or the loaf will be heavy and dense.)
Gently fold in just a few tablespoons of Half and Half.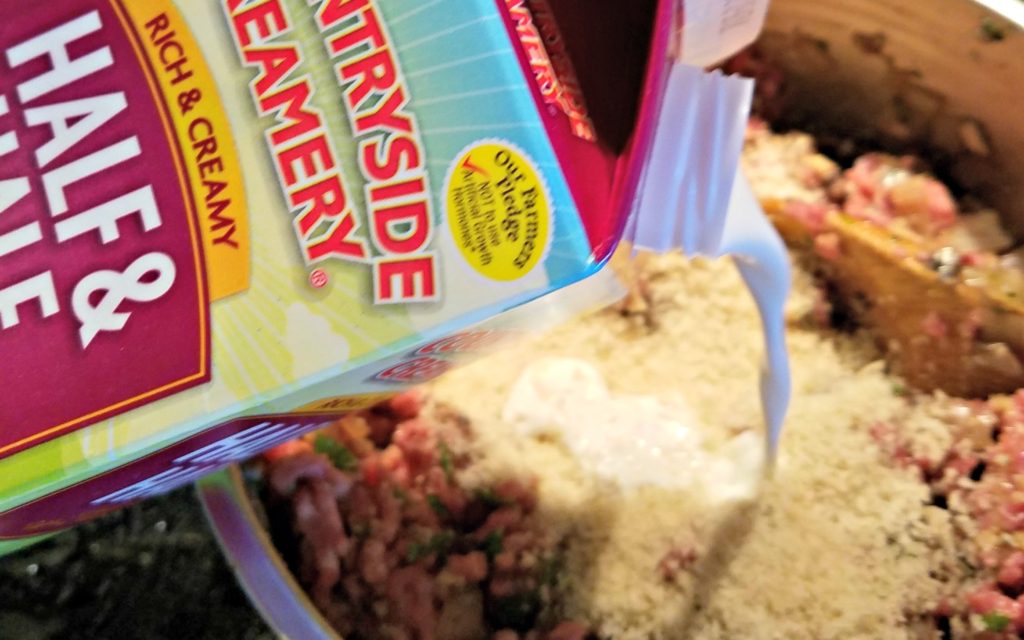 Spray a cast iron skillet or a shallow baking pan And gently pat the meatloaf mixture into a loaf shape and place in the pan. Spread the remaining mushroom sauce over the meat.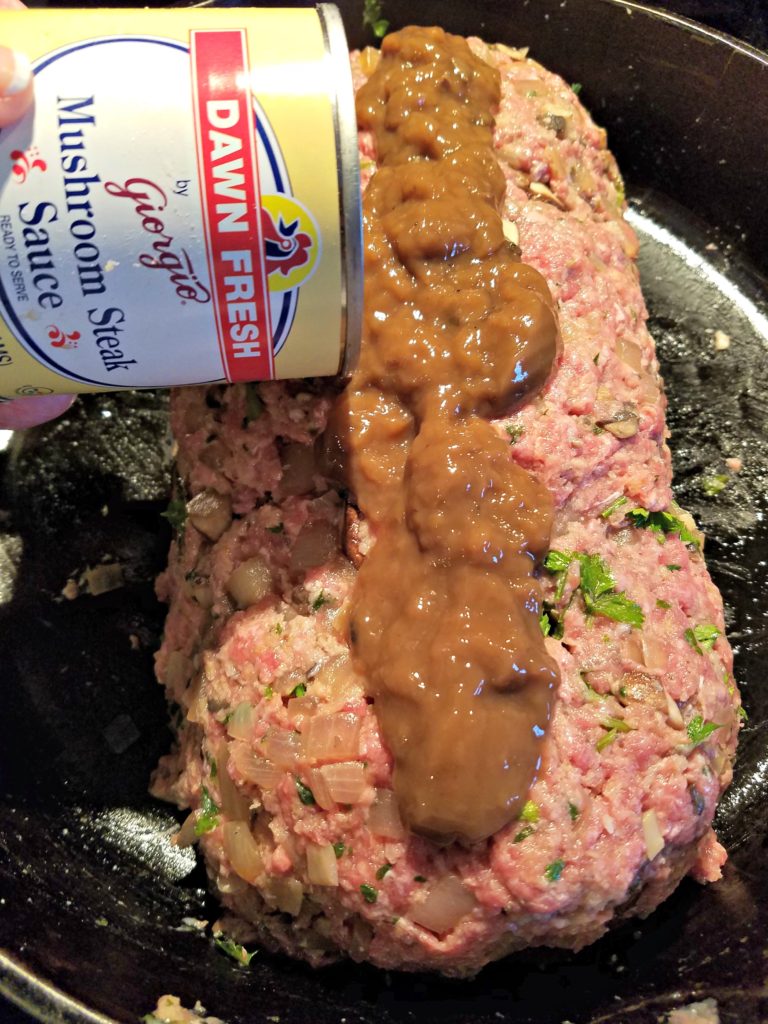 Bake at approx 375 for about an hour (or longer) or until internal temperature registers 160 degrees. Remove from the oven and allow to "rest" for about 15 minutes to firm up.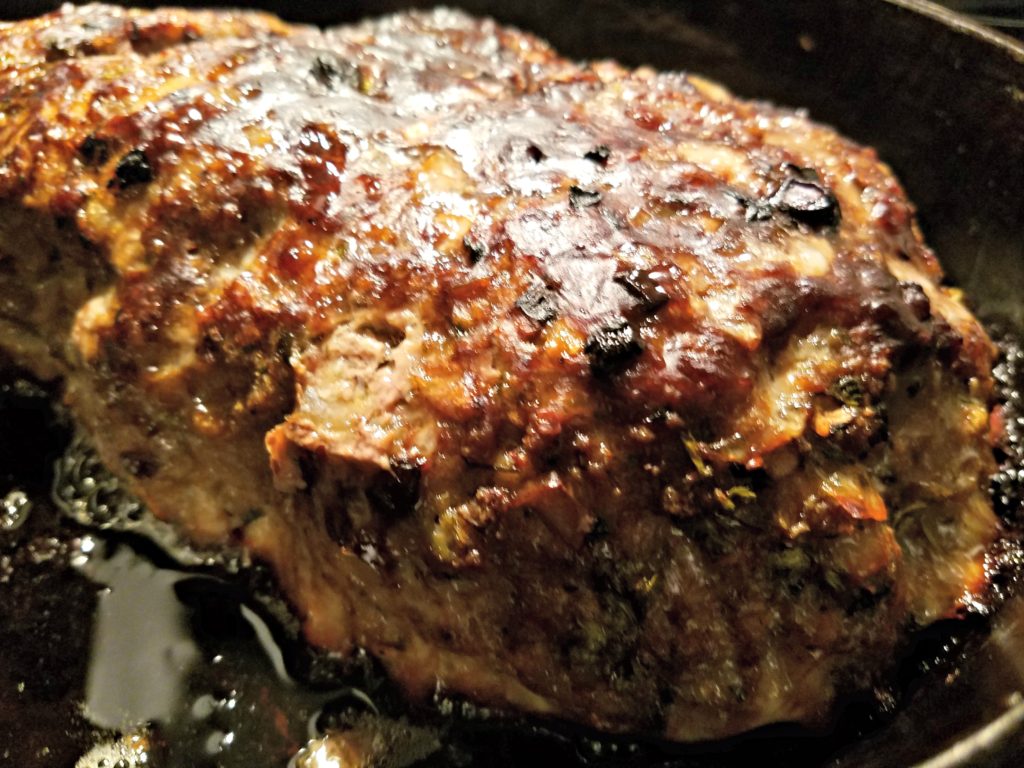 Remove the meat from the skillet or pan and use the drippings in the skillet to make gravy.
SIMPLE GRAVY
Sprinkle several tablespoons of flour into the drippings and whisk for several minutes to "cook" the flour. While it cooks, heat several cups of water and several vegetable bouillon cubes in the microwave until boiling. (You could also use canned or boxed chicken or beef broth if you wish.) Pour bouillon or broth into the skillet and whisk quickly to prevent lumps. Add enough to make the gravy the consistency you want. (Don't add more salt without tasting first.) You will never know how thick gravy will get until the mixture boils! Adjust liquid at that time.
Serve that rich brown mushroom gravy over some garlic mashed potatoes…and be sure to drizzle some over your meatloaf masterpiece.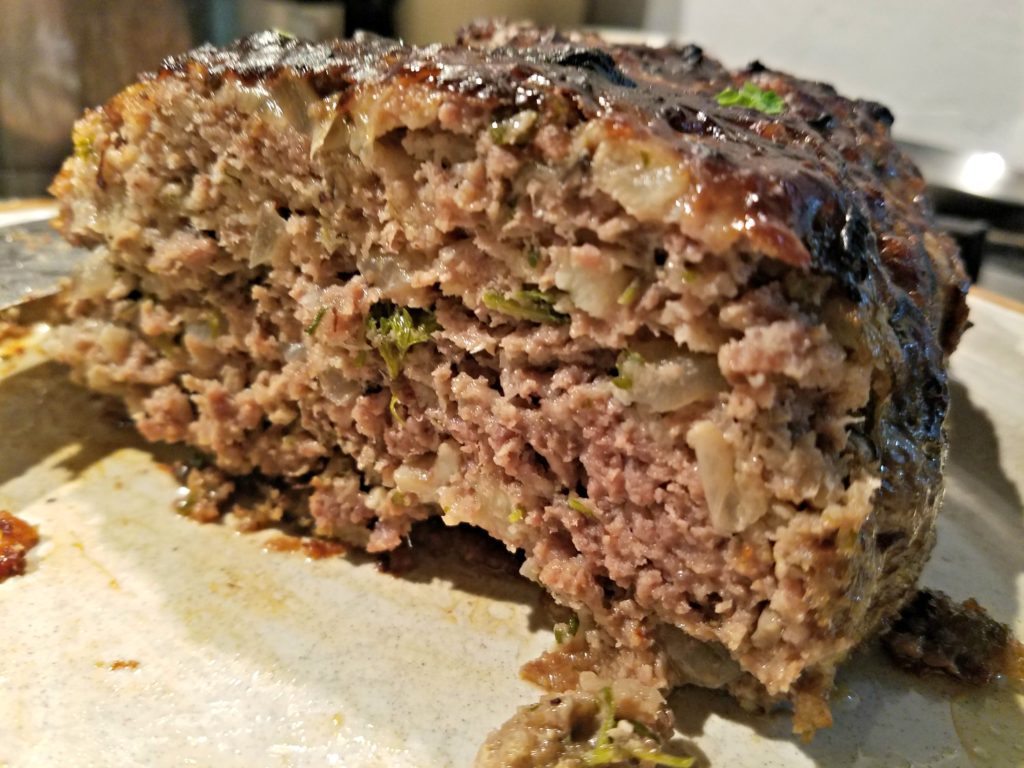 And I'll bet nobody at YOUR house will turn up your nose the next time YOU mention meatloaf.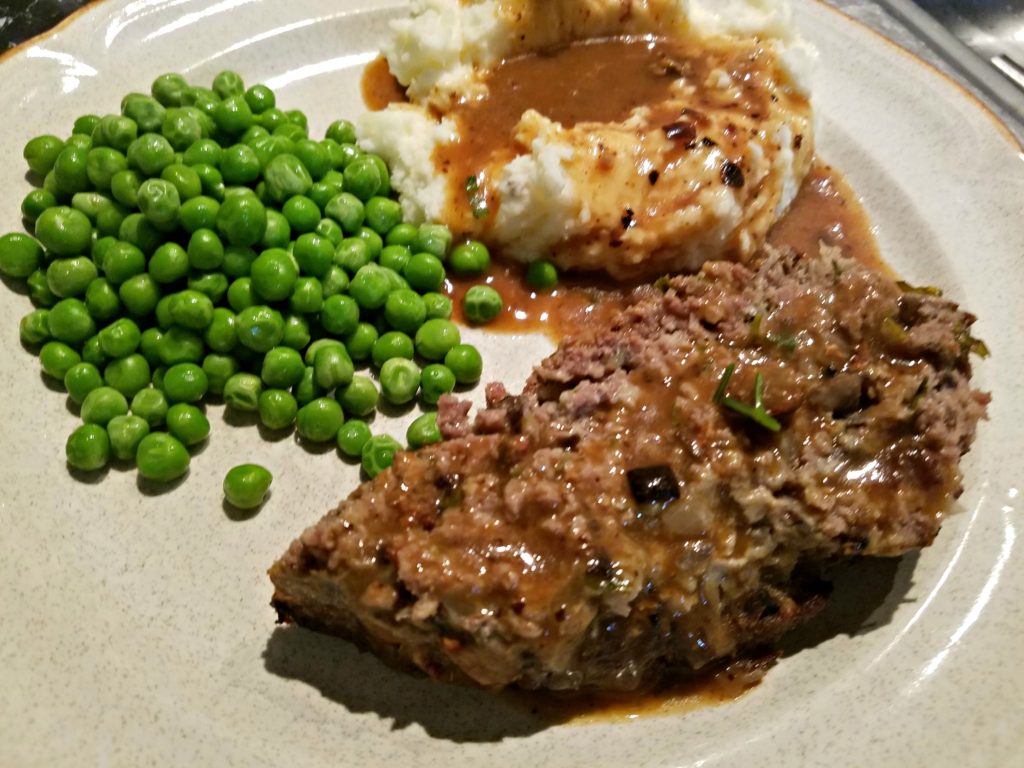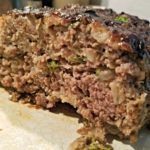 Meemaw's Mushroom Meatloaf
Ingredients
2

lbs.

Ground Beef

1

Large

Onion

Diced

2-3

Cloves

Garlic

Minced

1

(8 oz.) Pkg

Portabello Mushrooms

Finely Chopped

1/4

Cup

Milk

1/2

Cup

Plain Bread Crumbs (I use Panko)

1

(6 oz.) Can

Dawn Fresh (by Giorgio) Mushroom Sauce

(DIVIDED)

1 or 2

Eggs

2

Tblsp.

Extra Virgin Olive Oil

1

Bunch

Fresh Parsley (include some stems)

Finely Chopped
Instructions
Saute the onions and garlic in olive oil and cook for several minutes. Add the sliced mushrooms and some chopped fresh parsley and saute until mixture is soft. Set aside to cool. In a large bowl combine all ingredients EXCEPT ADD ONLY HALF of the Mushroom Sauce. (Throw in some more chopped fresh parsley if desired.) Mix to combine but do not overmix or meatloaf will become heavy and dense! Form into a loaf shape in a baking pan. Top the loaf with the remaining mushroom sauce. Bake in a 375-400 degree oven for about 1 1/4 hours or until internal temp is 160 degrees. Remove meat from the pan and allow to rest while you make the gravy from the drippings in the pan.

GRAVY-Place pan on stove and whisk in 1/4 cup of flour. Stir up browned bits in the pan and stir for several minutes. Then add 2 cups water and continue to stir.