Good friends can sometimes slip out of our lives, but when they slip back in it's a wonderful thing. And that's what happened when I reconnected with my friend Jane. (Unfortunately we lost touch years ago after our kids grew up and we stopped attending school events together.) After a chance encounter at an outdoor cafe we reconnected and it felt like old times once again. When Jane learned about my food and travel blog she invited me to her synagogue to learn the basics of making a wonderful bread called challah. (Challah is a Jewish bread that is usually braided and typically eaten on ceremonial occasions such as Sabbath and major Jewish holidays.)
So on a summer Sunday afternoon I arrived at Agudas Achim Synagogue where I met the rest of our group of wannabe bread bakers. After introductions (and a lot of handwashing) we began to make our challah creations.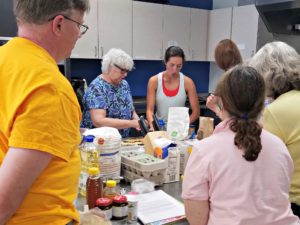 I had never been in a kosher kitchen before, and it was fascinating to see first-hand how all meat and dairy products (and the cooking and baking utensils) are kept separate.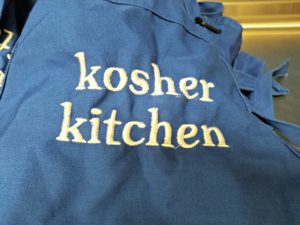 There are basically two kitchens in the one space, and there are signs hanging from the ceiling to remind everyone.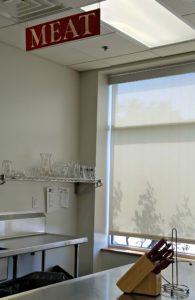 There are knives for the Meat kitchen…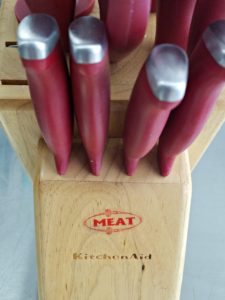 And a separate set on the totally separate counter in the Dairy kitchen.
We began by mixing yeast, sugar and warm water in our large mixing bowls. We allowed the mixture to begin to "come alive." Then we added the oil before adding our eggs and the honey.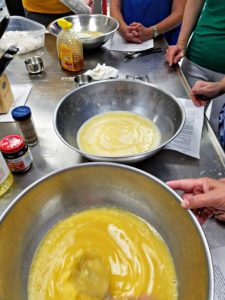 We added the flour and stirred to combine. And that's where the kneading began. I love that part of bread making! (If you make lots of challah bread you can skip the gym for an upper body workout!)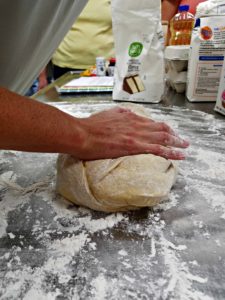 The next step was to divide the dough into six equal portions. We used three pieces for each challah loaf so this recipe made two loaves. (If you are REALLY talented I'm told you can make a SIX braid loaf…but we were in the novice class in that kitchen.)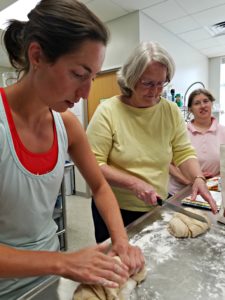 It was so much fun visiting with all the others in that warm and wonderful kitchen. We came together from many backgrounds and from many faiths. And we soon realized one of our common bonds is the love of good food and fellowship.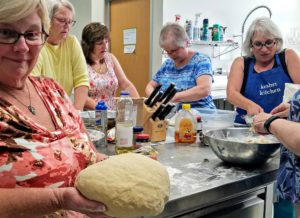 We flattened each braid and added the fillings of our choice, such as cinnamon and raisins.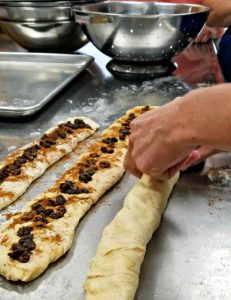 Then we carefully folded the dough over the fillings and created three "ropes" which we then braided together. (That step was easy for me, since I used to braid my horse's mane when I was a little girl on the farm!)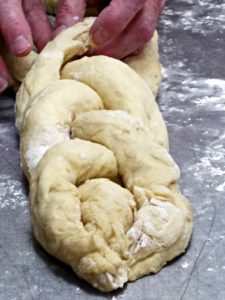 Then it was time to brush each loaf with an egg wash. And that's when our hosts realized there were no pastry brushes in the kitchen. But fingers were made before pastry brushes, so we dipped our clean hands into the eggs and slathered the mixture on each challah loaf.
Then into the ovens when all of those loaves.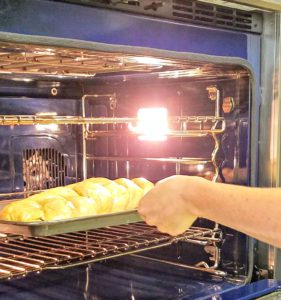 The smell of those baking loaves of challah was heavenly!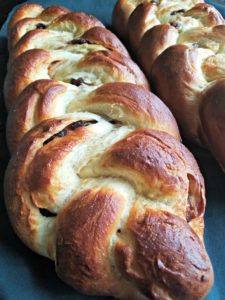 And the best part of the afternoon? When all of us sat down together to literally break bread.
That is how food brings people together. And the friendships that blossomed that day are priceless.
We sliced and slathered those warm loaves with sweet creamery butter and we laughed and talked and compared notes on our baking success. And we DID have success!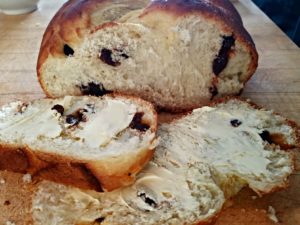 In fact, one of the Jewish women wore an apron that really summed up our experience that day…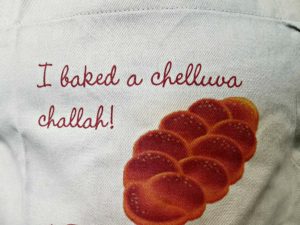 And she was absolutely correct!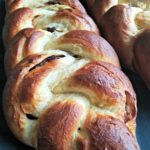 Challah Bread
This recipe was published in the New York Times, (9-19-2001) by Joan Nathan (NYT)
Ingredients
1 1/2

Tbsps.

Active Dry Yeast

1

Tbsp.

Sugar

1/2

Cup

Vegetable Oil

5

Large

Eggs

1

Tblsp

Salt

1/2

Cup

Honey (Or Sugar)

8 to 81/2

Cups

Flour

Poppy or Sesame Seeds (If Desired)
Instructions
1. In a large mixing bowl dissolve yeast and 1 Tblsp sugar in 1 3/4 Cups lukewarm water. Allow to "work" for a few minutes to activate yeast.

2. Whisk oil into yeast, then beat in 4 of the eggs with the honey and salt. Gradually add flour. When dough holds together it is ready for kneading. (You can also use a mixer with a dough hook for both mixing and kneading.)

3. Turn dough onto a floured surface and knead until smooth. Clean out the bowl and grease it, then return the dough to the bowl. Cover with plastic wrap and let rise in a warm place for about an hour or until almost doubled. (Dough may also rise in an oven that has been warmed to 150 degrees and turned off.) Punch down the dough and let rise a second time for about 1/2 hour.

4. Divide dough into six equal pieces. Roll 3 of the pieces into "snakes" of equal length. Flatten each piece and top with cinnamon and raisins or any dried fruit. Fold the dough over the filling and braid the three "snakes" into a loaf shape. Repeat with the other three pieces of dough to make a second loaf. Place loaves on a greased cookie sheet at least two inches apart, or use two pans.

5. Beat the remaining egg and brush on top of both loaves. Either freeze breads or allow to rise another houser.

6. IF BAKING IMMEDIATELY, preheat oven to 375 degrees and brush loaves again with egg wash. Bake for 30 to 40 minutes or until loaves are golden brown.

7. IF FREEZING, Remove from the freezer 5 hours before baking.

(To decorate with poppy or sesame seeds, dip your finger in egg wash and then into seeds, and then onto the bread before baking.)