Baked apples are super simple dessert that can be dressed up to look fit for company.
Sometimes a simple dessert like this one is even more appealing to your guests…especially if you've served them a decadent and heavy entree. And who really needs that pie crust anyway? Sometimes I think those extra calories are just that…extra calories that can be eliminated…at least some of the time.
Here is how to "wow" your guests…and take the easy road for yourself in your kitchen!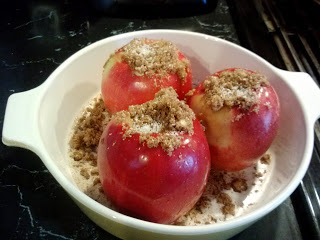 BAKED APPLES
1/2 C. brown sugar
2-3 T. butter, cubed
2 tsp. cinnamon
Pinch of salt
1/2 tsp Pumpkin Pie Spice (or just throw in a little nutmeg and allspice if you have them)
1/2 C. Half & Half
Optional: Raisins, Nuts, Dried Cranberries
(I baked three apples…adjust the ingredients for how many you want to bake.)
Core the fruit, but try not to go completely through the bottom. (If they're "wobbly" cut a thin slice off the bottom to allow them to sit up straight in the dish.)
In a small dish, combine brown sugar, butter, salt and spices. Work the butter into the brown sugar and cinnamon with your fingers until mixture is crumbly. You can also stir in a handful of raisins, nuts and/or dried cranberries if you want. Add a pinch of salt. Stuff the mixture into each apple and scatter any remaining mixture over them. (If you want the apples sweeter, add more brown sugar.) I then poured about 1/2 cup of Half & Half around fruit. I baked (uncovered) at 350 degrees for about 45-50 minutes. Remove from the oven and allow to cool.
To serve, I placed each apple in an individual serving dish and topped with a scoop of vanilla ice cream. Easy peasey, and so pretty too.
Mom always said we eat with our eyes first. And she was right!