In honor of the recent announcement that bacon and red meat are going to kill us I decided to serve shrimp for dinner. (These gloom and doom reports sometimes make me laugh…and they always make me hungry!) I checked out a recipe for Spaghetti Squash Shrimp Scampi on a website called chefkey…and then I modified it to use the ingredients I had on hand. And I must say, this healthier version "recipe" is a keeper.
SPAGHETTI SQUASH SHRIMP SCAMPI
Cut a large spaghetti squash in half and scoop out seeds and pulp. (Be careful not to disturb the flesh.)
Drizzle with Extra Virgin Olive Oil and salt and pepper. Turn both halves upside down on a tin foil covered sheet pan, and roast at 375 degrees for about 30-40 minutes or until JUST soft enough to shred. Do NOT overcook!
Remove from the oven and carefully shred the squash with a fork….and set aside.
Add 1 T. butter to a pan and saute a pound of raw, peeled, and deveined shrimp for several minutes. Do NOT overcook! (Mine took about two minutes.) Remove shrimp from the pan and set aside.
To the same pan add:
2 tablespoons of butter
6-7 cloves of garlic, minced
1/2 of a large onion, finely diced
Cook and stir for several minutes.
Then add:
About 1/2 C white wine and cook several minutes.
Then add 3/4 C. water
1 heaping tablespoon of chicken base (bouillon)
1 heaping tablespoon of drained capers
1 teaspoon of Meemaw's Magic Dry Rub blend, or you may substitute a creole seasoning.
Swirl the mixture together and cook for about five minutes…
Then add about 1/2 cup of heavy cream (You could probably use milk or half and half…but WHY?)
Add in the shrimp and squash and stir gently to combine and heat through.
Stir in 1/2 cup chopped fresh parsley
And several twists of fresh cracked black pepper…
Stir gently to combine…and serve.
(It was hard to believe we weren't eating pasta!)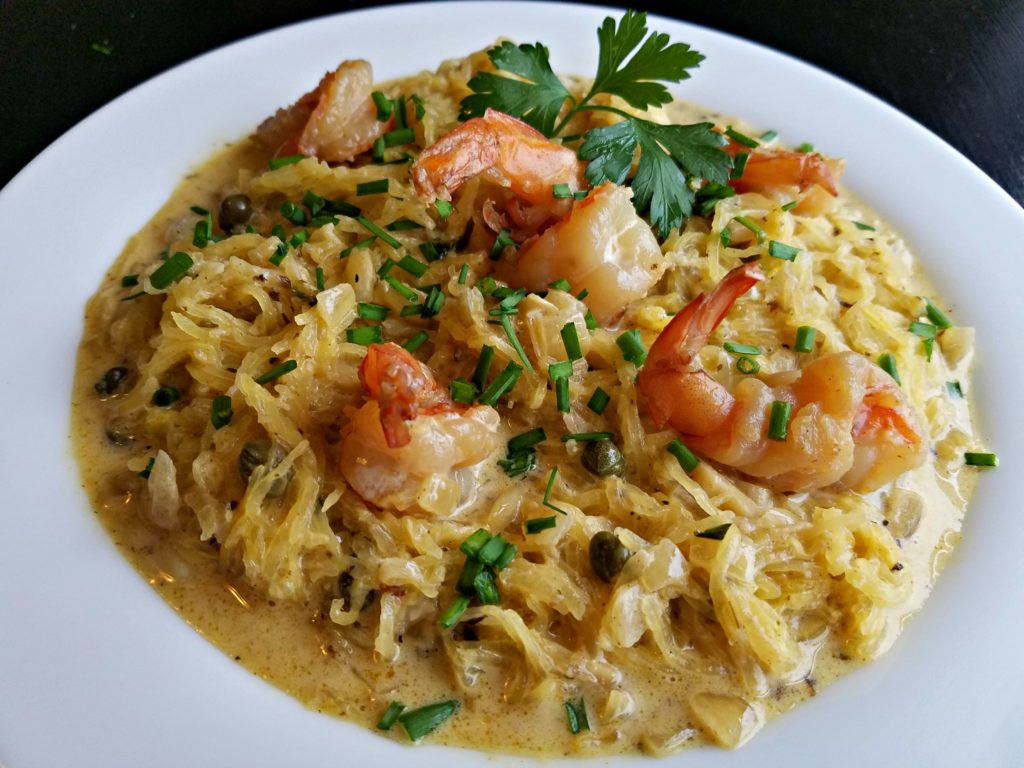 Love, love, LOVE…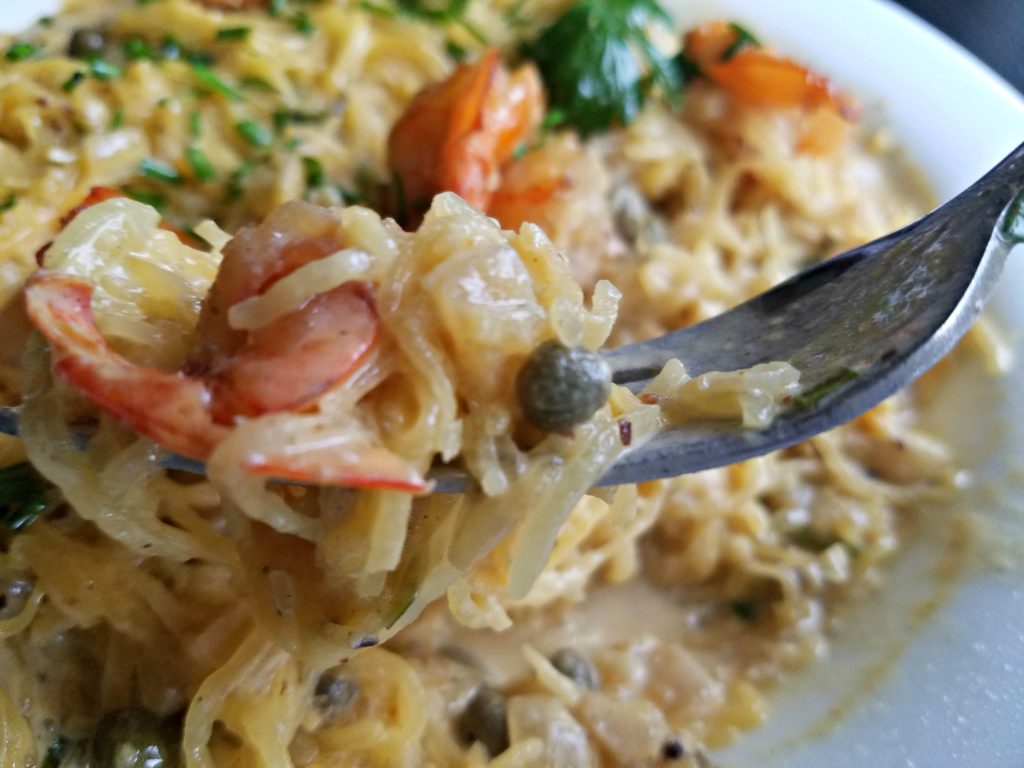 But now that I created this match made in Heaven, I suppose spaghetti squash will soon be added to the "naughty foods" list.
Oh, well…maybe bacon will be exonerated by then.