Autumn is the perfect time to make butternut squash ravioli. And it's also the perfect season to entertain guests!
When entertaining company, I love to try out new recipes, especially when I invite "victims" who seem to be willing to eat just about anything I cook! So imagine how much fun I had when I got to experiment with a recipe and "tweak" it to make it EASY…and to change the ingredients enough to call it my own version.
This time I used won-ton wrappers instead of pasta dough, and I used a package of frozen squash instead of roasting a whole squash. (Sometimes even I like to take kitchen shortcuts!)
Our FIRST course…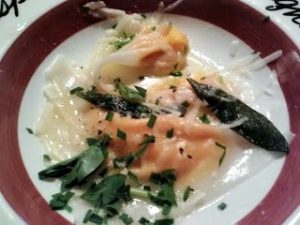 Roasted Butternut Squash Ravioli With Sage Brown Butter Sauce
INGREDIENTS
9 tablespoons butter
3 tablespoons finely minced onion
1 pkg frozen butternut squash puree
kosher salt and fresh-ground pepper to taste
3 tablespoons heavy cream
3 tablespoons grated Parmigiano-Reggiano cheese plus 2 extra ounces
Pinch of fresh-grated nutmeg
1 pkg won ton wrappers
1 beaten egg
12 fresh sage leaves
1 tablespoon finely chopped fresh parsley
DIRECTIONS
In a sauté pan, over medium heat, melt 1 tablespoon of the butter. Add the onion and sauté for 1 minute. Add the squash puree and cook until the mixture is slightly dry, about 2 to 3 minutes. Season with salt and pepper. Stir in the cream and continue to cook for 2 minutes. Remove from the heat and stir in 3 tablespoons cheese and nutmeg, to taste. Cool completely.
Lay out won-ton wrappers. Place approx. 1 to 2 teaspoons of the filling in the center of each square. Brush the edge of the won ton wrapper with the beaten egg. Bring 1 corner of the square to the other, forming a triangle and seal the won-ton wrapper completely. Add the triangles to pot of boiling salted water. Cook until al dente, about 2 to 3 minutes or until the packets float and are pale in color.
Remove the raviolis from the water and drain well. Season with salt and pepper. (Note: If this recipe makes more raviolis than you need, just throw them in a freezer bag and freeze for later use.)
In a saute pan, melt the remaining 8 tablespoons of butter. Add the sage to the butter and continue to cook until the butter starts to brown. Remove from the heat.
Place several of the ravioli in the center of each serving plate. Spoon the butter sauce over the pasta. Grate and sprinkle the remaining Parmigiano-Reggiano over each plate and garnish with finely chopped parsley.
**************************
After the ravioli course I served herb roasted chicken with fresh green beans and oven roasted vegetables. And dessert was a decadent chocolate sheet cake garnished with chocolate sauce and fresh strawberries.
Have I mentioned lately that I LOVE to cook? (And I'm certainly glad our guests love to eat!)