Our "Road Trips" take us in many directions, and a recent Chicago trip found us hungry for breakfast on a beautiful Sunday morning. And that's when we hit the jackpot in Niles, Illinois. You see, a "diner breakfast", hot coffee and the Sunday paper are the norm for us, no matter where we are.
I used my trusty smartphone GPS to scope out our options, and let's just say we are willing to go out of our way to find the best diner in any community. We stopped at what turned out to be a cookie cutter franchise type place first. We walked inside and looked at their menu and we walked right back out! I just KNEW we could find a better spot in Niles…and boy was I correct!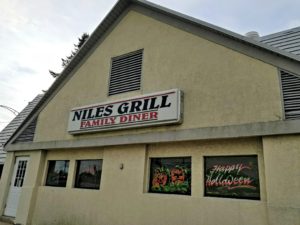 The minute we opened the door to this cheery little place we were greeted by the chef, and I knew at first glance this was a Mom and Pop restaurant. And the silver haired chef was obviously the patriarch of the family business.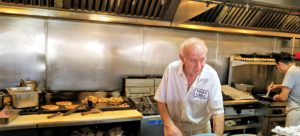 The retro vibe was welcoming, and the many windows made the room feel light and airy.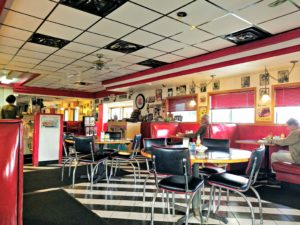 The server who greeted us with a smile just had to be the chef's daughter. (She was!) She told me her name is Fati and her dad's name is Zick…and he's been cooking in that diner "for 35 years…and counting!" I asked Fati for help in deciding what to order from their extensive menu and she assured me that their skillets were very popular. Peepaw and I made our selections and Fati headed over to her dad to place our orders.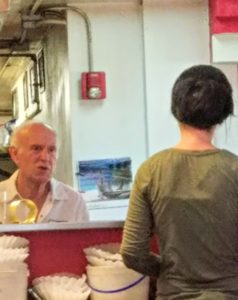 Our coffee cups were always kept full and steaming hot, and we enjoyed watching as the "locals" kept strolling in. Chef Zick had a smile and a wave of his spatula for everyone who entered, and it wasn't long before our breakfasts arrived.
Peepaw's pancakes were light as a feather. His eggs were cooked exactly the way he ordered them and the sausages were a perfect blend of spices and porky goodness.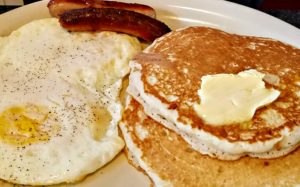 And I believe my breakfast skillet was the best I've ever eaten!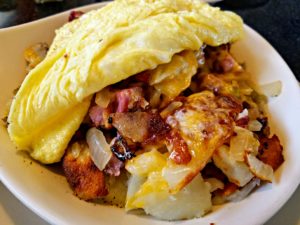 The fluffy scrambled eggs were perched on top of a mound of potatoes that were freshly boiled and then fried golden brown with onions and big chunks of freshly carved ham. Just like I would have made in my own kitchen. And good enough for company!
I marveled at how FRESH everything tasted, and even though the ingredients were fried on a flat top there was absolutely no greasy residue. I can STILL taste those delicious potatoes! (That must be my Irish roots showing.)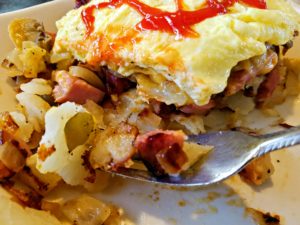 Yes, if we lived in Niles…the Niles Grill would be our "go to" Sunday morning breakfast spot.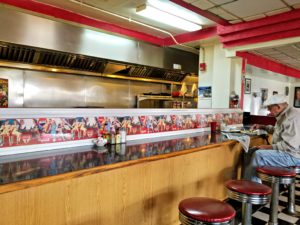 I truly hope that special family keeps their diner and their recipes intact for generations to come. Because that's what FAMILY restaurants are all about.
And you know me…I'm ALL about family!