The kitchen, ANY kitchen, is my Happy Place. And that place makes me even happier if kids are in the kitchen with me.
It's easy to find tasks for kids to do, no matter how young they are. I simply look for age appropriate tasks such as crushing corn flakes when we make our own oven baked chicken nuggets.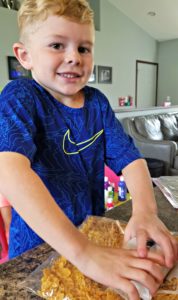 There are many lessons that can be learned in the kitchen, and kids are like sponges. They pick up techniques and directions very quickly. And they learn to like many different foods!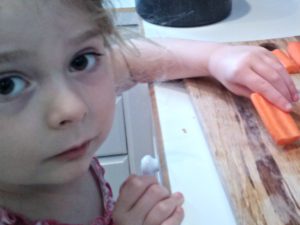 They also learn teamwork. Cooking is a wonderful way to learn to work together. (And you can eat your homework!)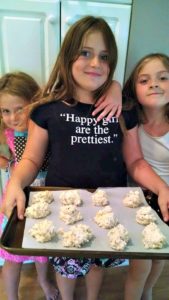 It's so much fun to see kids having fun and getting along!
And a little mess now and then is fine with me!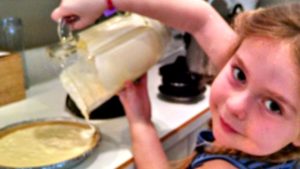 It really warms my heart when one of my grandkids announces that she has invented her very own recipe…like this one. It's her own version of fruit salad with a dressing she created. She even remembered to head out to my herb bed for some fresh basil and mint to add even more flavor.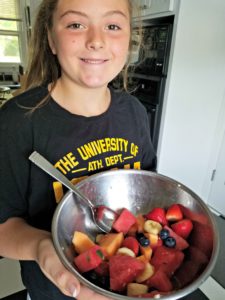 And what kid doesn't like to play with machines that make noise and spin like a top?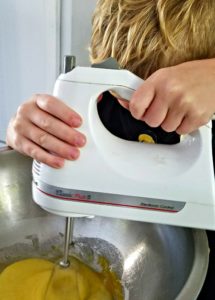 The kitchen can be a magical place where kids and adults can spend quality time together…learning lessons that will last a lifetime. And older children can be taught knife skills that will help them to enjoy cooking on a much bigger scale. (Just make sure your child is mature enough for this lesson…and stay close by!)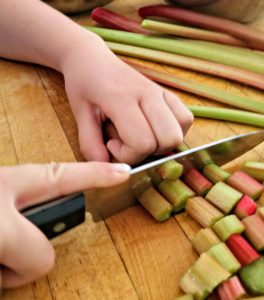 The smiles on those little faces make me know they are not only learning new skills…but they're having fun at the same time!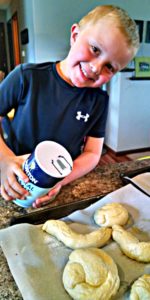 Measuring ingredients is also a math lesson. And fractions are easily learned in the kitchen.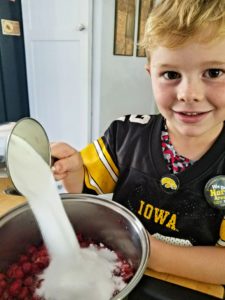 The names of kitchen utensils are easily learned and remembered. (Do YOU know what a bench scraper is, and how to use it? Ask my grandkids…they'll tell you!)
I LOVED my years of teaching cooking classes through our local community college, and the adults and kids I taught will always hold a warm spot in my heart.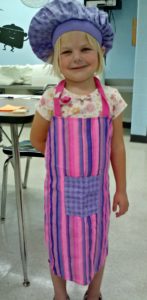 So if you have the opportunity…grab a child and head to the kitchen.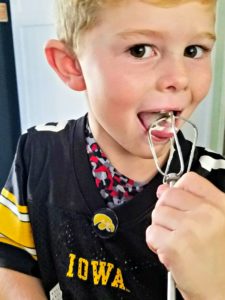 Because every kid deserves to have memories of licking those beaters!