When we get a reservation at "The Meemaw Hotel"…I go into entertaining mode and I begin to plan our meals. Meals fit for company. Such was the case when we hosted two of our favorite "foodie" house guests, and my menu ideas took flight. I planned for two "fancy" meals at our house, but a night "out on the town" for their first night in our home.
When Patricia and Stella arrived after their seven hour car trip, I took one look at the tired travelers and I asked them if they'd rather "eat in" after their long day. They were quick to say YES. So I began to think about what I could cook that would be quick, healthy and pretty on the plate. I remembered we had a package of cod in the freezer, and I knew our refrigerator was filled with fresh vegetables, so I opened a bottle (or two) of wine, and I told our guests to sit down and visit with me while I cooked. (My favorite way to spend the evening!) After studying our menu options, I made steamed cod and vegetables in parchment paper. Our guests loved the presentation….and so did I.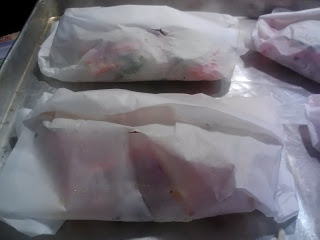 …Parchment Packets Ready For The Oven…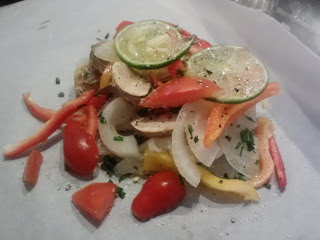 …A Rainbow On A Plate…
COD AND VEGETABLES IN PARCHMENT PAPER
I drizzled a tiny bit of Extra Virgin olive oil on the parchment paper, then added several small pieces of cod. I then added julienned pieces of onion, red and orange sweet peppers, grape tomato halves and mushrooms. I topped with a sprinkle of fresh herbs from my herb garden and several thin slices of lime…and I think I added a drizzle of white wine (or maybe we drank it??) I then folded the parcels and put them on a baking sheet and into the oven at 400 degrees for approx. 15 minutes. I cooked and served some whole wheat orzo Stella had brought, which I "doctored up" with sauteed portabello mushrooms, chicken broth and garlic. (The girls liked it…but I didn't. I just can't make myself like whole wheat pastas!! Too "gummy" for my palate, even if served al dente!)
*****
So our three night visit was off to a good start…
until the girls found out I threw away the leftover orzo!
(Welcome to the "Meemaw Hotel"…where I make the rules in the kitchen!)