Most kitchen gadgets are purchased on a whim, and soon you'll find them shoved into the back of overstuffed utensil drawers or collecting dust on the kitchen counter.
Admit it Dear Readers. We've all succumbed to the "order before midnight" pitch men on TV.) But a few kitchen items really are worth their weight in gold, and a bench scraper is one of them…in BOTH of my kitchens. I've even put one in our Indy son's kitchen since I love to cook at their house too. (And I've also watched my son reach for it when he is cooking.)
When chopping vegetables, a bench scraper makes short work of transferring the veggies from the cutting board to the skillet or soup pot without losing half the veggies onto the floor during the transfer. Think of that flat piece of metal as a wide extension of your hand. Imagine the joy you would feel by only making ONE journey from your cutting board to your soup pot instead of your usual six trips as you balance those diced veggies on your knife or in your hand. And I bet you never make that journey without watching at least a few of those veggies slide off onto the floor.
You can also use your trusty scraper to smash whole cloves of garlic if you're afraid to use your chef's knife for that purpose. You can also use a bench scraper to smash boiled potatoes before frying them.
This versatile tool was originally designed to cut dough into pieces, or to scrape up the stuck on bits of dough that cling to your work surface when making rolls, bread, cookies, or pasta.
I used one to cut my big lump of dough into several smaller pieces when I made homemade pasta with our Indy grandgirls this summer during GrandCamp.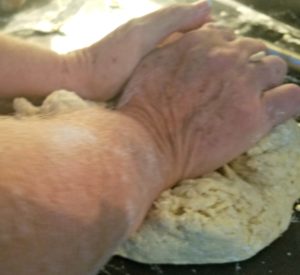 So invest in an inexpensive bench scraper, and you'll spend less time sweeping your floor and cleaning your countertops…and more time enjoying the dishes you create.