Beef stew is the perfect dinner to serve on a cold an rainy Autumn evening, and several years ago I created a stew recipe that hit all the right notes for me. (And it still does.)
First of all, I don't like mushy potatoes in stew, but I LOVE garlic mashed potatoes. So I decided to skip the potatoes in the stew and serve it over a warm pile of fluffy mash.
It was a GOOD idea. Trust me.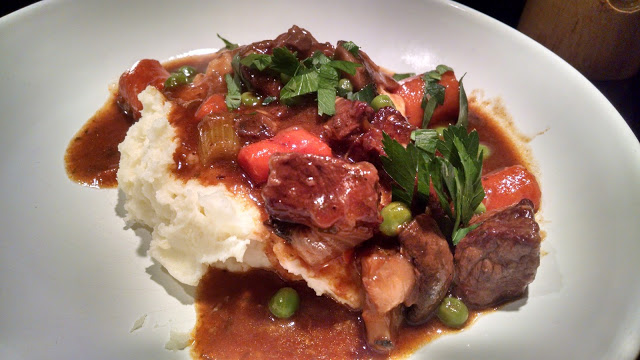 Off I went to the butchers at Fareway grocery store to select the perfect cut of meat for this dish. But instead of buying their "beef stew meat" cubes, I opted to purchase a rump roast that still contained a small amount of surface fat. (In my opinion the pre-cut stew meat cubes in the butcher's case were cut too small and were trimmed too much to make a flavorful stew.)
I bought a three pound boneless rump roast. I brought it home and cut in in half and froze half of it for another time. Then I cut the remaining chunk of meat into LARGE cubes, which I then dredged in a mixture of flour, salt and pepper.
I poured some extra virgin olive oil in a heavy bottomed dutch oven and began to brown the meat. COOKING TIP: Do NOT crowd the pan! Brown the meat in batches so the cubes don't touch. That way the cubes will brown instead of steam. That's a REALLY important step in the process. Take your time…it will be worth it. There IS flavor in the "brown."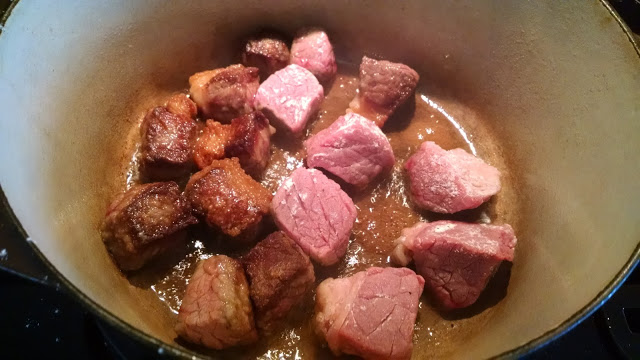 After all the meat is nicely caramelized and browned, I removed the meat from the pan and threw in the veggies. (Large chunks of veggies…not mini-bites or they will disappear during the long cooking process!)
I used carrots, celery, a large onion and about 4 cloves of chopped garlic.
After the veggies were well coated with the cooking fat, I kept stirring them for 4-5 minutes to release some of their liquid and until they just began to soften. Then I threw the meat back into the pot and stirred for several minutes.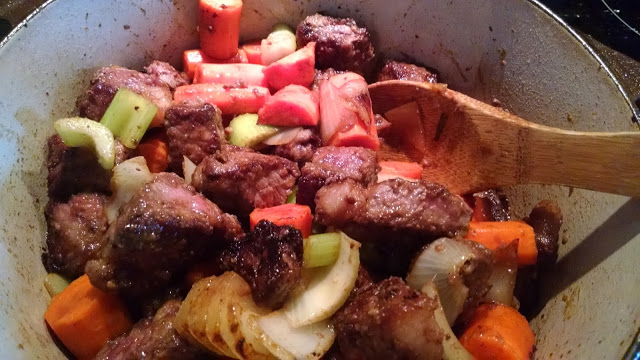 Then I added about one cup of red wine (I used Cabernet) and stirred all of that yummy goodness together. (It's important to COOK AND STIR the pot and let the wine reduce by about half before adding anything else to the pot.)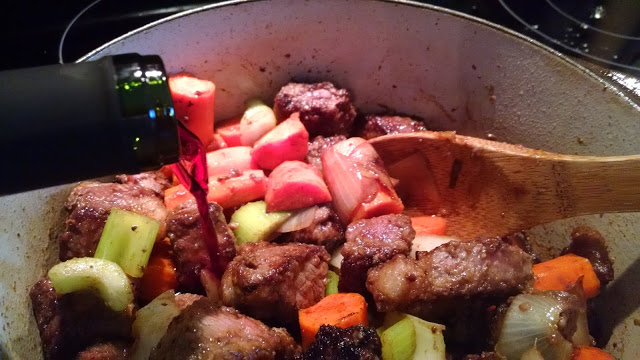 When the wine had reduced, I added about 3 oz. of tomato paste and stirred well. (That's half of a 6 oz. can…but don't waste the rest! Just throw half-full can into a plastic bag and stick it in your freezer to use another time.)
Then I added one Knorr Vegetable Cube and two Beef Cubes and two cups of water.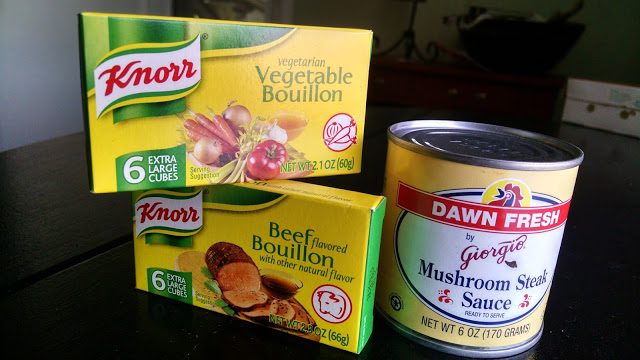 These items are ALWAYS in MY pantry!
I stirred to dissolve the cubes and combine the flavors, and I added one can of Giorgio Mushroom Steak Sauce and stirred to combine. (That mushroom sauce is an amazing flavor enhancer!)
I dropped in several sprigs of fresh thyme. You can fish out the "stems" later, after the tiny leaves cook into the stew. (You could substitute a little dried thyme if that's all you happen to have in your cupboard.)
I cooked that stew, covered, on low heat for several hours, stirring several times. And about an hour before serving, I stirred in one package of fresh mushrooms, roughly chopped or sliced.
And about five minutes before serving I added about half of a bag of frozen peas. (Don't add them too early or they won't stay bright green and pretty. And like Mom used to say, we eat with our eyes first!)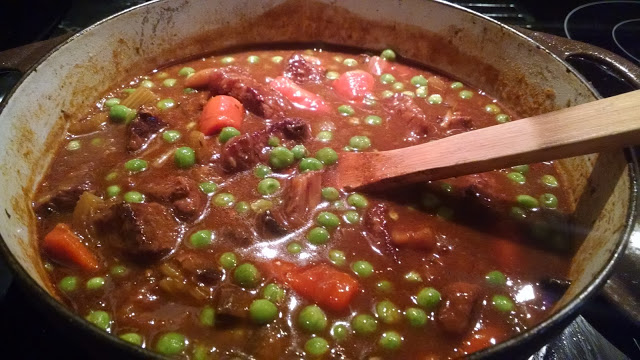 So here it is. The final product. Topped with some fresh parsley. And sitting on top of a pile of those yummy, creamy garlic mashed potatoes.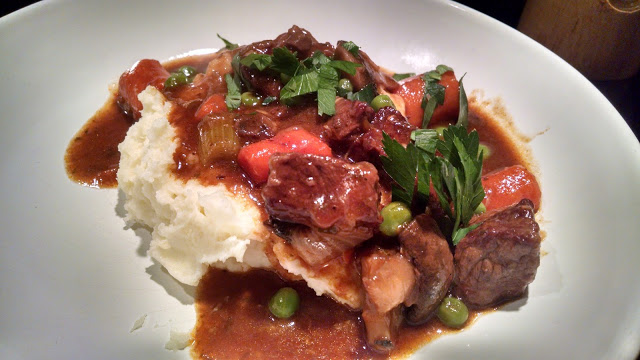 It was worth the wait.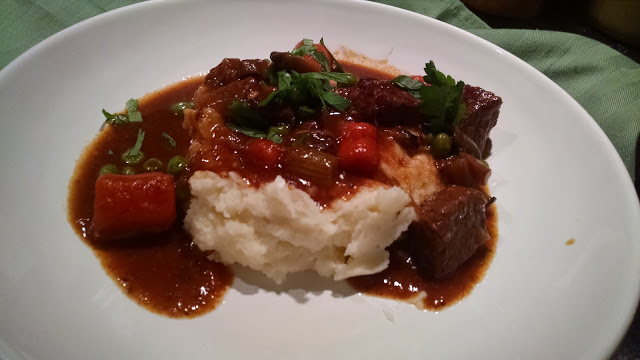 In fact, I liked it SO much I actually ran right to my computer after dinner and wrote down the ingredients and the amounts I used in the recipe. So for FUTURE reference…
INGREDIENT LIST
1 1/2 lb. boneless beef rump roast cubed and dredged in flour, salt and pepper
5 carrots
3 ribs celery
4 large garlic cloves
1 large onion
About 3 oz. tomato paste
1 vegetable bouillon cube
2 beef bouillon cubes
Approx. 1 c. red wine
1 6 oz. can mushroom Dawn Fresh by Giorgio Steak Sauce
1 box fresh mushrooms
1/2 bag frozen peas
fresh thyme
fresh flat leaf parsley
salt and pepper
2 c. water
So when a craving for beef stew hits you…GIVE IN. You'll be glad you did!