Horseradish and pickles may sound like an unlikely combination…but these beauties ROCK!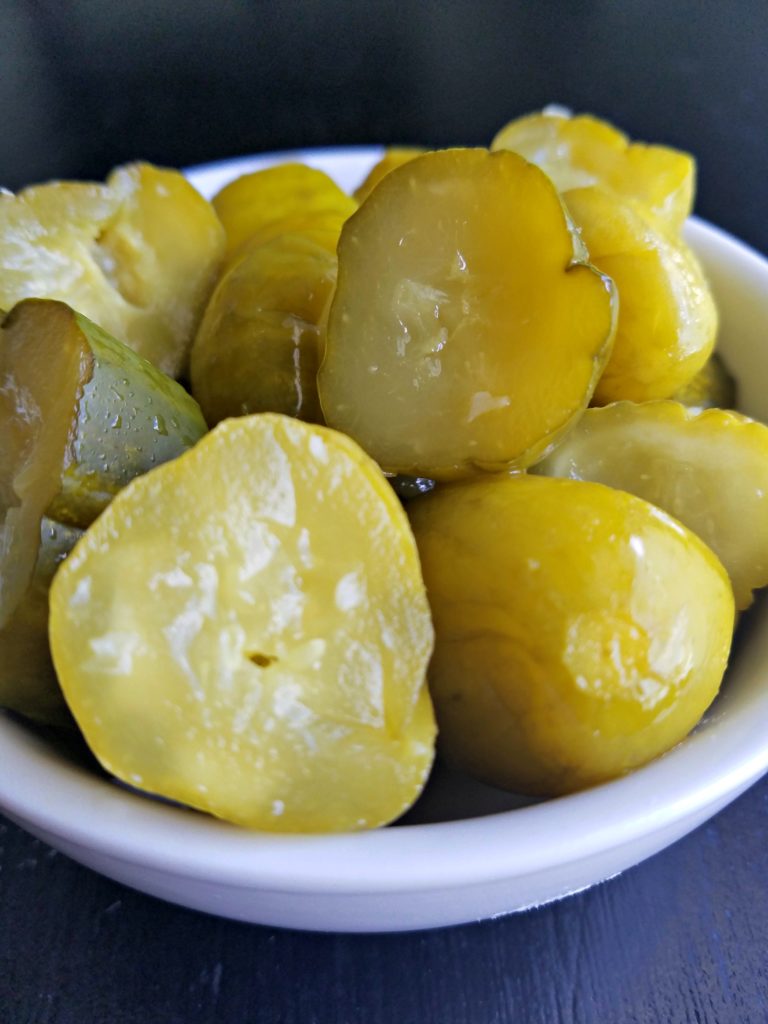 This recipe came from our daughter in law Sara. Her grandpa LOVED them…so they hold a special place in her heart. And I'm grateful that she shared the special recipe with me.
These spicy cukes are VERY popular at our tailgate parties, and they are super easy to make since they start out as simple dill pickles you buy at the store. So when I saw this GIANT size jar I knew I just had to make up a hug batch of these spicy yet sweet little beauties…especially since football season is just beginning. (They're really popular at our tailgate parties!)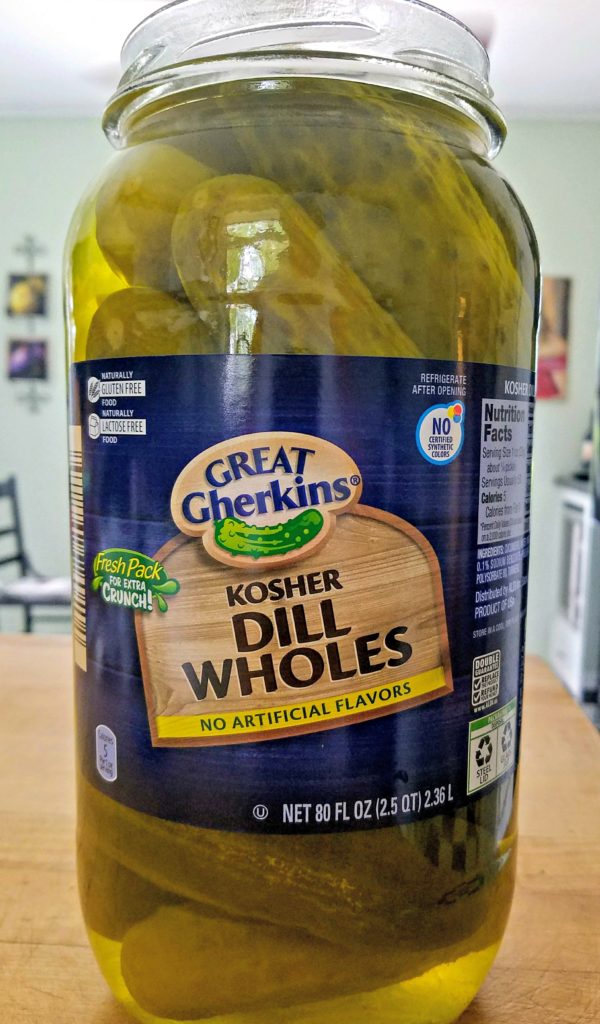 That 80 ounce was jar so big I had to nearly TRIPLE the original recipe!
And speaking of tailgating…stay tuned for a BIG announcement from me! I'm working on a "top secret" project that I think it will explain why my blog posts have been rather sparse lately. There are simply not enough hours in the day for this old Meemaw to get everything done!
But for now…
Simply drain the juice from a 32 oz. jar of whole dill pickles (32 oz. is the size of the jar that is called for in the original recipe) and cut them into big chunks before stuffing back into the jar. Here are the ingredients you'll need…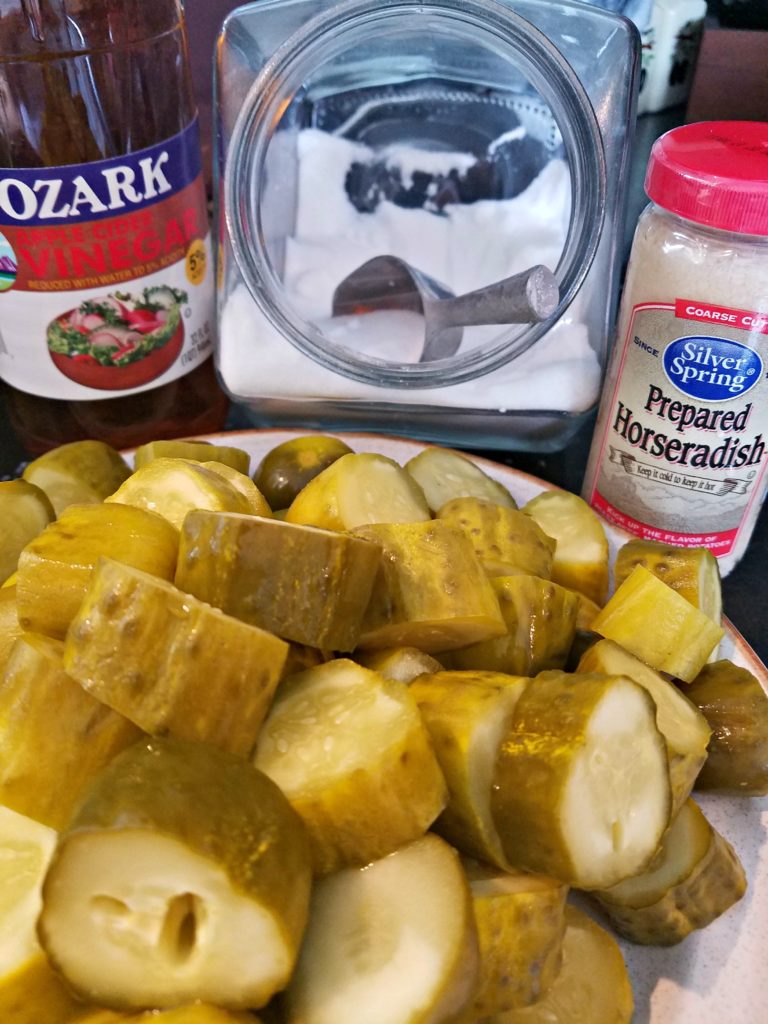 In a saucepan mix the sugar with the water and vinegar and bring to a boil. (Allow the liquid mixture to cool slightly to avoid the risk of breaking the glass jar when you pour it in.)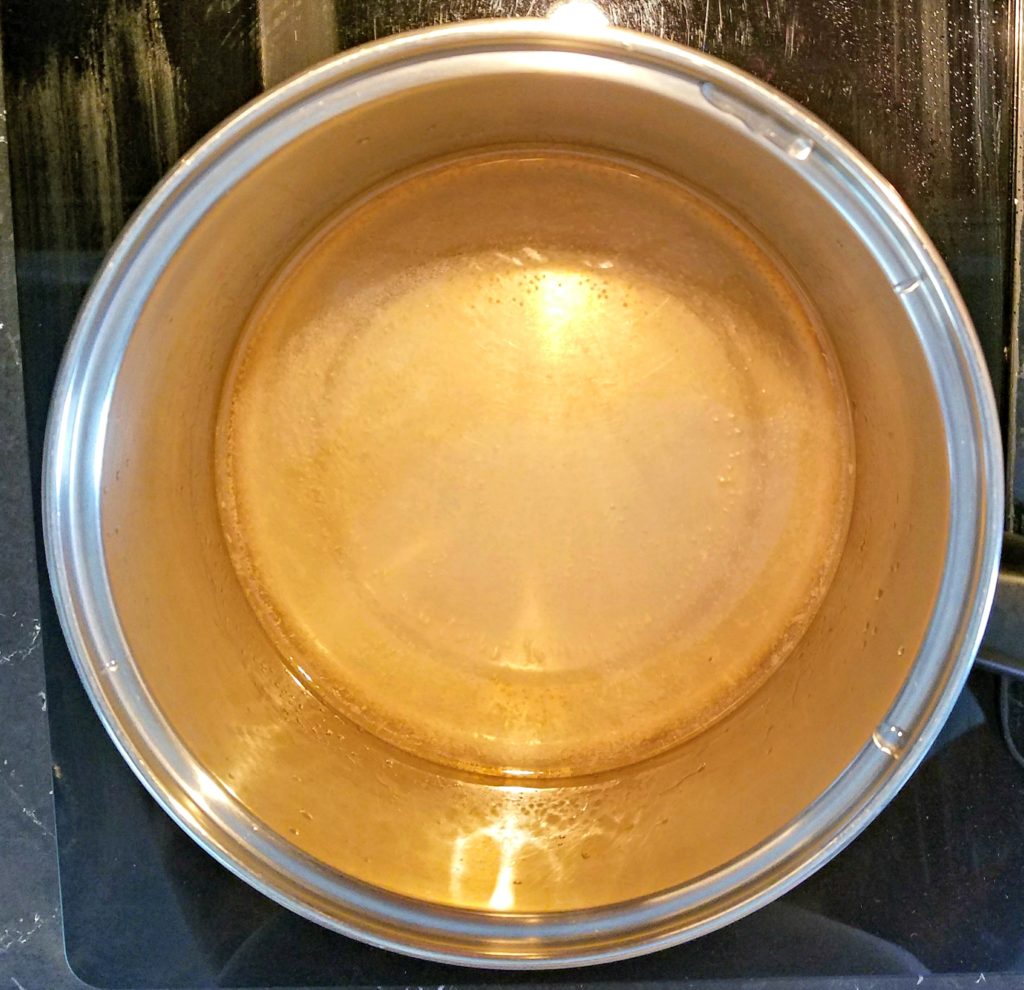 Add the horseradish to the jar. Then pour the slightly cooled sugar and vinegar mixture slowly back into the jar.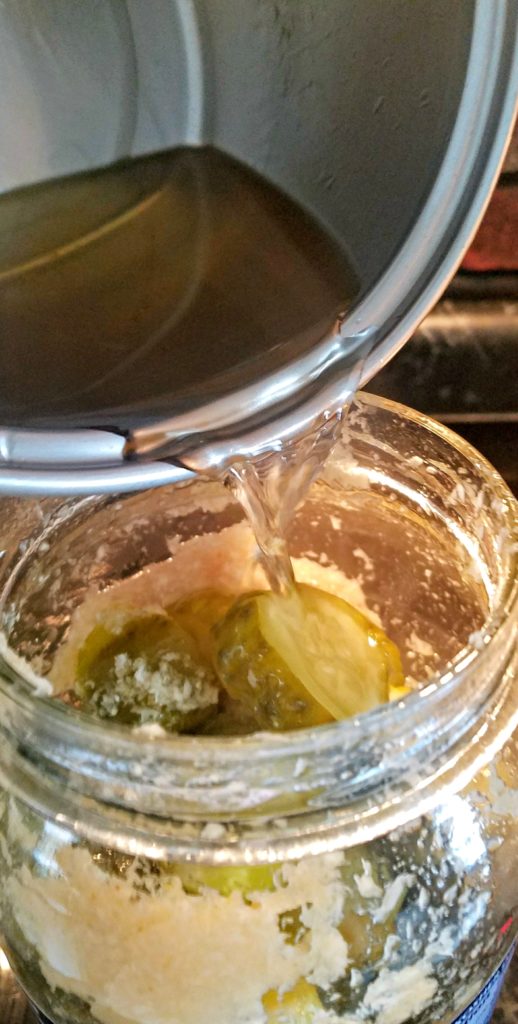 Put the lid back on the jar and shake well to combine. Store in the refrigerator and shake several times over the next few days to make sure all the ingredients are equally drenched in that spicy sweet liquid.
Yes…these litle gems are worth the effort, and I can see why Sara's grandpa loved them.
And I bet you will too!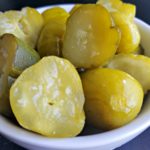 Horseradish Pickles
Ingredients
1

32 oz. jar

Kosher Dill Whole Pickles

1/4

Cup

Prepared Horseradish

1/4

Cup

Vinegar

3/4

Cup

White Sugar or Honey

(I use sugar)

2 1/2

Tblsps

Water
Instructions
Drain and discard the juice from the jar of pickles and cut them into chunks. Put them back in the jar. Add the horseradish to the jar and set aside. In a saucepan combine the Vinegar, Sugar and Water and bring to a boil while stirring to completely blend the ingredients. Set aside and allow to cool slightly, then pour over the pickles and horseradish in the jar. Screw on the cap tightly and invert several times to combine. Shake the jar and invert several times over the next few days to mix the horseradish completely. ENJOY!