Dill is an herb most folks expect to find in pickles. But this week I surprised some high school students with a whole new way to enjoy that herb in a unique way. I made a dill seed topping that just might replace their usual garlic bread from now on. (I'll tell you all about it.)
I know my way around an herb bed. In fact I grew twenty varieties this year!
Lovage
Basil
French Tarragon
Onion Chives
Lemon Balm
Flat Leaf Parsley
Thyme
Curly Parsley
Lemon Thyme
Sage
Rosemary
Garlic Chives
Cilantro
Lemon Grass
Horehound
Fennel
Oregano
Mint
Dill
Coriander
And every year I make a pilgrimage back to the high school our boys attended many years ago. I go because it renews my faith in future generations since the students at Regina are some of the most intelligent, attentive and eager to learn kids on the planet! It's a joy to be around them, and I remind the teachers how lucky they are to be teaching in such a wonderful environment. And I am quick to remind the kids how lucky they are for that very same reason.
Every year I teach a class on identifying and cooking with fresh herbs. I number each herb and I ask the students to smell and taste each variety and try to identify each one.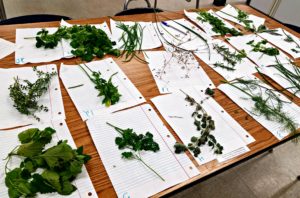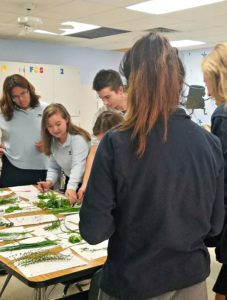 And to make the class even more "hands-on" we make two kinds of bread during each class so the students can taste how different herbs taste when used in cooking.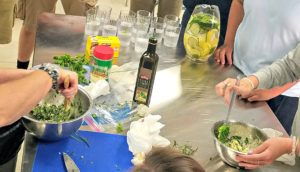 I make my own version of garlic cheese bread with fresh herbs, and I also make a loaf with a topping that features dill seed as a main ingredient.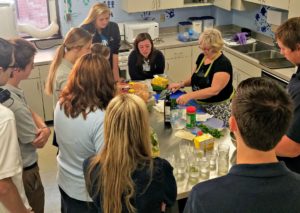 It's loaded with fresh herbs, green onions and dill seeds. An unlikely combination…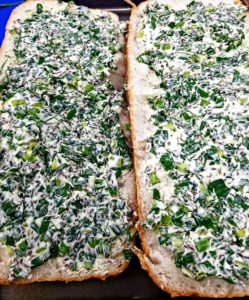 But the end results are amazing.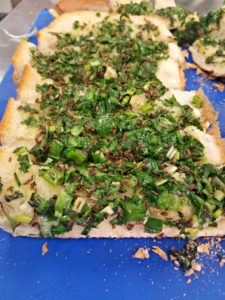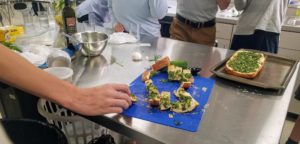 It's an unusual topping for bread. But almost half of the students surprised even themselves when they decided they liked that "dilly" bread the best.
See what I mean?
So here is your chance to create your own experiment. Make a loaf of your usual garlic bread, and whip up a loaf of this dill seed laced herb bread too…and let me know which one YOU like best!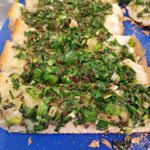 Herb Bread With Dill Seed
Ingredients
1

Loaf

French or Italian Bread

8 to 10

Green Onions (Both Green and White Parts)

Small

Bunch

Chives, Minced

Small

Bunch

Parsley, Leaves and Small Stems

2

Tblsps.

Dill Seed

3/4

Cup

Butter

1/2

tsp.

Salt
Instructions
Slice loaf of bread in half lengthwise and place on baking sheet, cut side up. Place softened butter in a mixing bowl. Finely chop green onions, parsley and chives and add to the bowl. Add the salt and dill seed and stir well to combine all ingredients. Slather on the two halves of bread to cover completely. Bake in a 350 degree oven for about 20 minutes.