Dirt Pudding? Please let me explain.
In the 1970s our boys lived on baseball fields.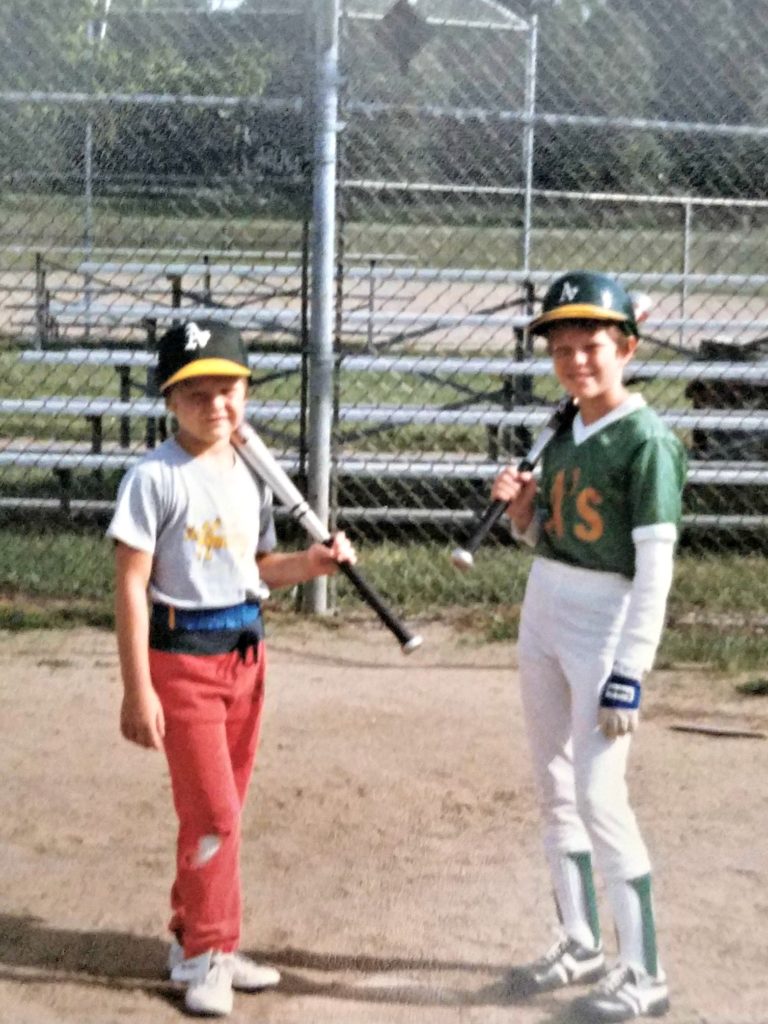 And when they weren't playing "for real" they would assemble backyard teams of friends for wiffle ball tournaments that would go on until darkness forced them to quit. They would come home covered with dirt, and their hair soaked with sweat. They almost slept in their baseball caps, and they probably would have if we hadn't herded them into the shower at the end of their days spent in the Great Outdoors.
Yes…our boys and dirt were the best of friends.
So when I was looking for a dessert to serve at one of their Little League picnics I found the PERFECT "dish" to share with our boys and their friends…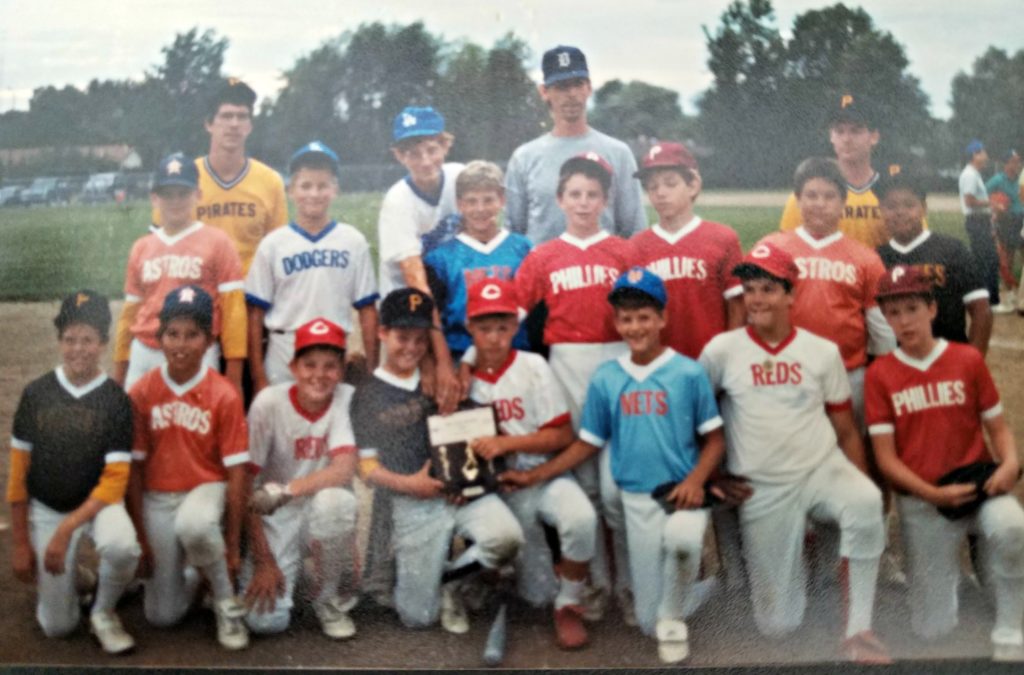 Dirt Pudding.
If you've never made this creepy looking concoction, please know there is really NO dirt involved. And don't be terrified of the worms that can be seen crawling into and out of the bowl. They're only "gummy worms". But believe me when I say my Dirt Pudding was ALWAYS the first food gone at those baseball team picnic events.
Back then I even bought new plastic flower pots and several new trowels to make the presentation even more realistic. I carefully washed those "utensils" before I would layer the pudding and cookie and worm layers in each flower pot.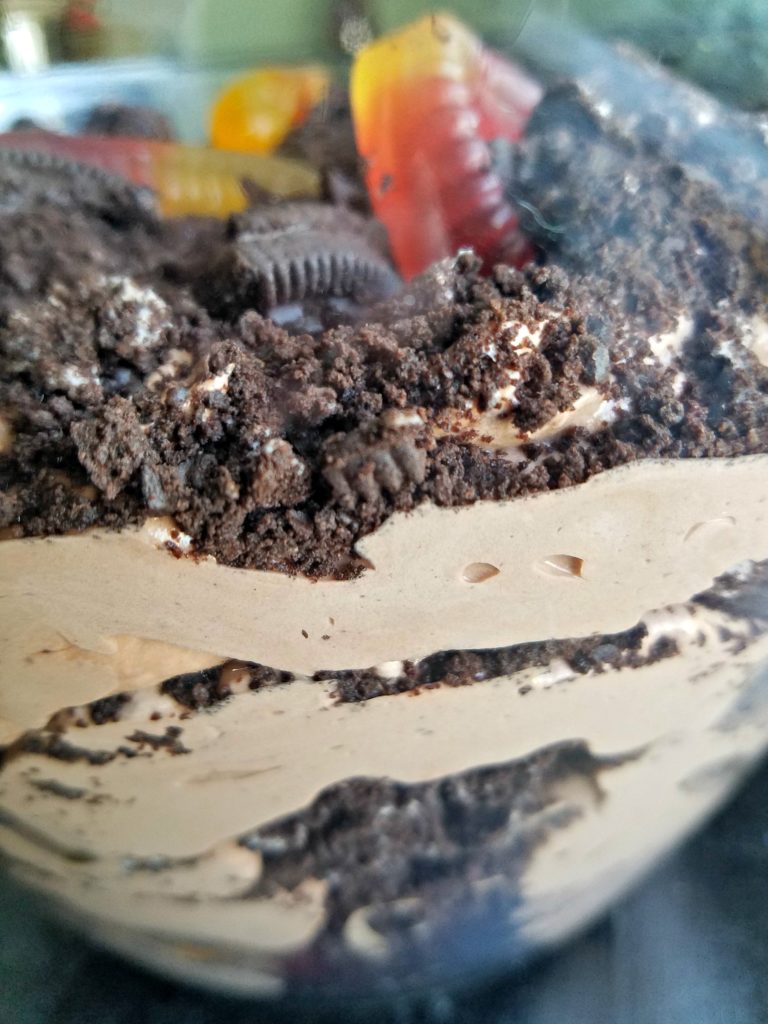 And when the boys realized they were allowed to scoop out their dessert with a real garden trowel…well, let's just say I won the "cool mom" award…if only for that night.
Recently I sent a text to our son Nick who was bringing his family for a visit. I said I was planning to make a special dessert for all seven grandkids that weekend. I told him it was a recipe I hadn't made since the 70's. His immediate reply? Two words. Dirt Pudding.
(Whoever says foods don't make lasting memories is fooling themselves.)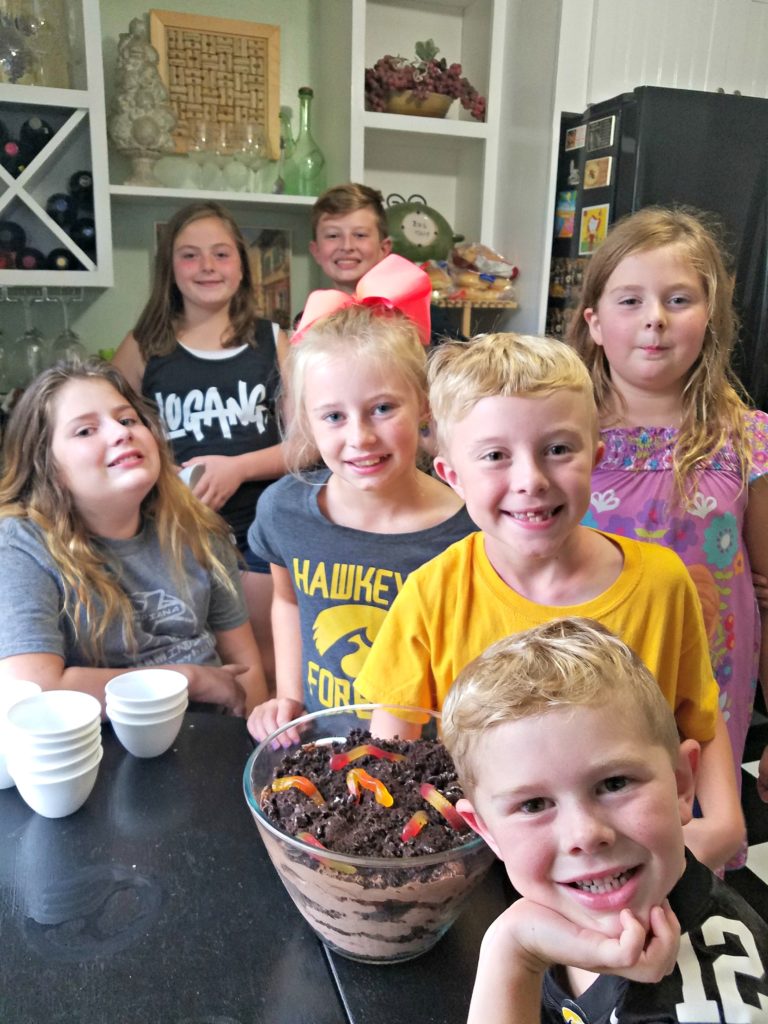 And those seven grandkids weren't the only ones who scooped out a bowl of FUN that night.
Those two little boys from the 1970's did too. And THAT warmed my heart.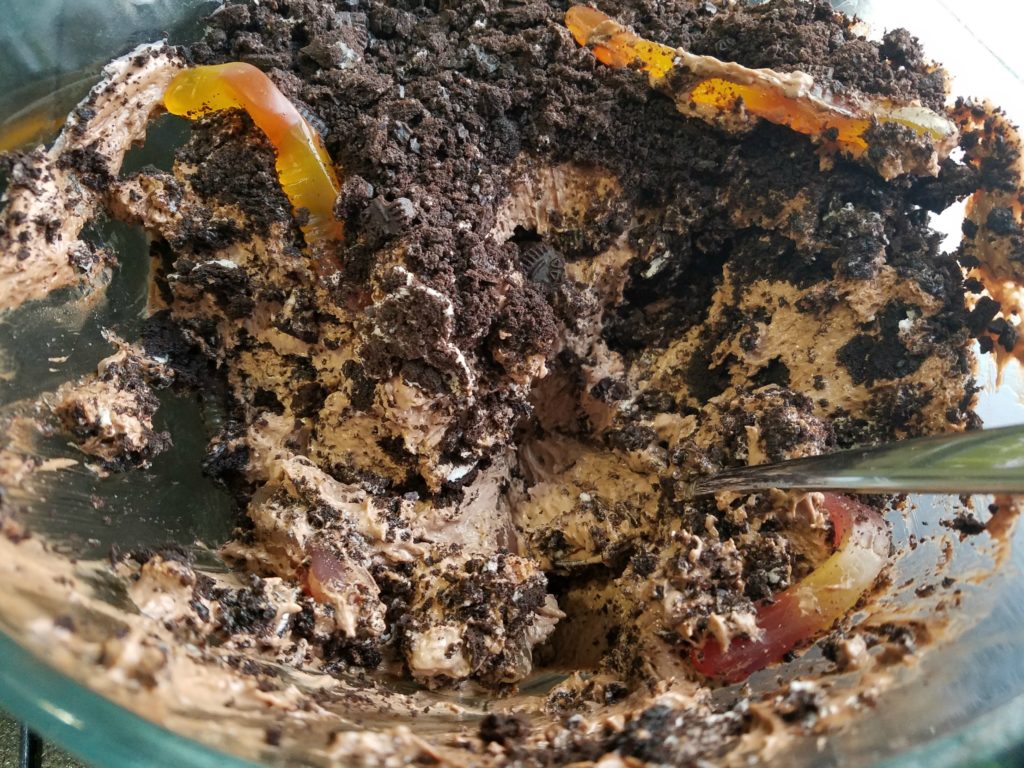 Cool Mom? Cool Grandma" Cool Meemaw?
If the shoe fits…
🙂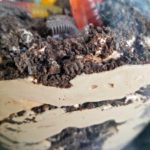 Dirt Pudding
This dessert is a hit with kids of ALL ages!
Ingredients
1/4

Cup

Butter, Softened

1

8 oz.

Cool Whip, Thawed

8 0z.

Cream Cheese, Softened

1

Cup

Powdered Sugar

1

6 oz.

Chocolate or Chocolate Fudge INSTANT Pudding

1

60 oz. (or less)

Oreo Cookies, Crushed

3

Cups

Milk

1

pkg.

Gummy Worms
Instructions
Crush cookies and set aside.

Cream together butter, cream cheese, powdered sugar and Cool Whip.

Mix instant pudding with milk until slightly thickened and let stand a few minutes.

Combine all ingredients except oreos.

Layer 1/3 crushed cookies, 1/3 filling and some Gummy Worms if desired.

Repeat layers, and end with cookie crumbs and worms.