Key Lime Pie? Oh MY!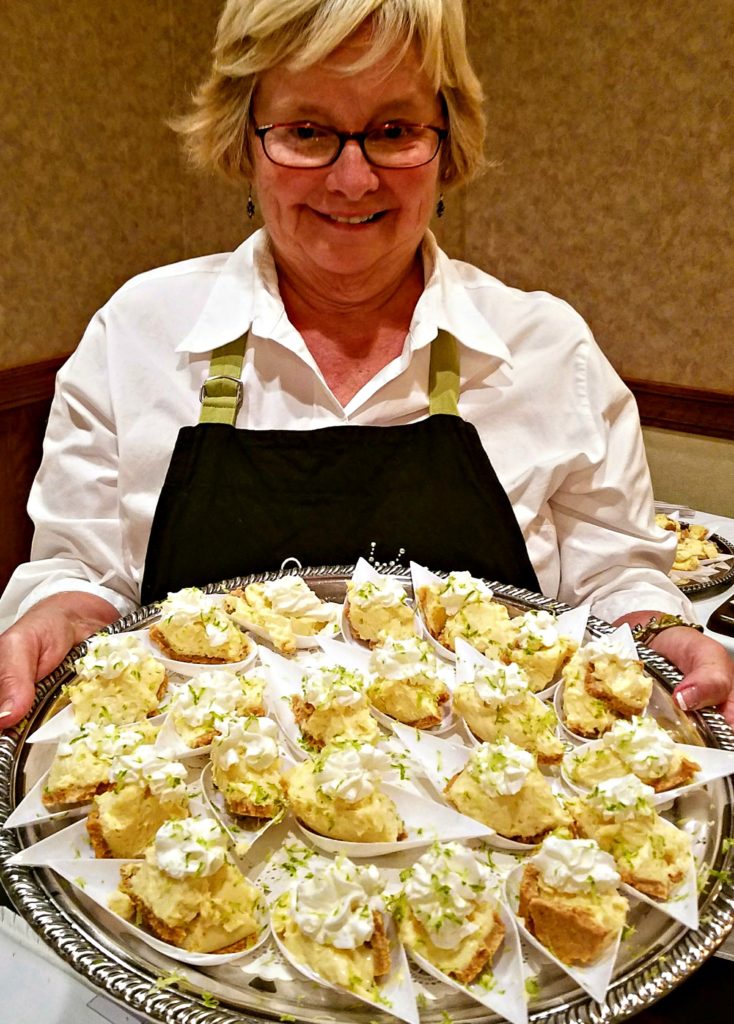 A special THANK YOU to all of you who stopped by my table at the "Men Who Cook…And A Few Good Women" event held here in Iowa City last Saturday night. It was an honor to be asked to prepare a dish (along with many local chefs and other home cook "foodies") as a fundraiser to support Pathways Adult Day Health Center.
When I was asked to make enough "tasting bites" to serve 200 people I racked my brain for something I could serve that would be both pretty and delicious. And since Key Lime Pie is always a hit with my guests I decided that would be a perfect recipe to showcase at the charity event.
I've been making this pie for years, and I often serve this dessert to guests who visit us at our winter home in Fort Lauderdale since almost everybody expects to eat Key Lime Pie when visiting the Sunshine State.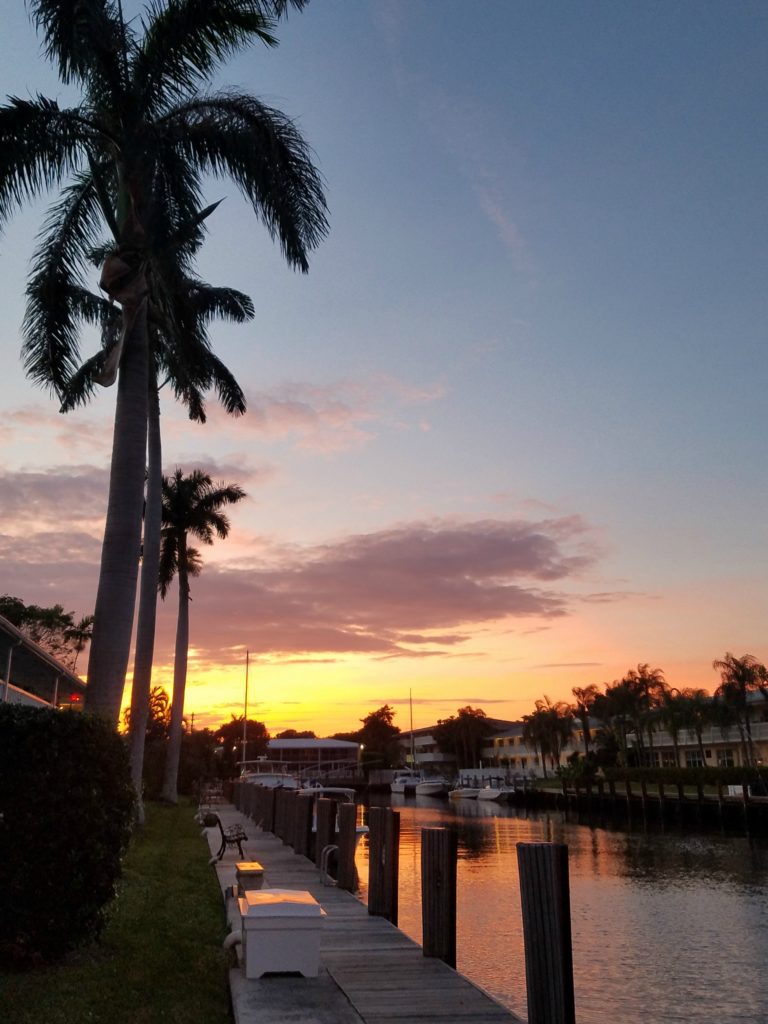 Here is the small "amuse-bouche" taste I served up to all those folks in attendance. (I topped each "bite" with whipped cream and fresh lime zest.)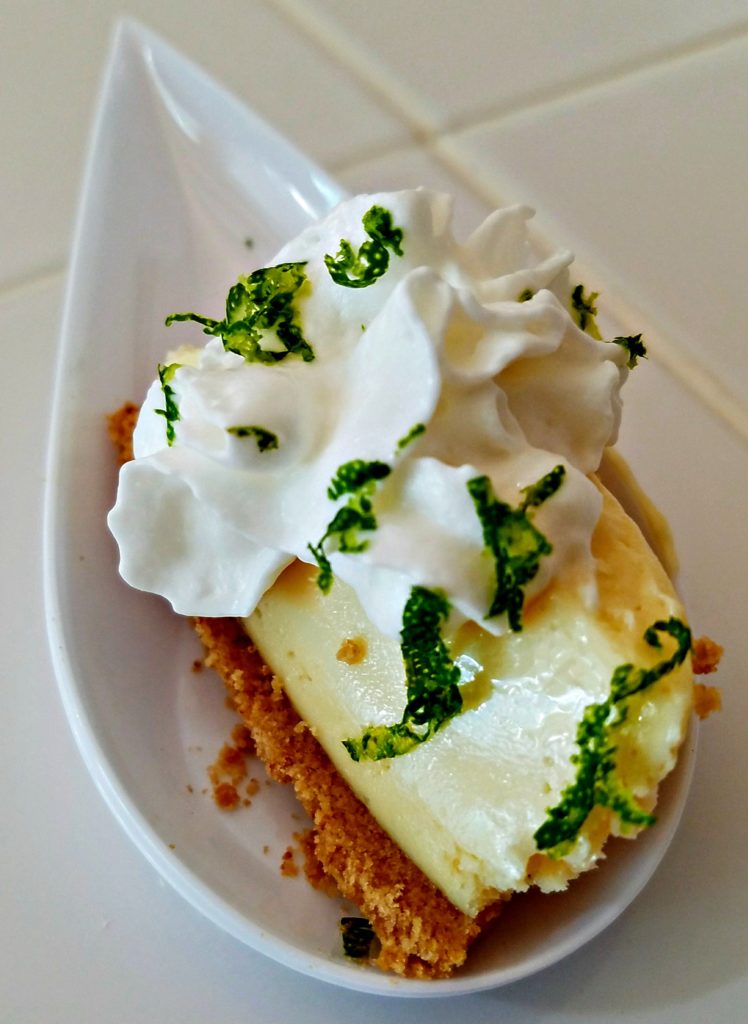 Now I hate to "blow my cover"… but this dessert takes only minutes to prepare, and it's made in a blender! It was an easy peasey choice since I needed to prepare such a large number of bite size portions.
And speaking of large numbers…I thought you might like to see the assembly line method of some of the ingredients I used to prepare all those pies…all ELEVEN of them!
From the graham cracker crusts… (Yes…I cheated and bought ready made crusts.)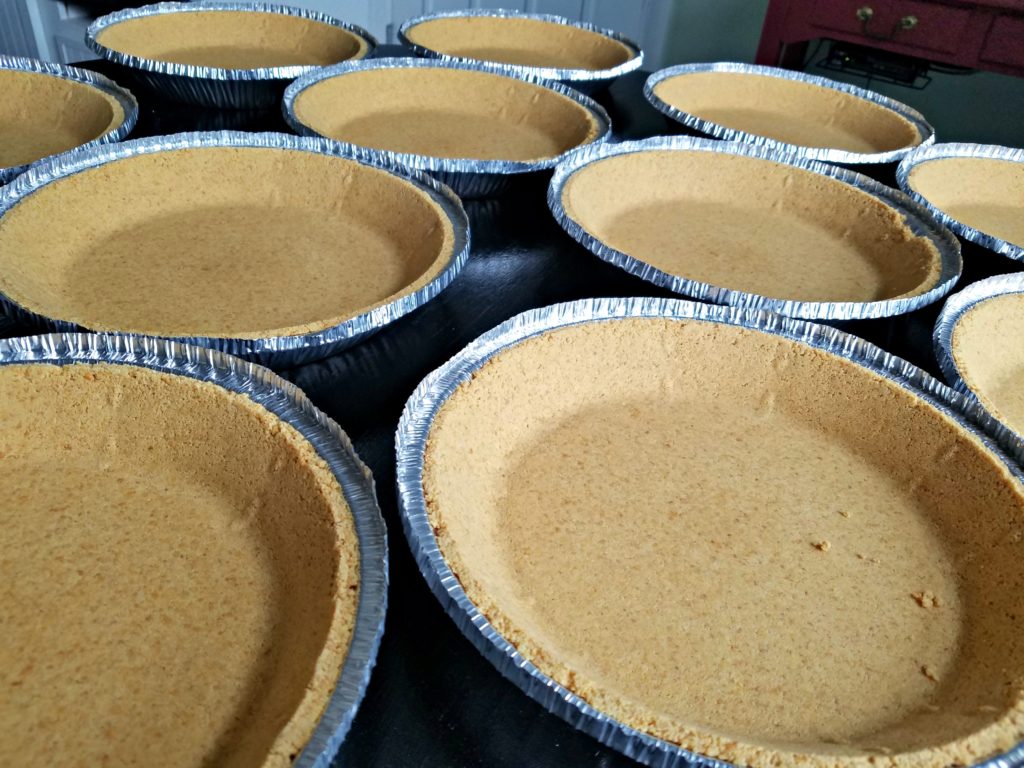 To the softening cream cheese…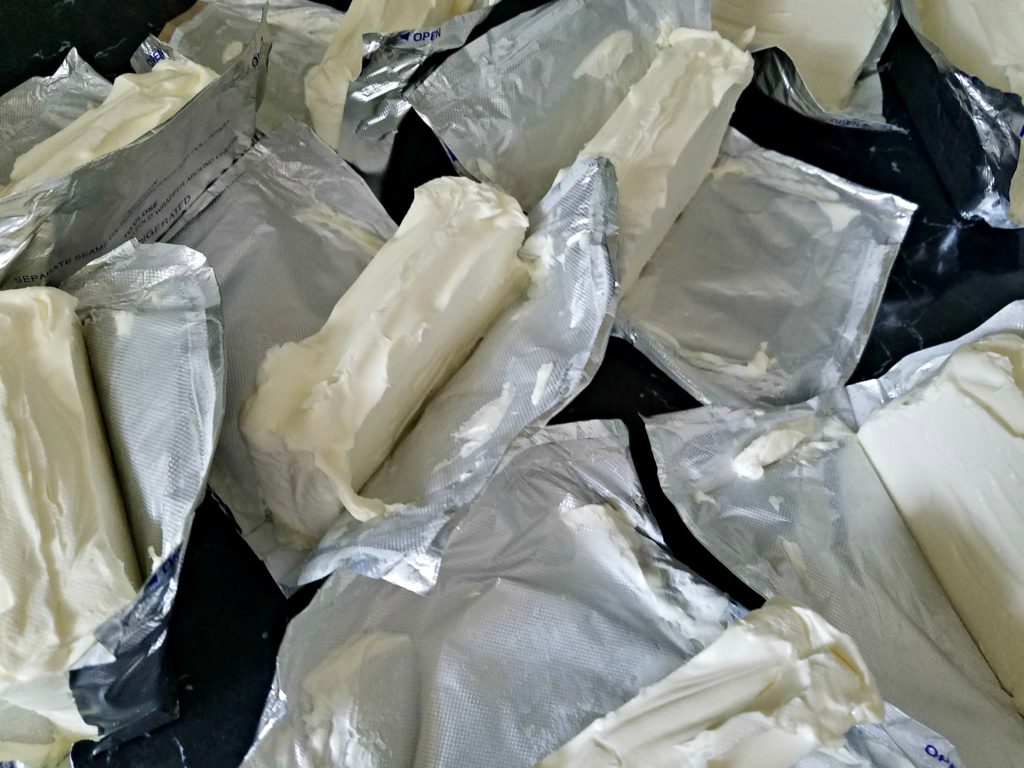 And the sweetened condensed milk…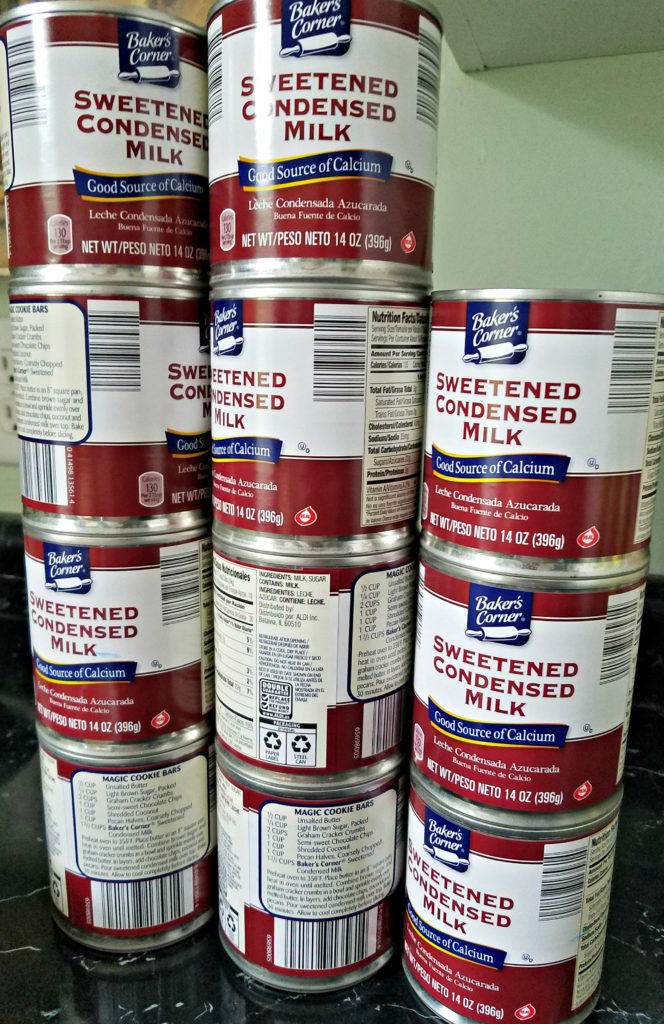 It was truly a mountain of ingredients!
But what's a Key Lime Pie without key lime juice? Key limes are not easy to find, but I have found a great bottled juice that comes straight from Key West. (It's not available in many local grocery stores, but most Super WalMart stores do carry it nationally.)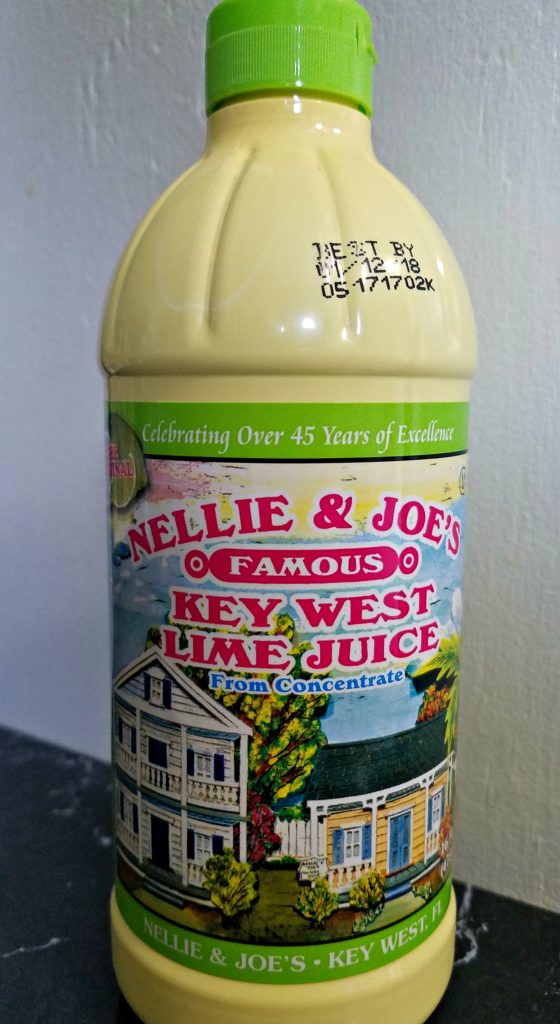 I found what I now consider to be "my" Key Lime Pie recipe on the Nellie & Joe's Key Lime Juice website. (Apparently someone named Abraham created this version…and it's the clear winner in MY book.)
Meemaw's Tips For A Perfect Key Lime Pie:
Soften the cream cheese completely so you won't have tiny lumps in your pie!
Prepare the pie a day before you plan to serve it. (It will become more tart and tangy.)
Whip the mixture in the blender for at least a minute to increase the volume.
Cool for pie 15 minutes before you refrigerate it.
Don't cover the refrigerated pie until it is completely cooled to prevent condensation to form.
Do not top with whipped cream until just before serving!
You can save the unused egg whites to make an omelet. (I've done that many times.)
And YES…This pie only bakes for 15 MINUTES. (That is NOT a typo!)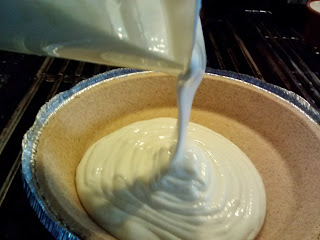 Here is my stack of eleven finished pies just chillin' in the frig before the big event…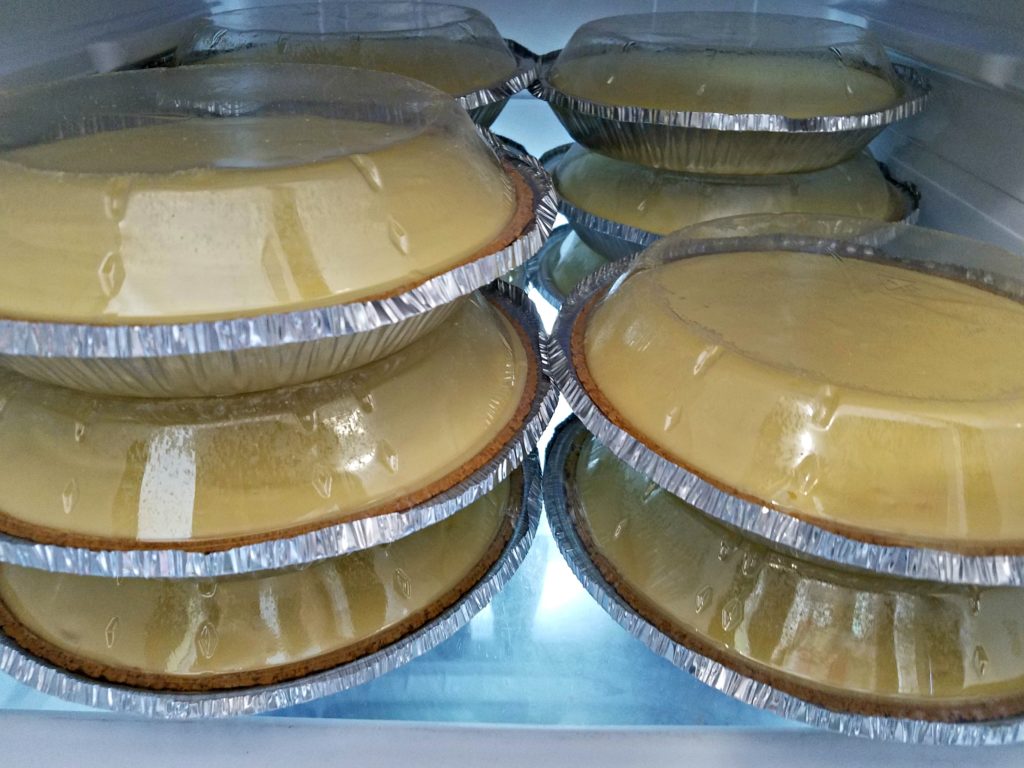 (Can't you just feel a tropical breeze beginning to blow?)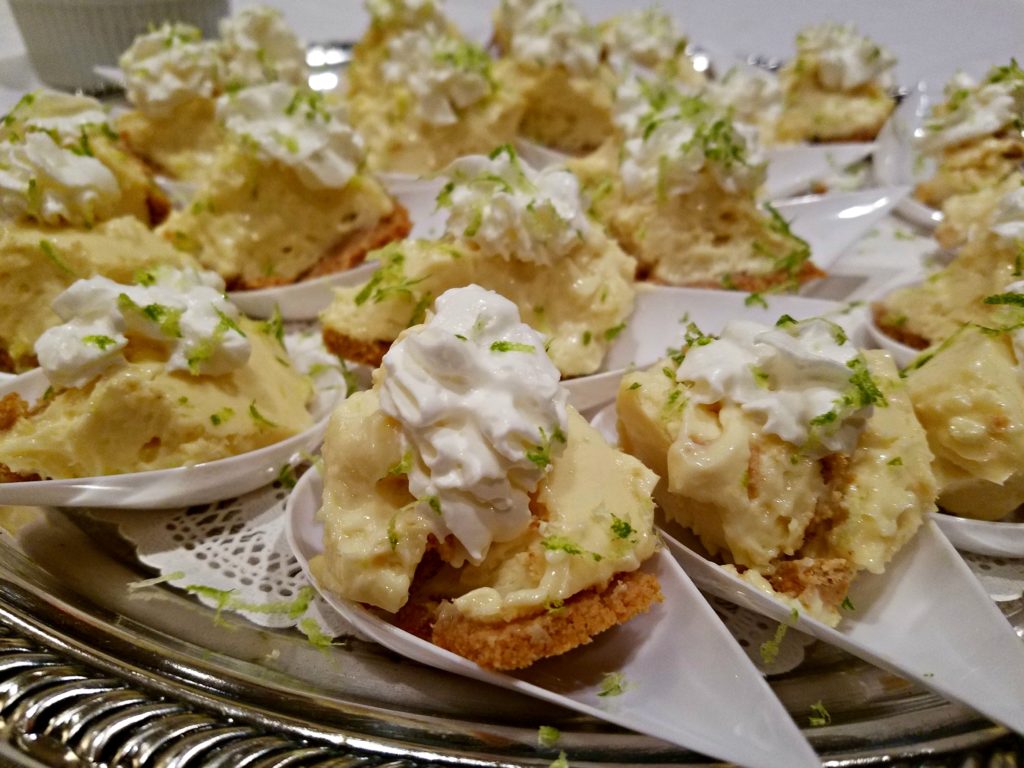 Bon Appetit…From My Kitchen To Yours!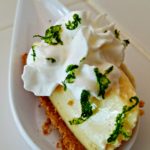 Key Lime Pie
Ingredients
1

9 inch Graham Cracker Crust

1/2

Cup

Nellie & Joe's Key Lime Juice

3

Egg Yolks (Discard Whites)

1

8 oz. Pkg.

Cream Cheese (Softened!)

1

14 oz. Can

Sweetened Condensed Milk

Whipped Cream (optional)

Lime Zest (optional)
Instructions
Preheat oven to 350 degrees. Place key lime juice in blender. Add egg yolks and softened cream cheese. Blend VERY well. Add sweetened condensed milk and blend again until very well mixed. Pour into graham cracker crust. Bake for 15 minutes at 350 degrees. Remove from oven and allow to cool for 15 minutes...then refrigerate until ready to serve. Right before serving top with whipped cream and lime zest if desired.