Cookies and rhubarb are not usually mentioned in the same sentence…but recently I found an absolutely delicious way to combine those two words into a treat I'll be happy to serve to anyone who happens to drop by for a visit. (But you'd better come over quick before they're gone!)
You see, rhubarb holds a special place in my heart since we were blessed with a large patch on the Iowa farm where I grew up.
My brother Tom and his family still live on that farm, but "Tommy Lee" has changed slightly since he posed for this photo with our mom nearly 70 years ago!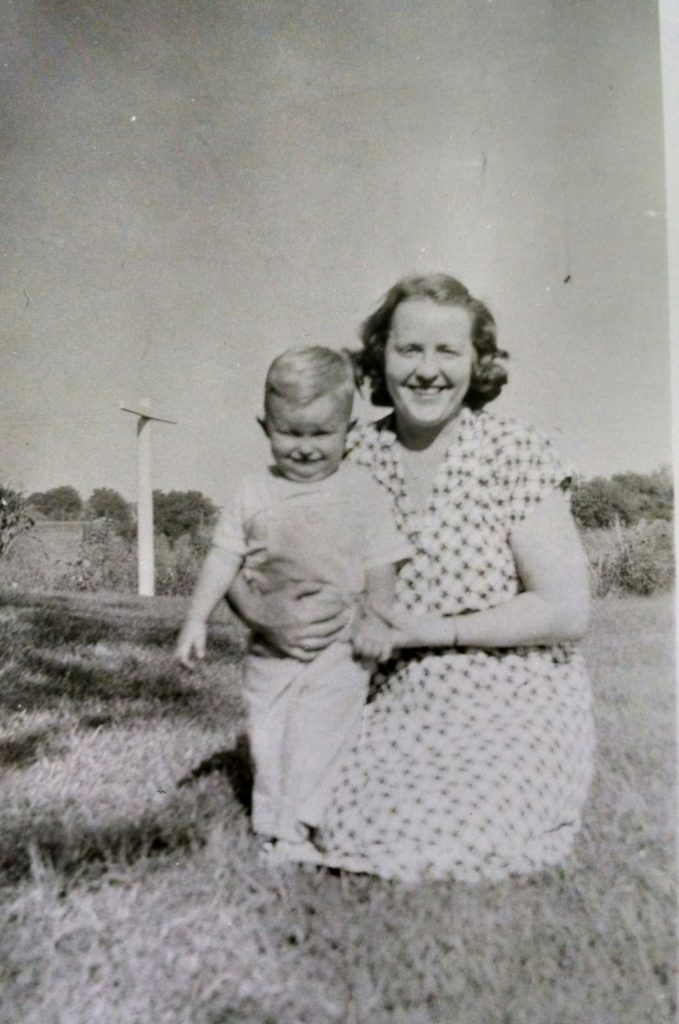 Several years ago, Tom was kind enough to dig up several clumps of that old hardy rhubarb and transplant it in MY yard, and that rhubarb adapted very well to it's new home. The original rhubarb was probably planted around 1900 by my great-grandparents…so do the math. These roots are more than 100 years old…and going strong!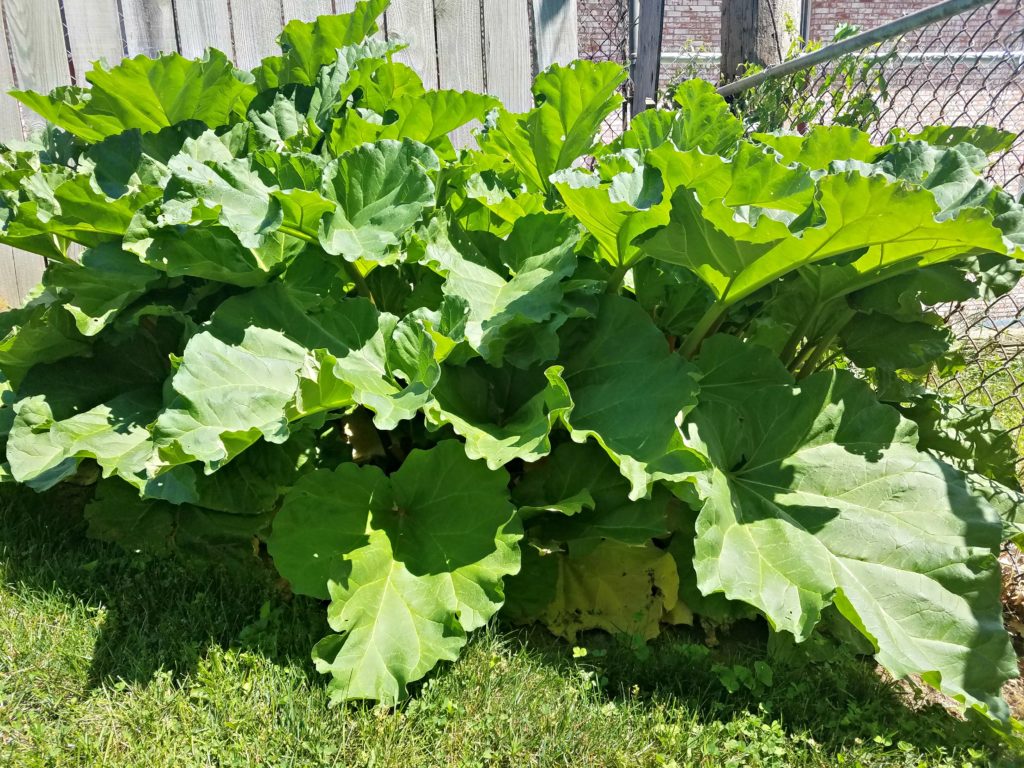 I've made various rhubarb crisps and cobblers (Click HERE to check out one of my favorites) but I had never made rhubarb cookies until today. In fact, I wasn't sure if rhubarb cookies even existed! But my old pal Google quickly led me to a cookie recipe on one of my favorite websites called A Taste Of Home. (The recipe was originally published in Bountiful Harvest Cookbook 1994, page 90.)
Yes…this recipe was exactly what I was hoping for. A rhubarb cookie and so much more! It's loaded with lots of coconut, raisins and pecans. (What's not to love?)
I made several changes to the original recipe. I used butter instead of shortening, and I used Pumpkin Pie Spice instead of cloves and nutmeg since I'm not a big fan of large amounts of either of those spices. But that's the beauty of recipes…they're only guidelines that can be adapted based on individual tastes…and whatever ingredients you already have in your cupboard.
First, I creamed together one stick of softened butter with the firmly packed brown sugar…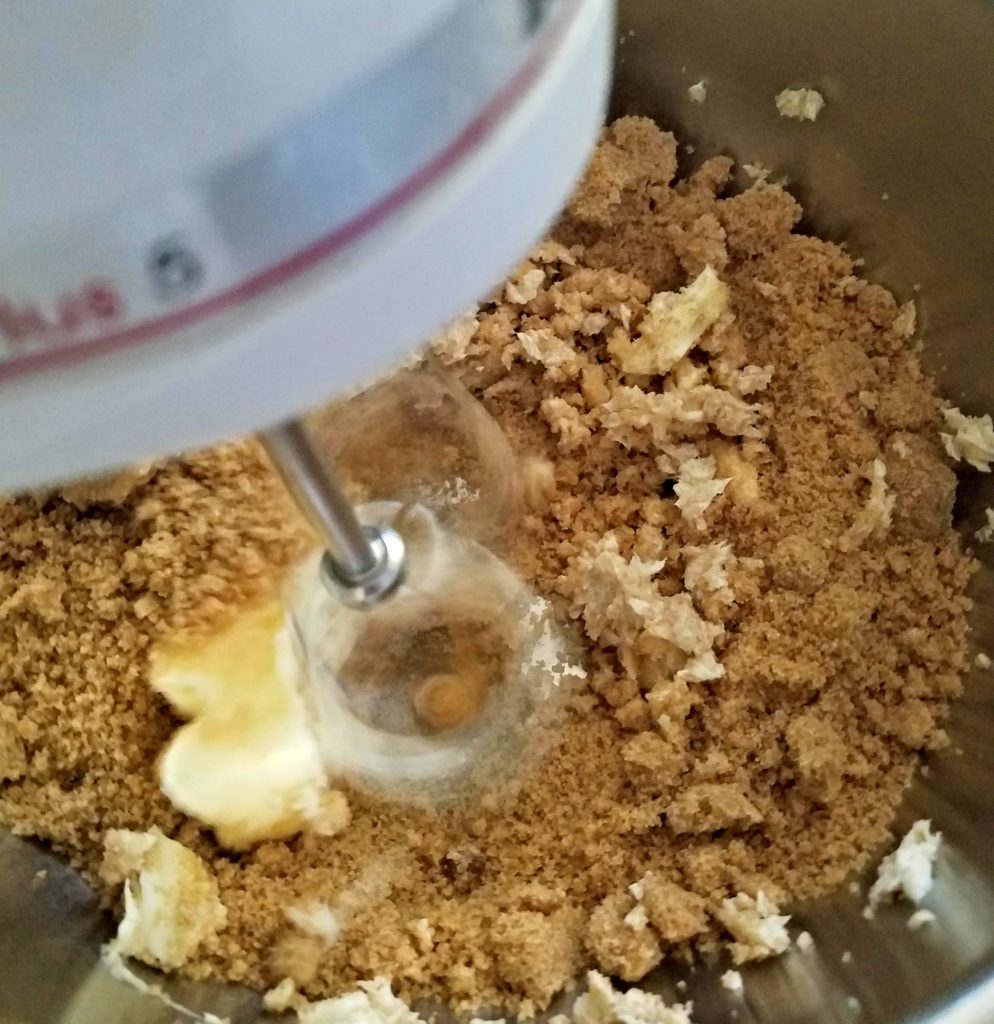 Next, I added an egg…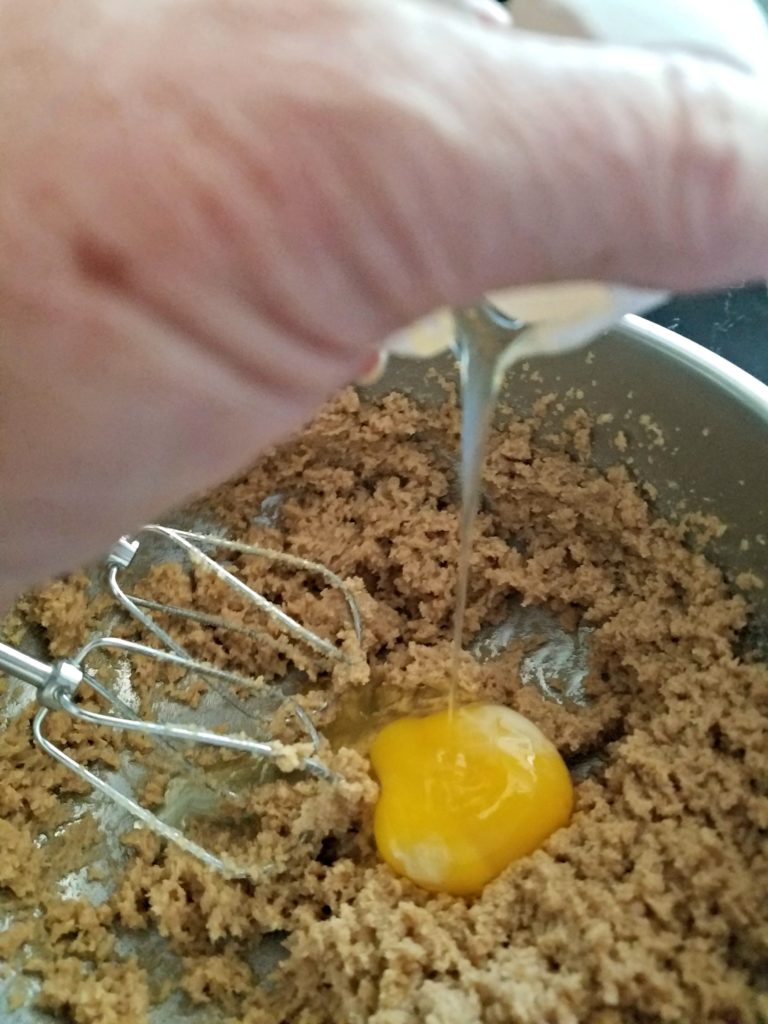 Then I mixed in some whole milk.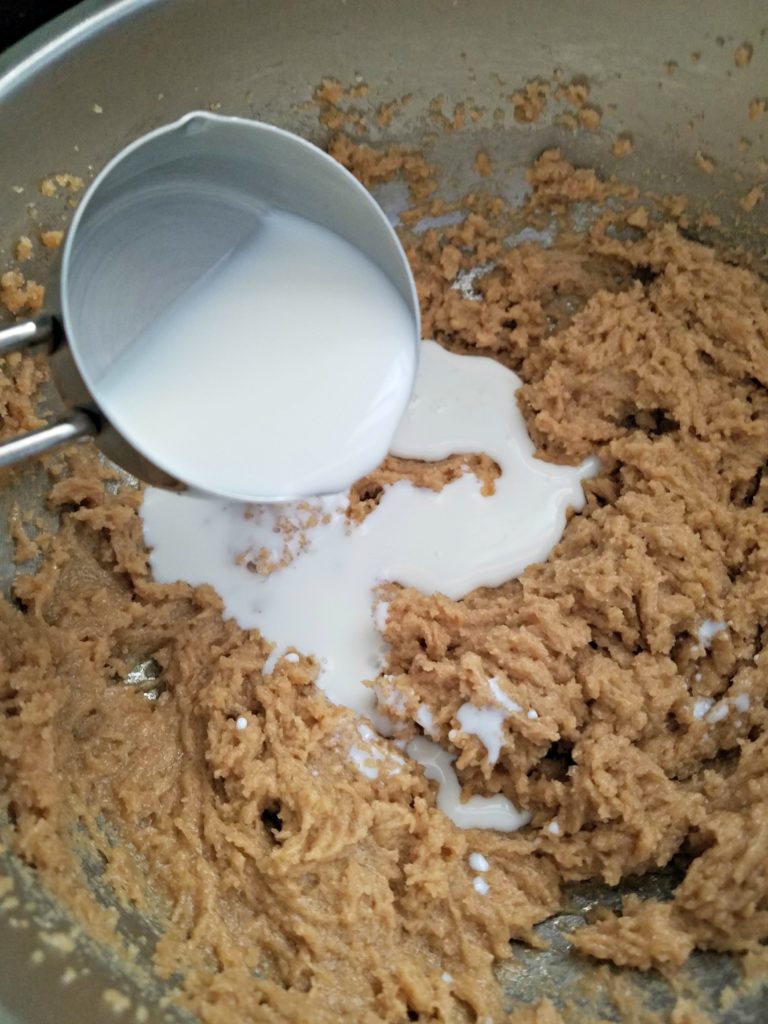 In a separate bowl I threw together the flour, baking soda, pecans, raisins and coconut and spices…and I mixed it all together.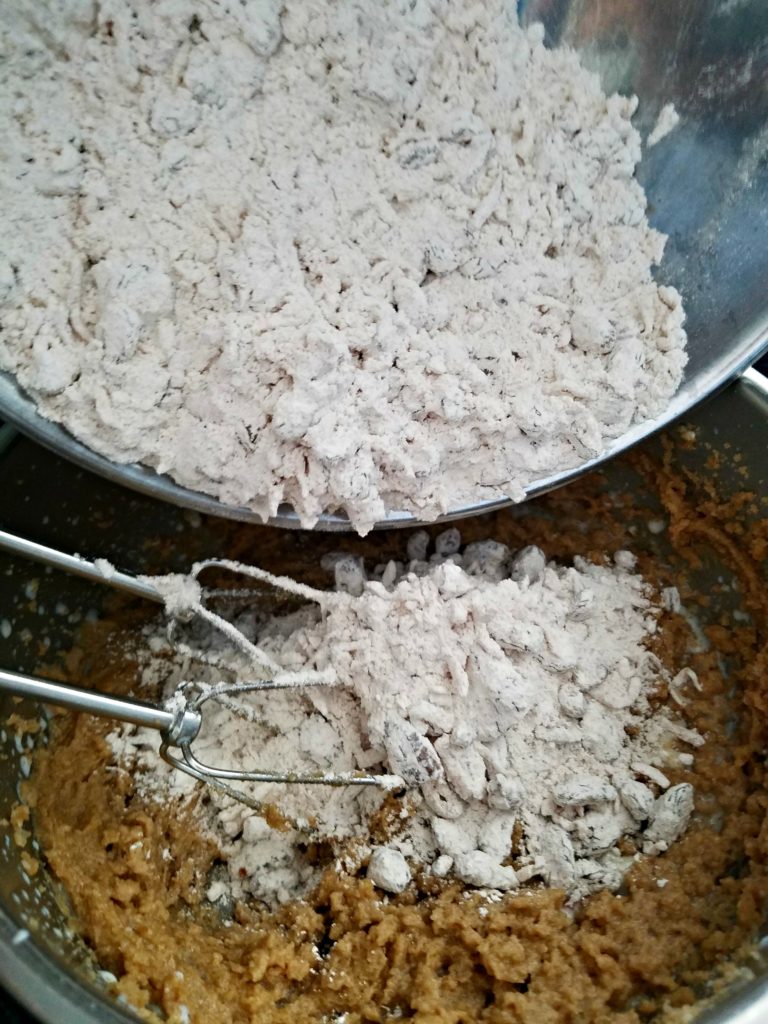 Then I slowly combined the two mixtures before folding in the finely diced rhubarb.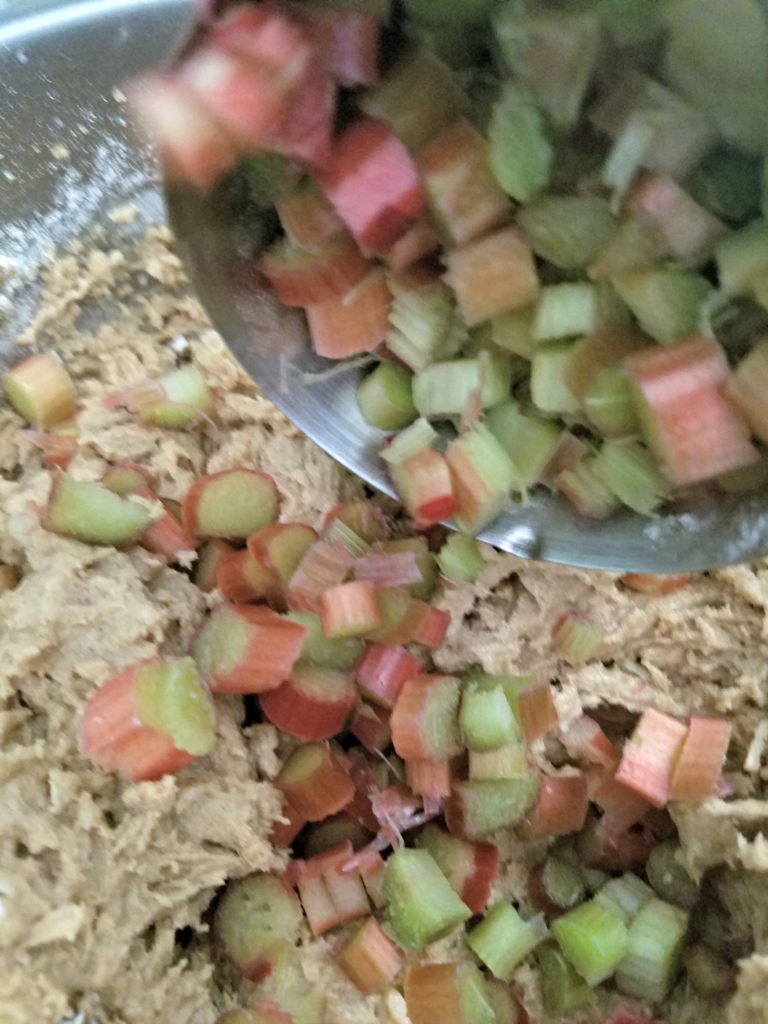 Using a tablespoon I dropped the dough into mounds on a Silpat and baked for about 12-15 minutes at 375 degrees. You can also drop directly onto a greased cookie sheet if you don't have a Silpat mat. I tried it both ways, and the Silpat worked best. (The greased cookie sheet made the cookies spread out more and run together…so I suggest you place them farther apart if using that method.)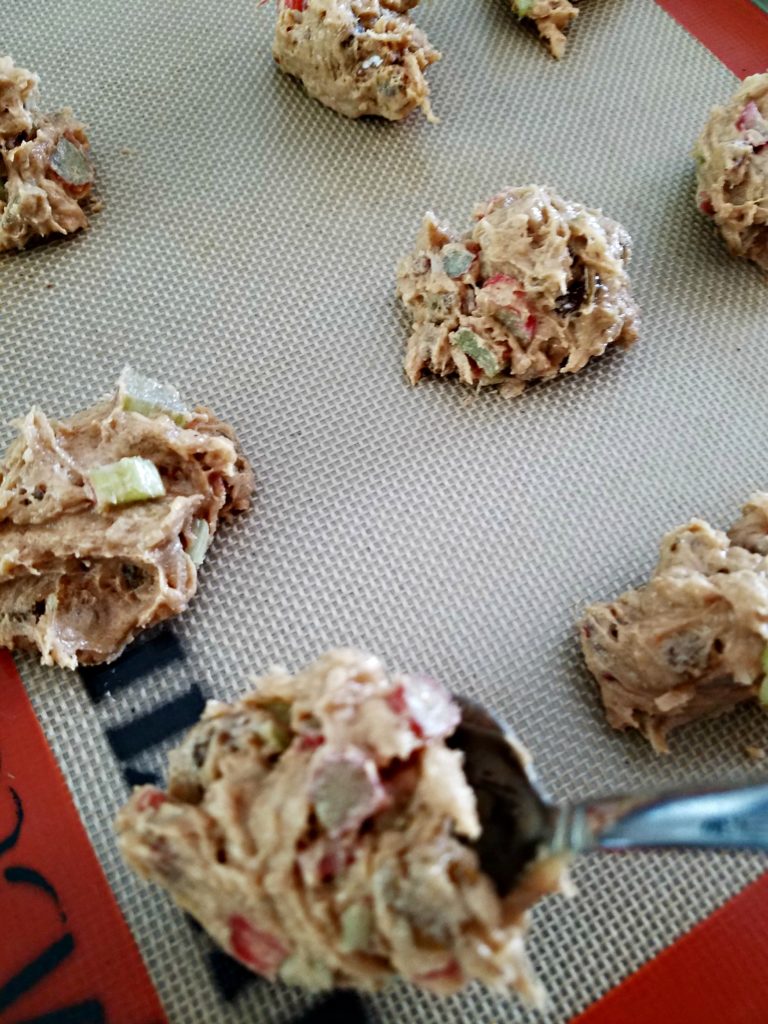 The smell wafting from my oven was heavenly to say the least! And then they were finished…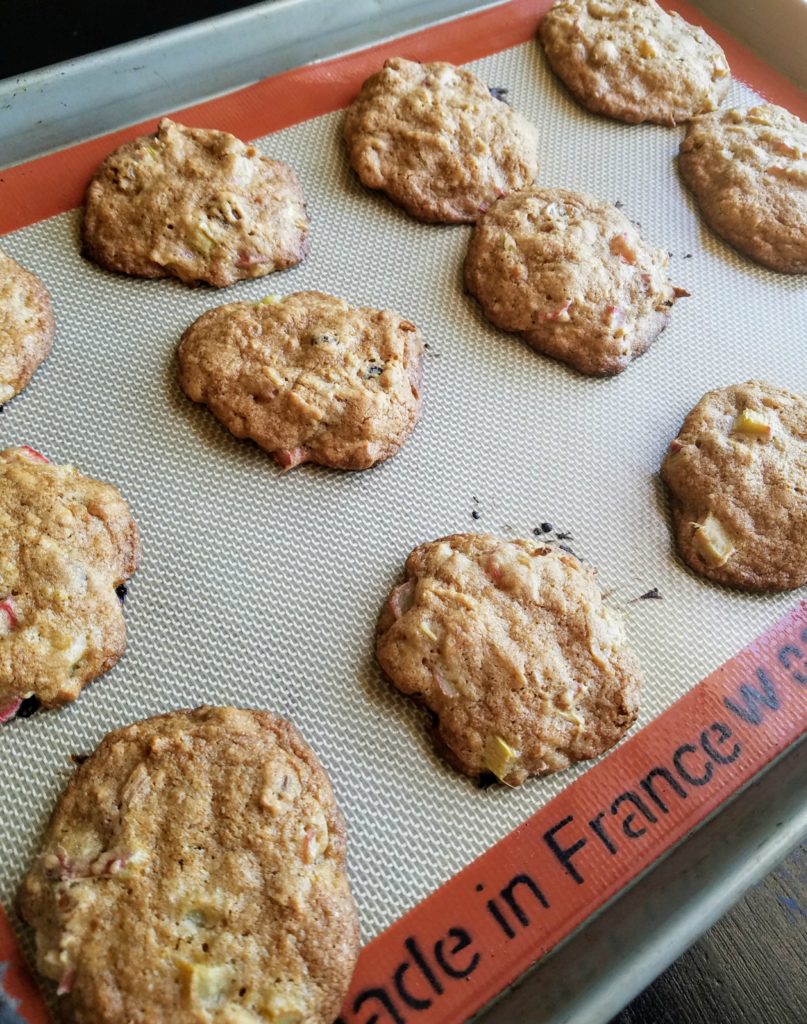 I barely waited for those cookies to cool even slightly before I broke one open.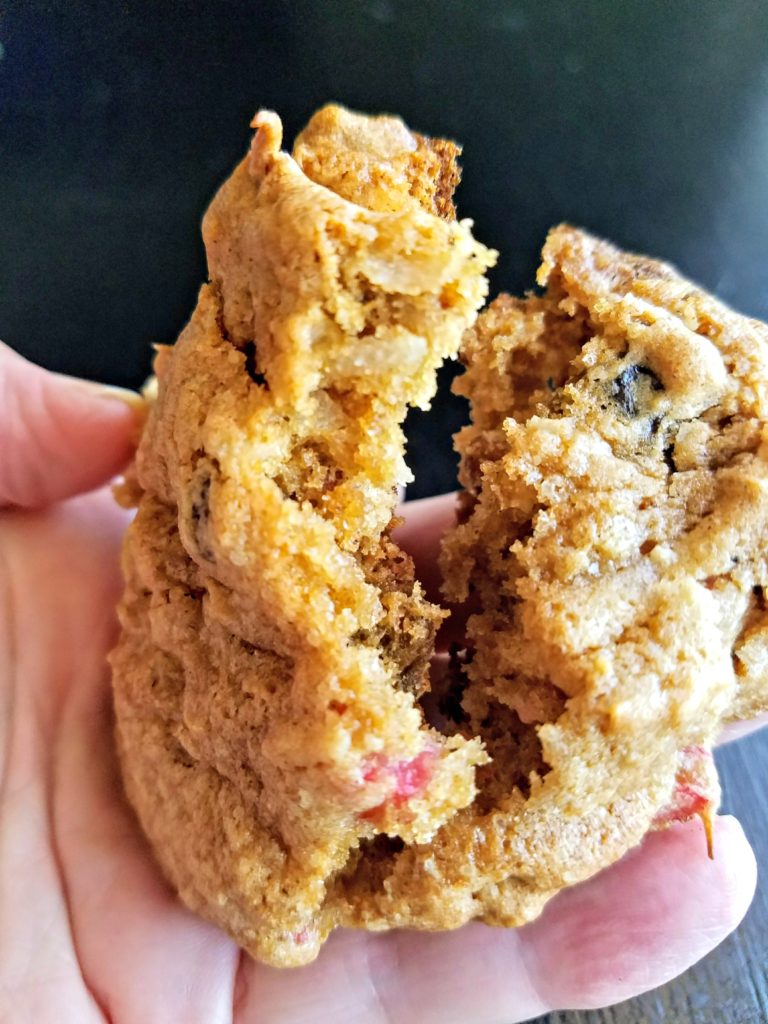 And yes, Dear Readers, it was amazing…so I headed to the living room to relax and savor that warm and chewy treat.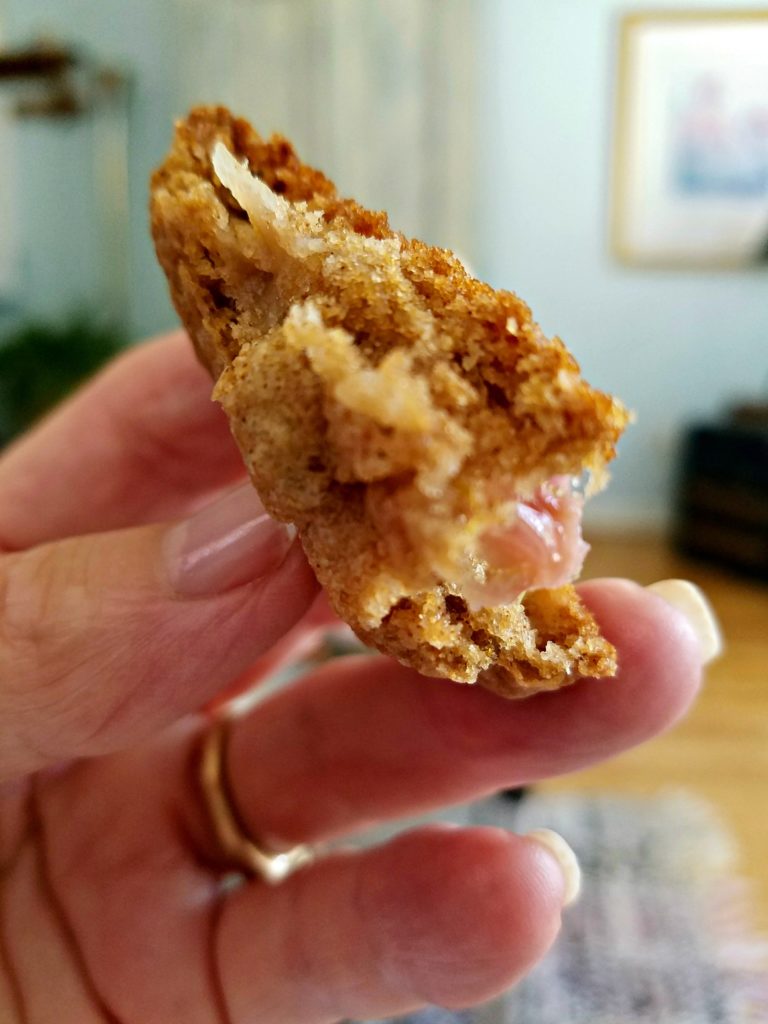 My friends know I'm not much of a dessert eater, but these cookies are absolutely addictive! The brown sugar and butter create a layer of richness…and the tiny bits of tangy rhubarb cut through the sweetness to lend another dimension to that flavorful morsel.
Only one thing was missing…but not for long. A huge glass of ice cold milk!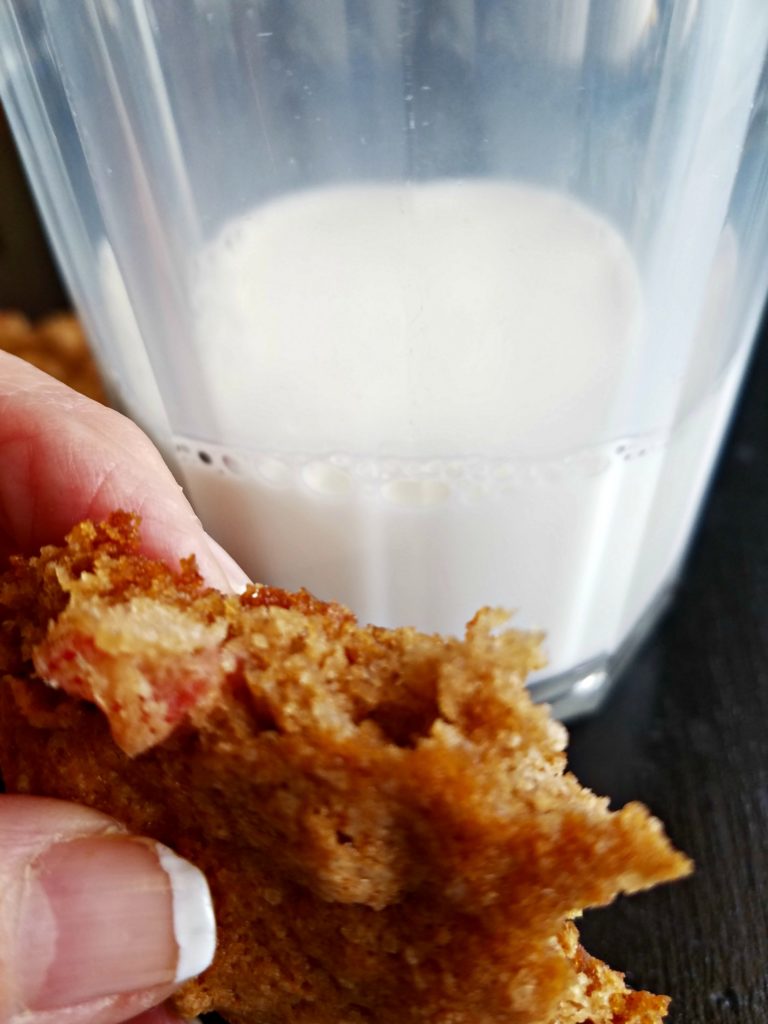 And THAT, My Friends, is a cookie worthy of my family's ancient rhubarb. But NEXT time I will double the recipe since they seem to be disappearing very quickly.
Hmmm…I wonder if these cookies count as a serving of fruit for today? (I vote YES.)
Now…Please pass the milk!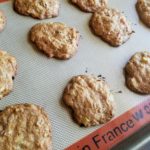 Rhubarb Coconut Raisin Pecan Cookies
Ingredients
1/2

Cup

Butter

(Can Use Shortening)

1 1/3

Cups

Brown Sugar

(Firmly Packed)

1

Egg

2

Cups

All Purpose Flour

1/2

tsp.

Baking Soda

1

tsp.

Cinnamon

1

tsp.

Pumpkin Pie Spice

(Can Sub 1/2 tsp each Cloves and Nutmeg)

1/2

tsp.

Salt

1/4

Cup

Milk

1

Cup

Fresh or Frozen Rhubarb

(Finely Diced)

1

Cup

Chopped Pecans

1

Cup

Raisins

1/2

Cup

Sweetened Shredded Coconut
Instructions
Preheat oven to 375 degrees.

In a mixing bowl, cream together the shortening and brown sugar. Add the egg and mix well. Stir in the milk. In a separate bowl whisk together Flour, Baking Soda, Cinnamon, Pumpkin Pie Spice and Salt. Stir in Pecans, Raisins and Coconut. Combine the wet and dry ingredients and fold in the finely diced Rhubarb with a rubber spatula to thoroughly combine all ingredients. Drop by Tablespoonfuls onto Silpat lined baking sheets or greased cookie sheets. Bake at 375 degrees for 12-15 minutes or until golden. Remove from the oven and let firm up for a minute. Cool on wire racks.