I love fish. And I love INEXPENSIVE fish even more. That's why I was amazed by how good inexpensive Pollock can taste…with a little help from some dairy products you probably already have in your refrigerator.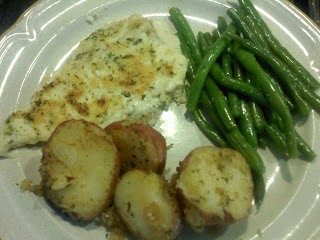 POLLOCK FILLETS
For dinner I rinsed and dried some FROZEN Pollock fillets and placed them in a baking dish sprayed with cooking spray. I sprinkled the fillets with salt, pepper and Trader Joe's 21 Seasoning Salute. (You could sub Old Bay or any other fish-friendly herb/spice mixture.) Then in a bowl I mixed the following ingredients:
Approx 1/2 cup sour cream
1/2 cup grated Parmesan cheese
2 Tablespoons melted butter
Parsley flakes
Stir the ingredients together and spread over the Pollock fillets in the baking dish. Top with a sprinkle of Panko bread crumbs and bake in a 350 degree oven for approx. 30 minutes. Remove from the oven and let sit for approx 10 minutes for the sauce to firm up and the fish to finish cooking. (FYI…this simple, inexpensive fish tasted like LOBSTER!!!)
I served our fish with new, red potatoes and fresh green beans…Here is how I cooked them…
RED POTATOES
Wash and scrub red potatoes and cut in half or quarters, depending on the size. Cover with water. Add salt and boil until fork tender. DO NOT OVERCOOK. Drain and set aside. In same cooking pan melt 2 Tablespoons butter. Add 1 diced onion and saute until translucent. Dump cooked potatoes back into pot and stir to mix. Sprinkle with salt, pepper, sweet paprika and parsley flakes. Stir to coat.
GREEN BEANS…"MEEMAW" STYLE
Every time I serve these green beans, people think I spent HOURS preparing them…So here is my SECRET recipe!! LOL!
Remove ends from fresh green beans and rinse the beans. Place the green beans in a cooking pot and add approx. 1 inch of water. Bring to a simmer and cook until al dente. AGAIN…DO NOT OVERCOOK!
Drain very well. (I usually swirl the pan over the burner to dry the beans completely.) Then drizzle with a SMALL amount of EVOO and sprinkle with coarse Kosher salt.
THAT'S IT…That's my "SECRET" RECIPE. DONE!
And THAT was a yummy dinner at the Meemaw's house.