A Grill To Remember…
If you've been wondering why you haven't heard from me for the past week, it's because we took a Road Trip to spend some much-loved quality time with our entire family in Indy! Those times happen much less often than we would like…so since I've been away from my computer and my kitchen please allow me to share a very special summer memory from several years ago.
This dinner memory is very dear to my heart since one of the four diners is no longer with us. It was a magical evening, and I will always remember the joy I felt as I prepared this meal for four strangers who quickly became our friends.
(RIP Dear Rita…and God Bless!)
*****
Earlier this year, I donated Dinner for Four at the annual Gala event held at our church, and last Saturday night I cooked for the two couples who purchased it. And judging from the empty plates, I'm thinking all four courses were a success.
Originally I was offering this dinner as a cooking class, but when I got some background information on David and Rita, and Doug and Julie…I realized I would be preaching to the choir in that regard. In fact, David and Rita donated a homemade pie per month at the church Gala…and those pies brought in HUGE donations, so I was feeling quite intimidated as I planned MY dinner to share with them.
One type of cooking was rather foreign to the couples, so they asked me to teach them how to make pizza on the grill. So I decided to take that grilling lesson a few steps further and I created a menu that utilized the grill on several other courses of the meal as well.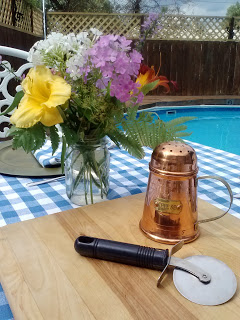 The menu…and the recipes below…
Broiled Peel and Eat Shrimp
Parmesan and Herb Crusted Bacon Crackers
Grilled Romaine with Bleu Cheese or Citrus Vinaigrette
Italian Pizzeria Garlic Rolls
Grilled Pizza…The Sky Is The Limit!
topped with a black pepper and honey balsamic glaze, bleu cheese and toasted walnuts
BROILED PEEL AND EAT SHRIMP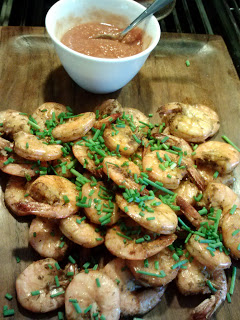 Thaw and dry Easy Peel split shrimp. Place dried shrimp in a ziplock bag and coat with a small amount of garlic infused EVOO. Sprinkle liberally with my
Magic Dry Rub
. Refrigerate for several hours, turning and mixing several times to insure all shrimp are evenly coated with rub. Line baking sheet with foil and arrange shrimp in single layer. Set broiler on HI and place shrimp close to flame. Broil for 2 minutes and remove from oven. Flip all shrimp and broil approx 2 min. more, or until shrimp are barely cooked since they will continue to cook for another minute when you remove from oven. Arrange on platter and sprinkle with fresh herbs (parsley, chives, etc.) if desired. Serve with homemade cocktail sauce.
COCKTAIL SAUCE
1/2 c. ketchup
1 heaping tsp. horseradish
juice of 1/2 lemon
PARMESAN AND HERB CRUSTED BACON CRACKERS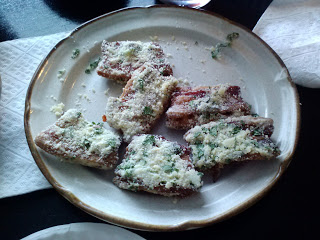 Cut uncooked bacon strip in half. Wrap each piece around a buttery cracker. Place seam side down on parchment paper lined baking sheet. Bake at 350 for 30 minutes. Remove from oven and dredge in a mixture of grated Parmesan cheese and fresh herbs. (I used fresh thyme and finely minced rosemary.) Allow to cool and serve at room temperature.
GRILLED ROMAINE SALAD
If you've never grilled romaine before…TRY IT! you'll be amazed at the smoky depth of flavor grilling adds to your salad!
Split whole heads of romaine lengthwise. Be sure to leave the root intact to keep the leaves from falling apart. Wash the lettuce and dry thoroughly. Brush entire surface with EVOO and place on grill. Cook for several minutes until grill marks develop. Turn several times during cooking. Remove from grill and cut into chunks and place in salad bowl. Mix in some grape tomatoes and your favorite dressing. (Try my Bleu Cheese dressing on this blog!) You can also serve the whole piece topped with dressing if you prefer. YUM!
I'll try to remember to recreate the citrus vinaigrette I served…and I'll add that recipe to my blog later.
ITALIAN PIZZERIA GARLIC ROLLS
DaVinci's…our favorite pizzeria in Fort Lauderdale, serves some awesome garlic rolls with their dinners, so I decided to recreate the recipe as best I could, and here is MY version.
Pour several tablespoonfuls of garlic infused olive oil in small cast iron skillet or baking pan. After making pizza dough (but BEFORE allowing the pizza dough to rise) roll pieces of dough into golf ball sized balls and roll in the olive oil in pan to coat. Let rolls rise, along with the pizza dough you will use later. Sprinkle rolls with salt and place rolls in 450 degree oven for 10-15 minutes or until browned. Coat with more garlic olive oil mixture while still hot from the oven. Serve warm with your salad course.
PIZZA ON THE GRILL…PREGO!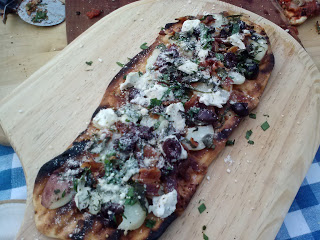 PIZZA DOUGH…THE BEST EVER!!!
This is one recipe that deserves the motto…If it ain't broke…don't fix it! DON'T CHANGE ANYTHING about this recipe, and you can be ready to receive compliments galore on your pizza!
4 C. BREAD Flour (Don't use regular flour…it makes the dough sticky and hard to work with!)
1 1/4 C. Lukewarm water (Not too hot or you will kill the yeast!)
1 pkg active dry yeast (Don't use quick rise yeast)
2 T. EVOO (Extra Virgin Olive Oil)
1 tsp salt
1 tsp honey (can use a smidge more)
1/4 C. milk
Mix flour and salt in large bowl and set aside. Mix warm water, yeast and honey in small bowl and stir. Set aside for 5 minutes to allow the yeast to proof or "bloom". Then dump all ingredients (including milk and EVOO) into flour and salt mixture and mix well. Turn out onto floured work surface and knead until dough is elastic and not sticky. You may need to add several more tablespoons of bread flour, but try not to. If you keep kneading it should come together in a smooth ball. Coat bowl with a drizzle of EVOO and spin dough ball around to completely coat. (If you are removing some dough to make garlic rolls, now is the time to do so.) Cover dough ball bowl with a damp kitchen towel and allow to rise for at least 30-60 minutes.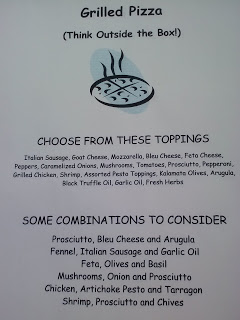 When ready to grill, turn grill on medium high. Take a chunk of dough and roll out on the back of a cookie sheet pan. (Helps keep it from sticking.) Brush top of dough with garlic infused EVOO. Place OILED SIDE DOWN on hot grill and allow to cook for several minutes until bottom of crust is firm and has grill marks. While it cooks, brush the TOP of the dough with oil. Remove from the grill and flip dough over on work surface so cooked side is UP. Then build your pizza! Make sure all of your toppings are pre-cooked, since these pizzas are only on the grill for several minutes. And don't overdo the toppings! They won't have time to heat through if toppings are too thick.
Carefully slide the pizza back onto the grill with the uncooked side DOWN. Close the lid and allow to cook for several minutes. If the bottom browns before the cheeses melt, simply turn off the burners directly under the pizza and allow to cook longer using just the other burners.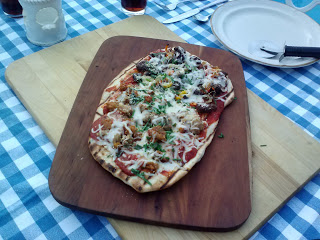 When it comes to the toppings…BE CREATIVE!! That's half the fun!
GRILLED PEACHES WITH HONEY BALSAMIC AND BLACK PEPPER GLAZE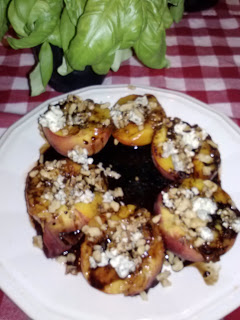 Choose rather firm peaches for this recipe. Wash and cut in half. Remove the pit. Sprinkle cut side of peach with a small amount of white sugar and place cut side down on grill. Allow to cook and soften for several minutes, or until grill marks develop. (It will start to smell like peach pie!) Flip over and grill unpeeled side for another minute. Remove to serving plate and drizzle with balsamic glaze. Top with crumbled bleu cheese and chopped toasted walnuts.
BALSAMIC GLAZE (Remember…these amounts are approximate since I don't measure!!)
In a saucepan, combine approximately 1 cup balsamic vinegar, 3 T. white sugar and 1 tsp (approx. 30 "grinds" of a pepper mill) fresh ground black pepper. Stir to combine and simmer until mixture is reduced and thickened. Stir in about 1 tablespoon of honey. Cool. Store any unused glaze in refrigerator.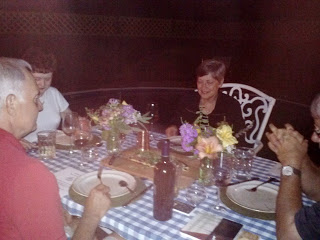 As you can see, I LOVE to cook, and I love to entertain. And the best part is…our guests arrived as strangers, and they left as our friends. Bon Appetit!