Whoever thought to create a Blueberry Rhubarb Cobbler? Whoever it was…she (he?) was a GENIUS. I found myself in need of that recipe when I made a trip to an Amish-owned grocery store in our area.
That store was offering a deal on blueberries I just couldn't pass up. They were selling a flat (12 pint boxes) of blueberries…for $5.50!
Now get this straight. Peepaw and I like blueberries. But there is no way in heck that we could eat 12 boxes of them! So I gave some away, and I froze a bunch too.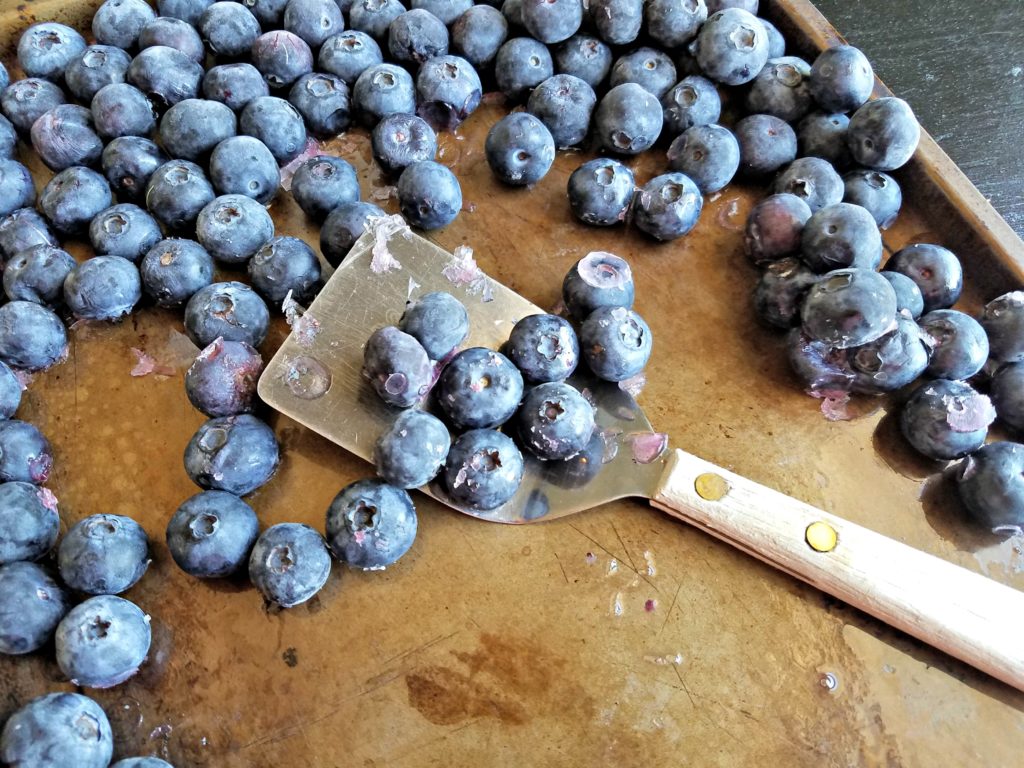 (Just wash the fruit and place in a single layer on cookie sheets and freeze. Then scoop the berries into freezer bags and freeze for later use.)
But even after giving some away and freezing several batches…I still had LOTS of those blueberries left on the counter. And I had some fresh rhubarb staring back at me from the crisper drawer in my refrigerator. And you know me, Dear Readers…I hate to waste anything! So I began to wonder if it would be possible to kill two birds with one stone and make a Blueberry Rhubarb Cobbler that would use up both fruits at once.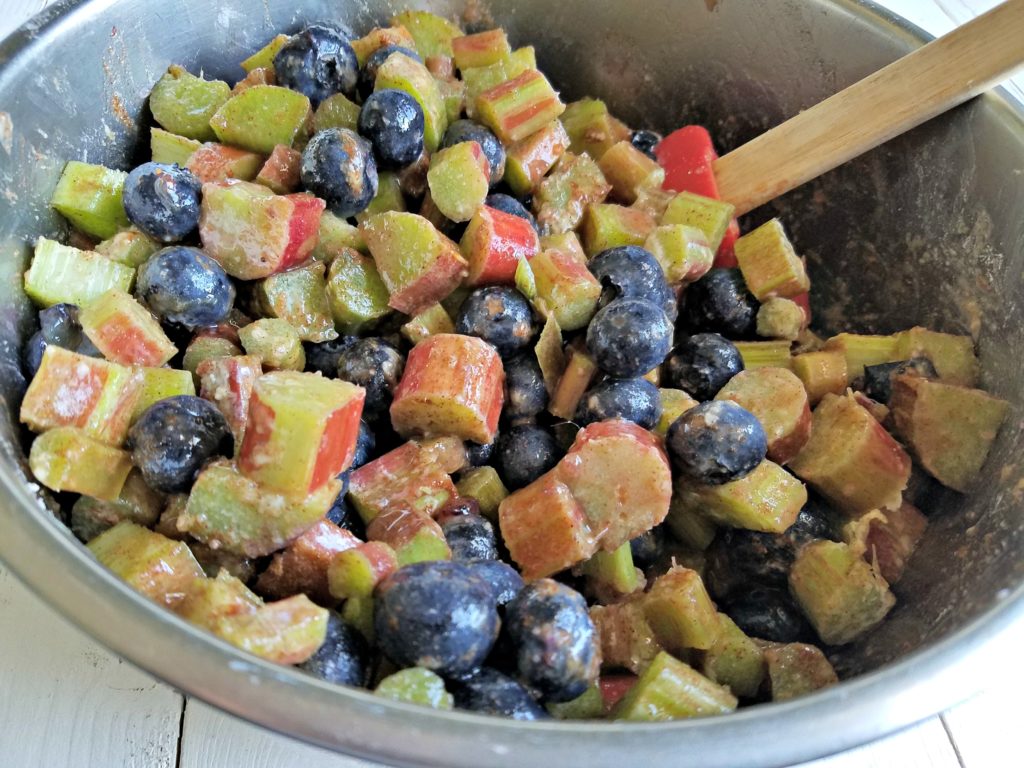 I jumped online and found an interesting recipe on a wonderful website called Lemon Tree Dwelling (Thanks Cathy-Great website!) where I found a recipe that sounded very promising. I made several adjustments to the ingredients based on what I had on hand…and here is my adaptation of that recipe.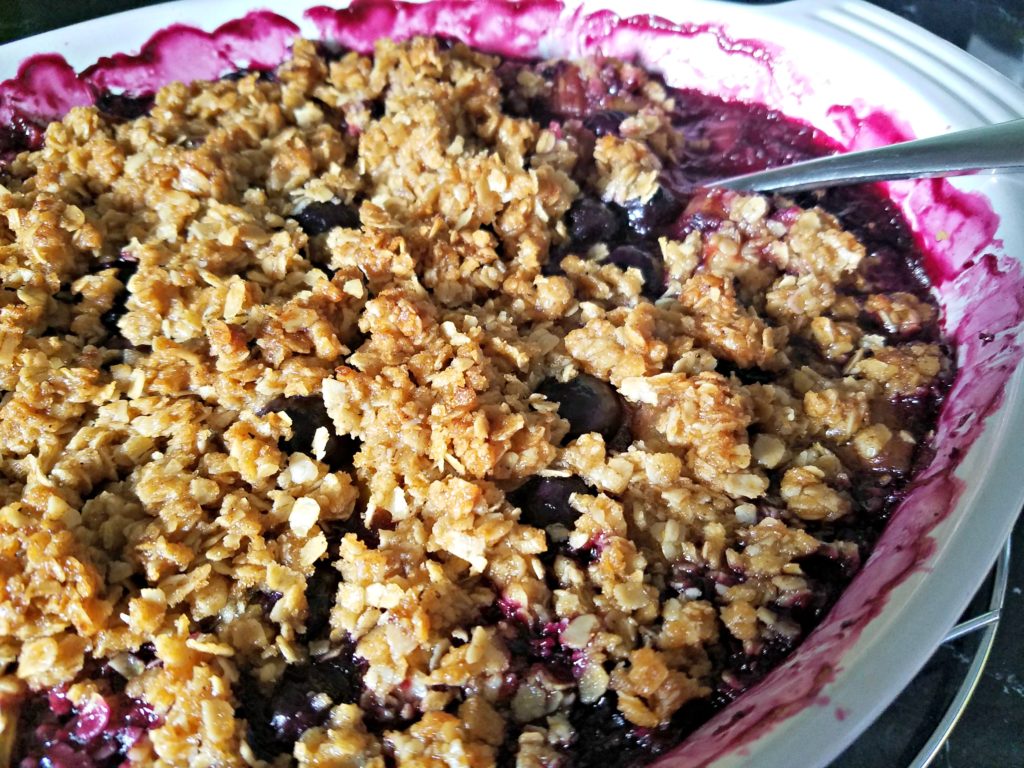 I knew this dessert was screaming for vanilla bean ice cream, so I headed to the store…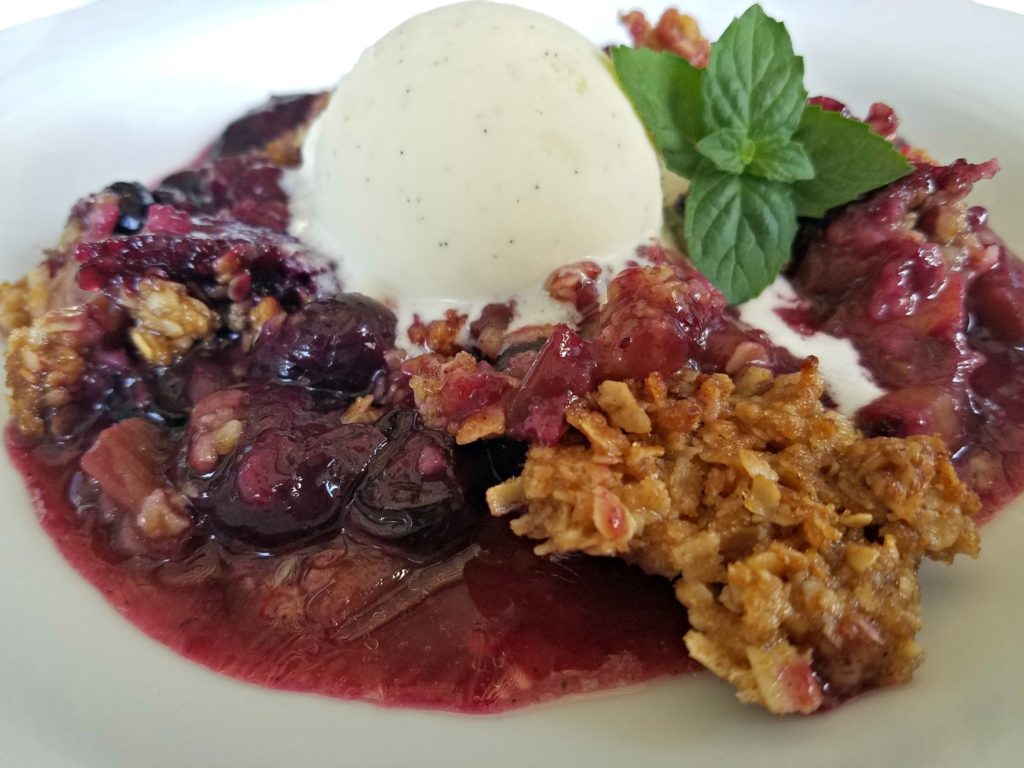 And I picked some fresh mint from my herb garden…(just to gild the lily)…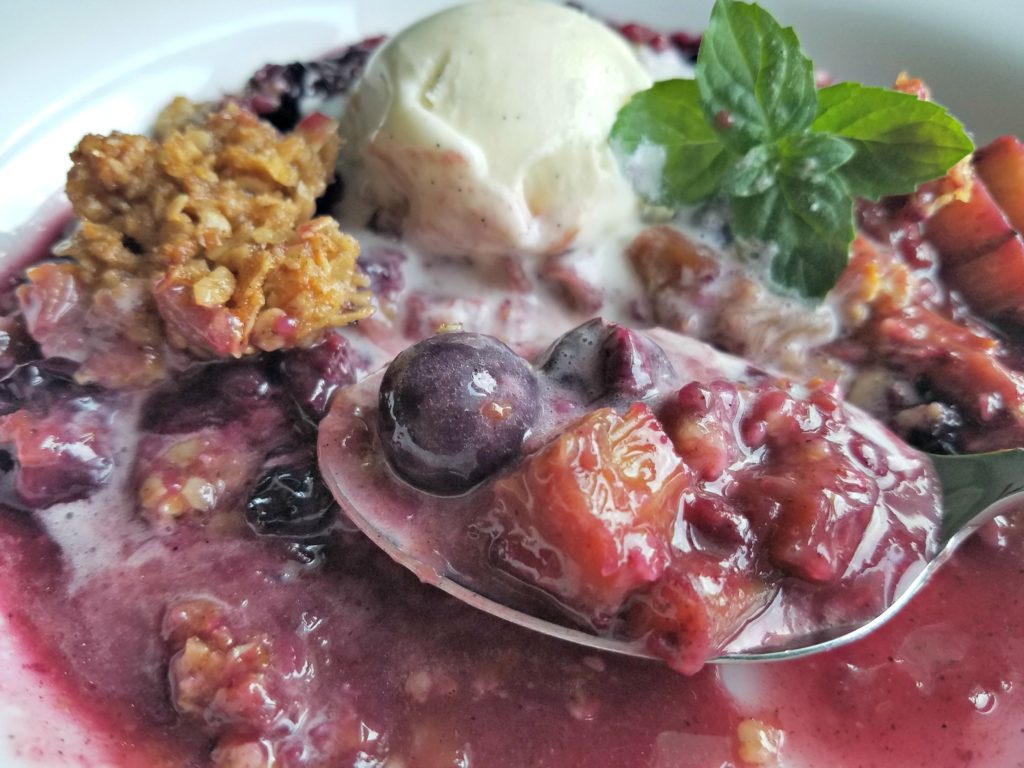 So, Dear Readers, if life gives you an abundance of fruit…make a cobbler! It's a simple and delicious way to waste not want not!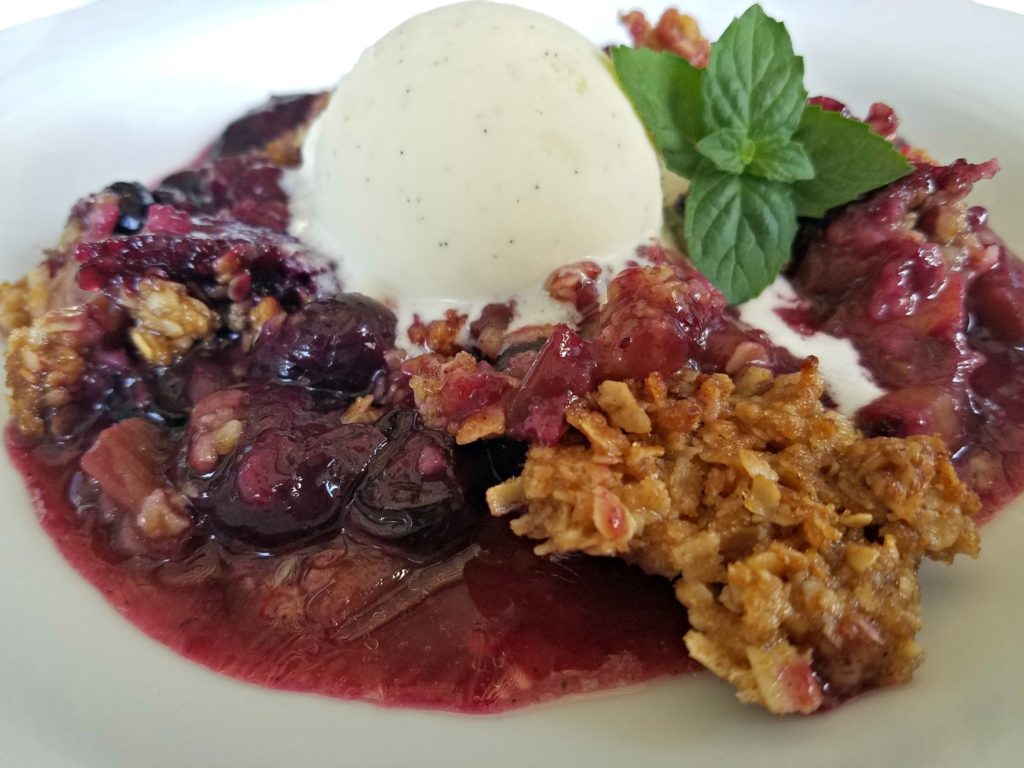 Blueberry Rhubarb Cobbler
2016-06-14 11:07:45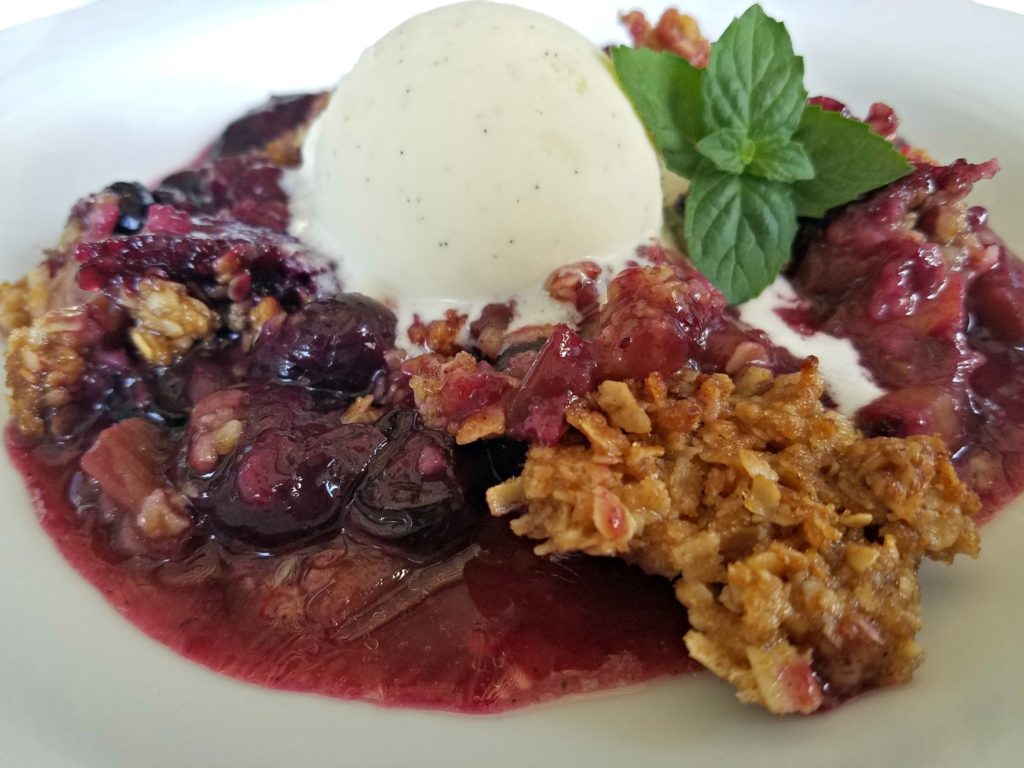 A delicious way to use up a bountiful harvest of berries and rhubarb!
FOR THE FILLING
4 to 5 c. diced rhubarb
2 to 3 c. fresh or frozen blueberries
3 Tbsp. flour
½ c. brown sugar
1 tsp. cinnamon
1/2 tsp. salt
2 Tbsp. water (I skip the water if berries are juicy)
FOR THE TOPPING
8 Tbsp. butter (softened)
8 Tbsp. flour
Heaping ½ c. brown sugar
1 c. quick-cooking rolled oats
1/2 tsp. cinnamon (opt)
Instructions
PREHEAT OVEN TO 350 DEGREES
For Filling
Combine fruit, 3 Tbsp. flour, heaping ½ c. brown sugar, cinnamon, salt and water in a deep 10 inch pie pan (any similar size oven-safe baking dish is fine).
For Topping
Combine softened butter, flour, heaping ½ c. brown sugar; stir in rolled oats and cinnamon (opt)
Sprinkle over fruit.
Bake at 350 degrees for 1 hour.
Notes
I bake this yummy dessert on a baking sheet lined with foil in case the cobbler bubbles over in the oven while baking.
Adapted from From the website Lemon Tree Dwelling
Adapted from From the website Lemon Tree Dwelling
Meemaw Eats http://www.meemaweats.com/