I've been making soup for more than 50 years.
In fact, here I am in high school…stirring a pot of chili for a fundraising event!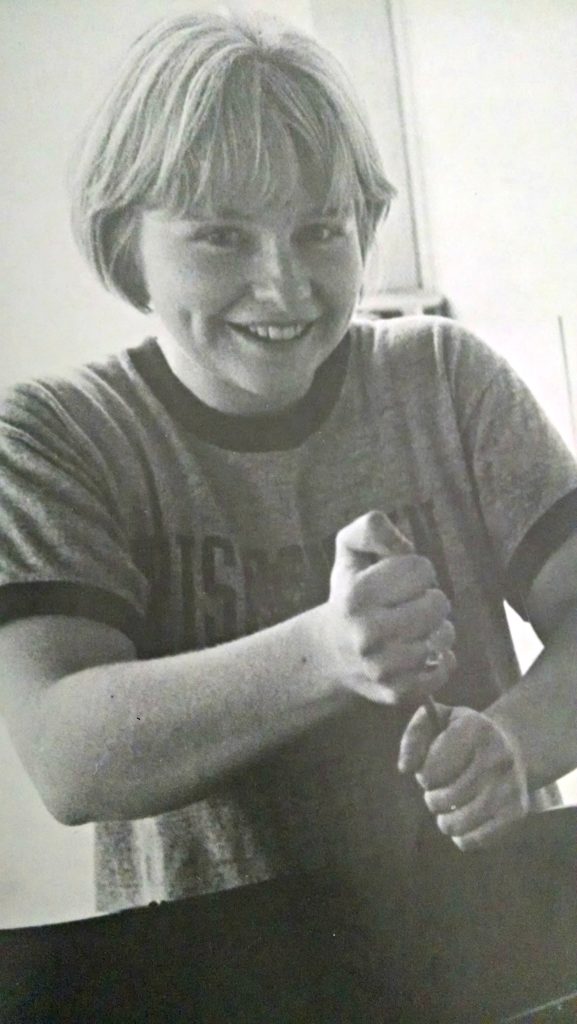 Many people have asked me "How do you go about creating all of your original soup recipes?" So today I will try to answer that question, and I'll also share the new recipe I created this week…made with Italian Sausage and loads of healthy veggies. (I'm running out of names for these one pot wonders!) So here goes. This is how I make a pot of soup, using what's in my refrigerator and and cupboards.
Here are the ingredients I chose for this new recipe…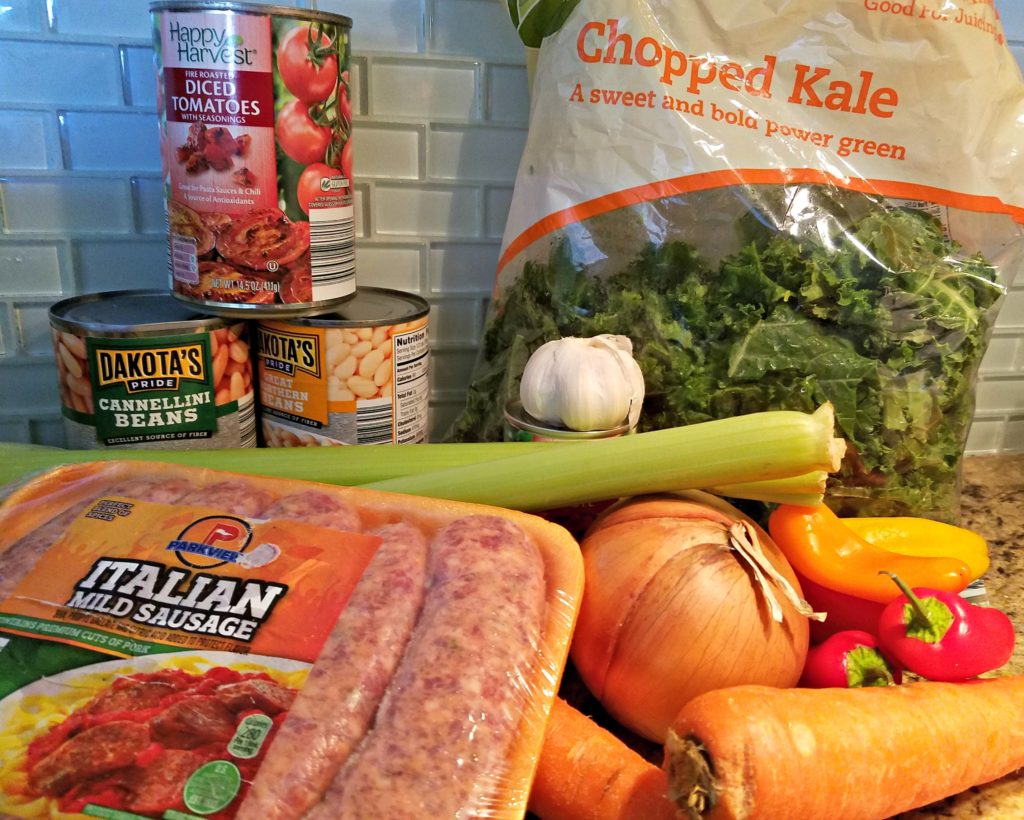 COOKING TIP: USE A HEAVY BOTTOMED POT. (I was excited to use my new Crofton Dutch Oven for this recipe.) A thick bottomed pot will help to keep your soup from sticking and burning as your veggies simmer. That's especially important if you're making a cream based soup.
You must first decide if you are adding any form of meat to your creation. If so, drizzle a little extra virgin olive oil into the pot and brown the meat first. (In this recipe I used Italian sausage.) Don't crowd the pan or the meat will steam instead of carmelize…and don't be afraid to let the meat get nice and brown. The brown bits that stick to the bottom of the pot are a really GOOD thing!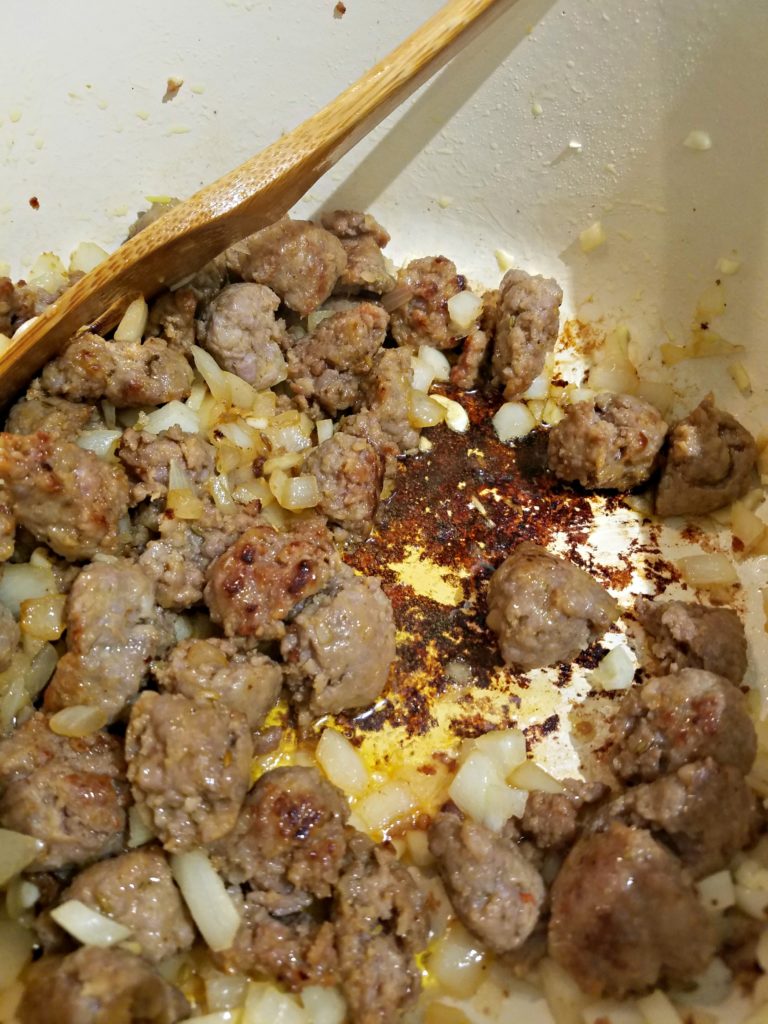 That brown stuff is called fond…and as soon as you add liquid to the pot, the brown bits will be released and will add a beautiful flavor and color to your soup. It's like magic!
See?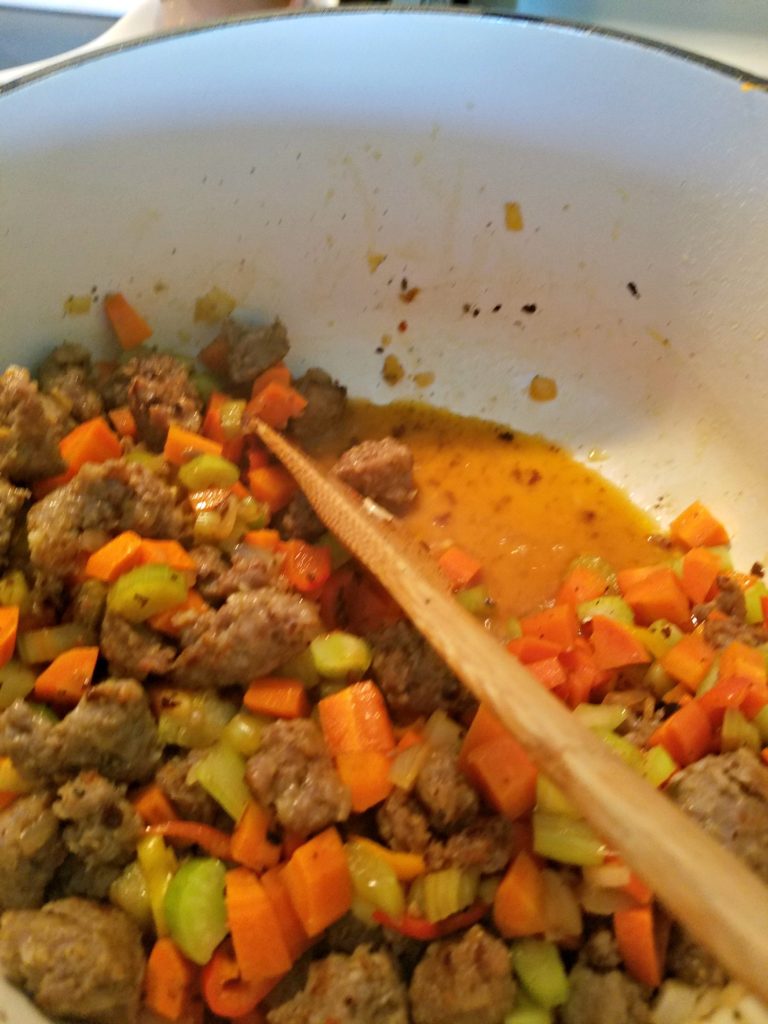 After the meat is browned (if using meat) you can begin to add your veggies. The layering of flavors can begin, since most soups start with the same basic ingredients. (Usually onions, garlic, carrots, celery…plus any others you like.) Add finely diced onion and saute for a minute to "sweat" the onion and perfume the oil. Then add some finely minced garlic and stir until it begins to cook.
COOKING TIP: NEVER BURN GARLIC…Watch it closely. If you burn it, start over! You can NOT remove the burnt taste from your finished dish.
Then ADD ALL STURDY VEGGIES you plan to use, but don't add fresh herbs or very delicate veggies that don't require much cooking (like mushrooms, spinach, kale, etc.) And don't add delicate FROZEN veggies (like peas) either until the last few minutes of cooking to keep them from turning to mush! (If I'm using frozen corn, I add that earlier in the cooking process since it is a "sturdy" veggie and it adds extra flavor to the soup as it cooks.)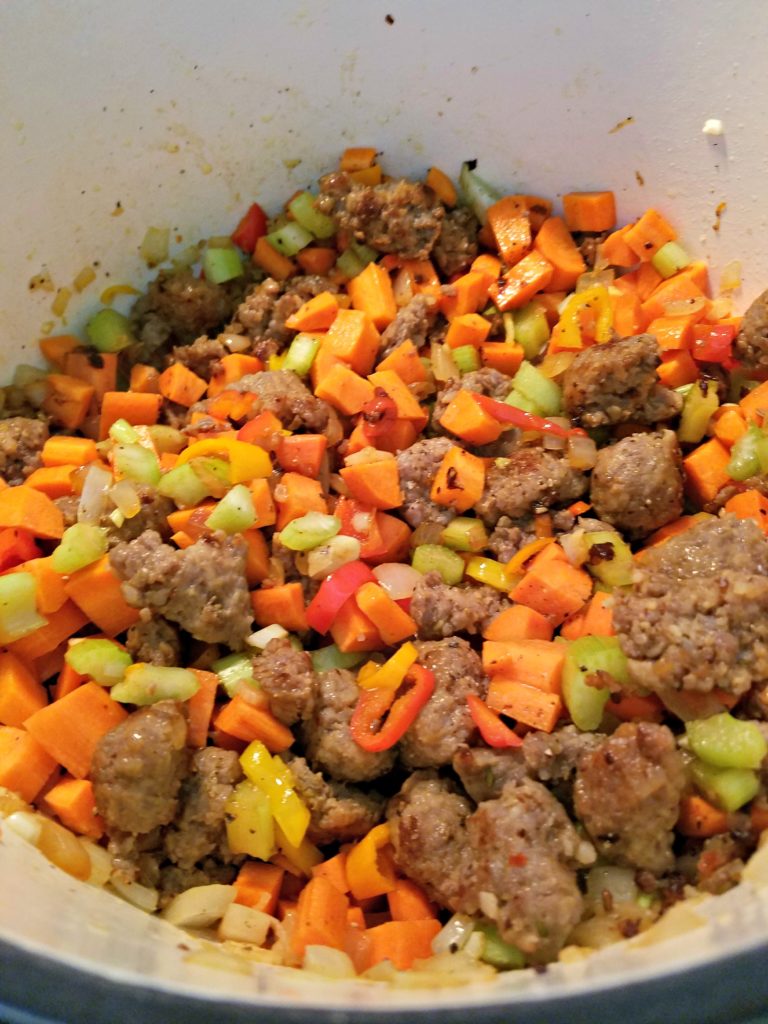 COOKING TIP: If using potatoes, use red potatoes (I like them scrubbed and unpeeled) in soup if you want the potatoes to hold their shape. Russet and white potatoes tend to "melt" into the soup. It's your choice…whichever style of soup you want…YOU are the chef! Be BRAVE! Do your OWN thing!! (And THIS soup has NO potatoes.)
Saute the diced veggies for several minutes. You can add dried herbs now too. It helps to "wake up" the flavors since the herbs have probably been sitting in your cupboard for longer than you would care to admit!
COOKING TIP: Dried herbs are SUPPOSED to be replaced EVERY YEAR. (I can hear your screams right now…I won't judge.)
I added a can of fire roasted diced tomatoes…and some tomato paste too.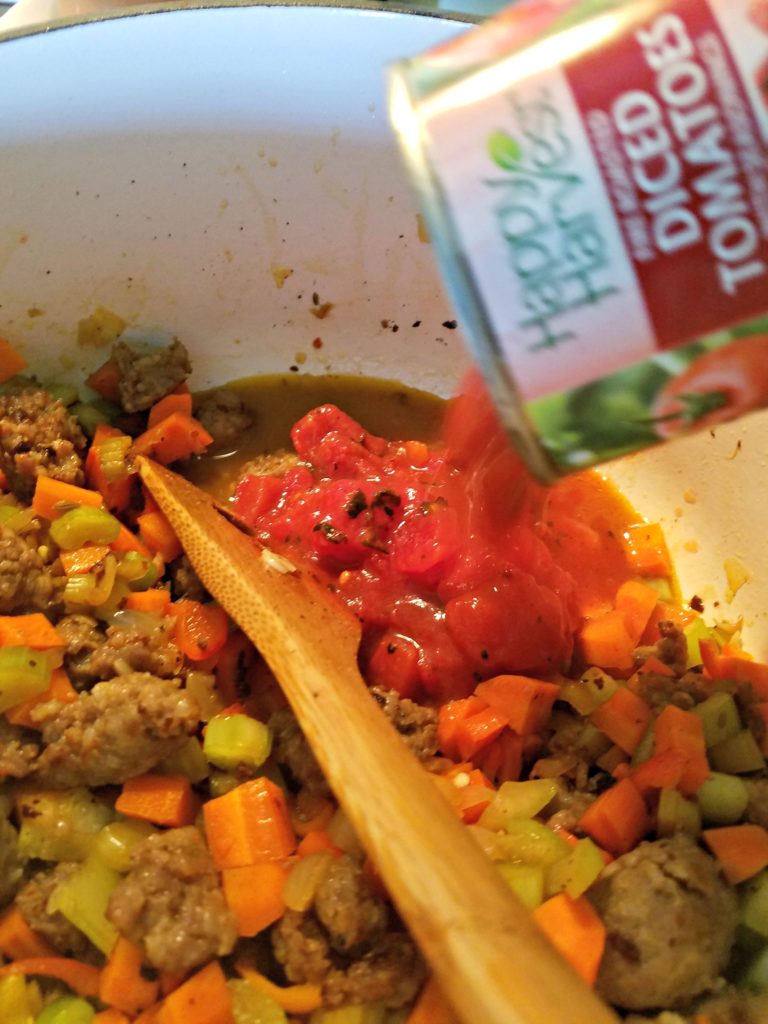 Then I stirred in some broth or stock. If you are making a CREAM based soup, only add enough broth to barely cover the veggies in the pot since this is the liquid your veggies will cook in. You will add lots of either milk or cream to your soup after the veggies are cooked. (That is what makes it a creamy soup.)
COOKING TIP: Don't allow cream based soups to boil! It can make the soup "curdle"…just bring it to a simmer, and keep it at that cooking temp to finish the soup. And if you add cream to tomato based soup it probably WILL curdle. You may be able to prevent this by adding a "glob" of butter before adding the cream to tomato soup…The extra fat molecules can sometimes prevent separation. It may also help to blend soup with an immersion blender after adding cream. (I love creamy tomato basil soup so I know this is an issue!) And if your soup DOES curdle…NO WORRIES! It will still taste delicious! (The flavor and quality of your soup will NOT be affected.)
If you are making a broth based soup, add as much broth as you'd like, based on how many veggies you have used, or how many MORE veggies you will be adding as the soup cooks. (For this recipe I used the whole container, and I also added a little water too.)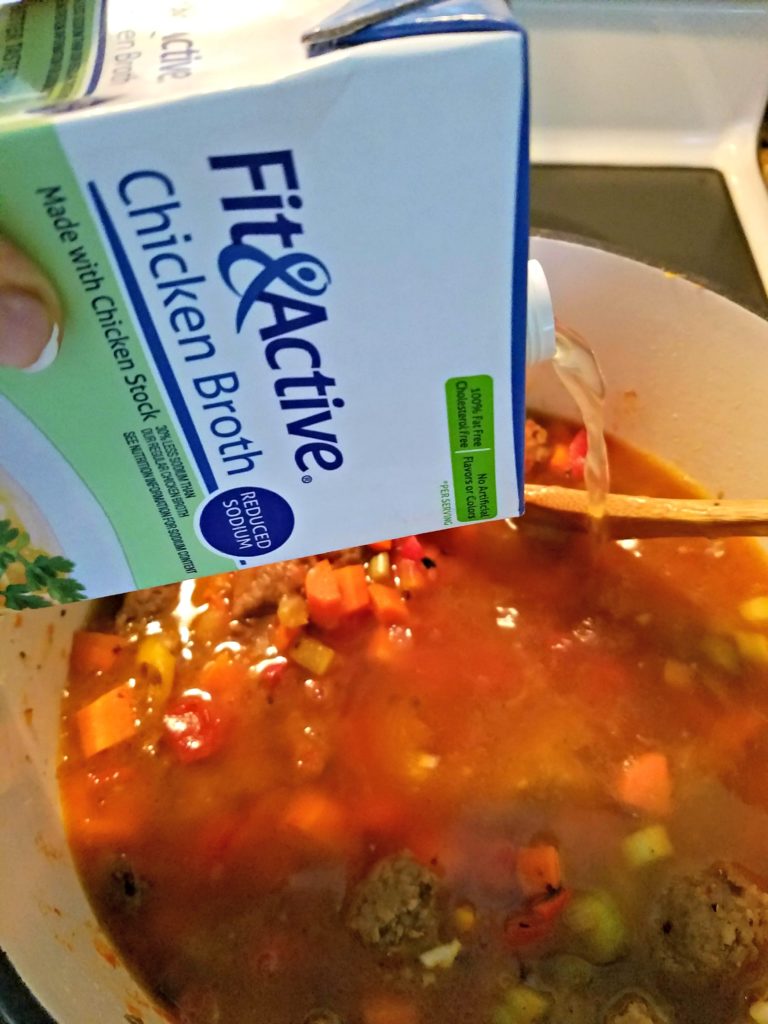 COOKING TIP: Remember when adding fresh greens (like spinach or kale) be sure to add LOTS MORE than you think you should, since these veggies wilt down to almost nothing as they cook! And don't add them too early in the cooking process…especially spinach. (I usually add them when I'm adding the diced mushrooms…if I'm using mushrooms.) In this soup I added LOTS of chopped kale…and I added it after the other sturdy veggies were cooked through.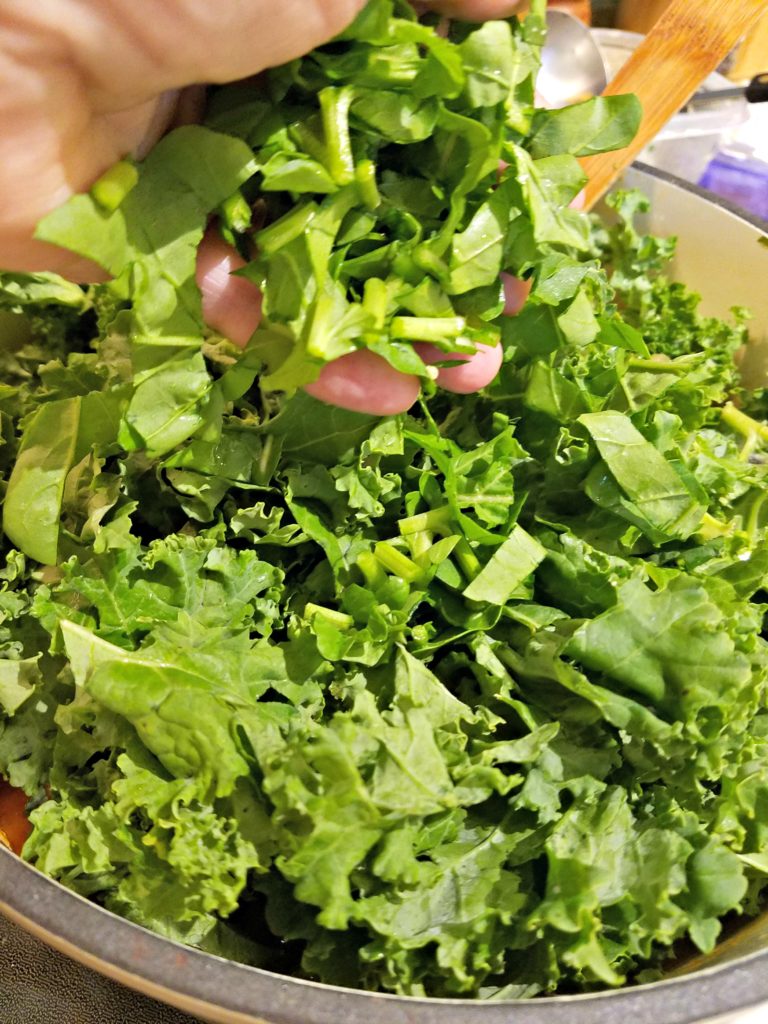 I also added some home grown arugula from my herb bed…
COOKING TIP: Add pasta or rice or noodles to soups right before serving. Just add them to the cooking soup only for as long as it takes to cook through! (You don't want overcooked pasta, etc. in your soup.) Another way to ensure success is to cook the pasta, rice or noodles in broth in a SEPARATE pot until barely cooked, and then plunge into an ice bath to stop the cooking process. Then drain well and spoon the perfectly cooked rice, noodles or pasta into your soup bowl and top with the hot soup when ready to serve. That will guarantee that the texture will be just right!
I like to add a sprinkle of Parmesan cheese to the soup as it cooks. And I let it "cook" on the surface before stirring it in. (If you try to stir it too soon, all the cheese will stick to your spoon!)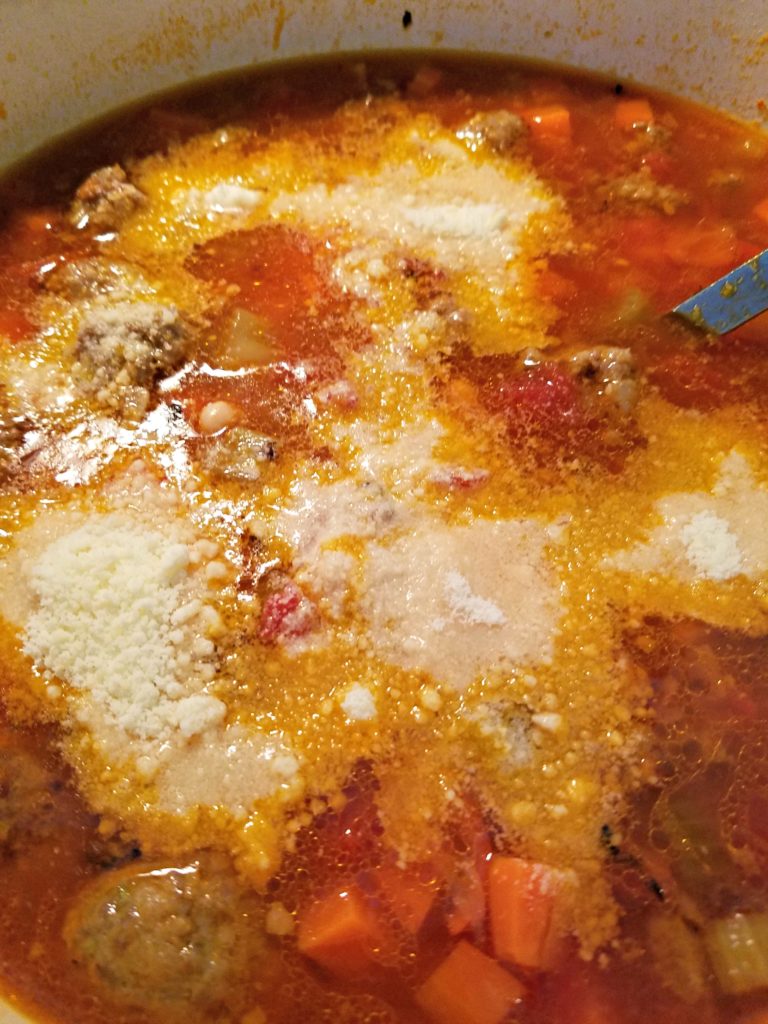 COOKING TIP: Always DRAIN AND RINSE CANNED BEANS (except Chili Beans) BEFORE ADDING TO SOUPS. Canned beans are packed in a slimey liquid that does NOT add anything good to your recipes…and the liquid is loaded with extra salt! And wait to add those rinsed canned beans (except chili beans) toward the end of cooking time to keep beans from getting mushy.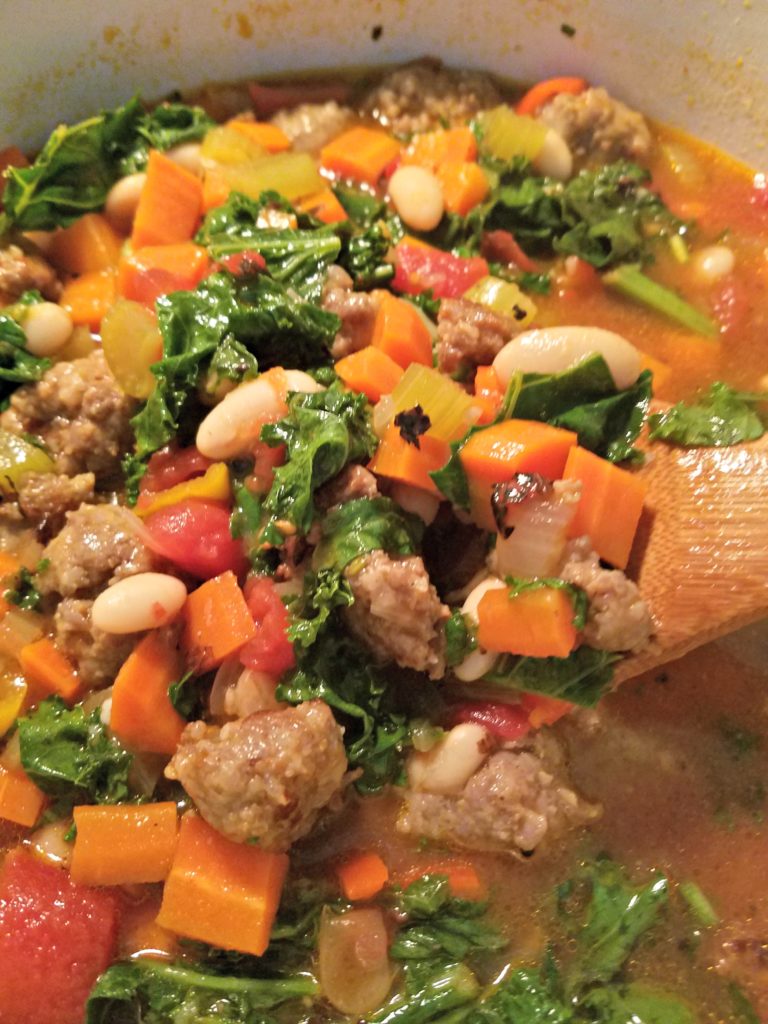 Sometimes I add some bullion cubes along with boxed or canned stock to add even more flavor…but if you do…then HOLD THE SALT! (Those cubes are LOADED with sodium!)
COOKING TIP: If you do "mess up" and add too much salt…peel a whole potato and throw it into your simmering pot. Remove and discard that potato when your soup is ready to eat. (The potato will absorb some of the extra salt.)
COOKING TIP: Some of your fresh herbs can be added early in the cooking process to add flavor, but add more of the fresh herbs right before serving to maintain their bright green color and flavor. Dried herbs can be added early in cooking, and be sure to remove the bay leaf from the pot BEFORE serving.
If your soup is not thick enough, you can always dissolve corn starch or flour in a small amount of water or broth and quickly stir into the pot. (Start with 1-2 tablespoons in about a half cup of COLD liquid and WHISK WELL before adding to the simmering pot.)
COOKING TIP: If adding corn starch or flour, be sure to LET THE SOUP COME TO A BOIL AFTER ADDING. You will never know how thick the mixture will be until it comes to a boil! Then, if too thick, just add more water or broth or milk to bring it to the thickness you want. This is YOUR time to experiment.
So…here is my finished soup. And I served it with my own recipe for Garlic Herb Bread which you can find right HERE. (You won't be disappointed.)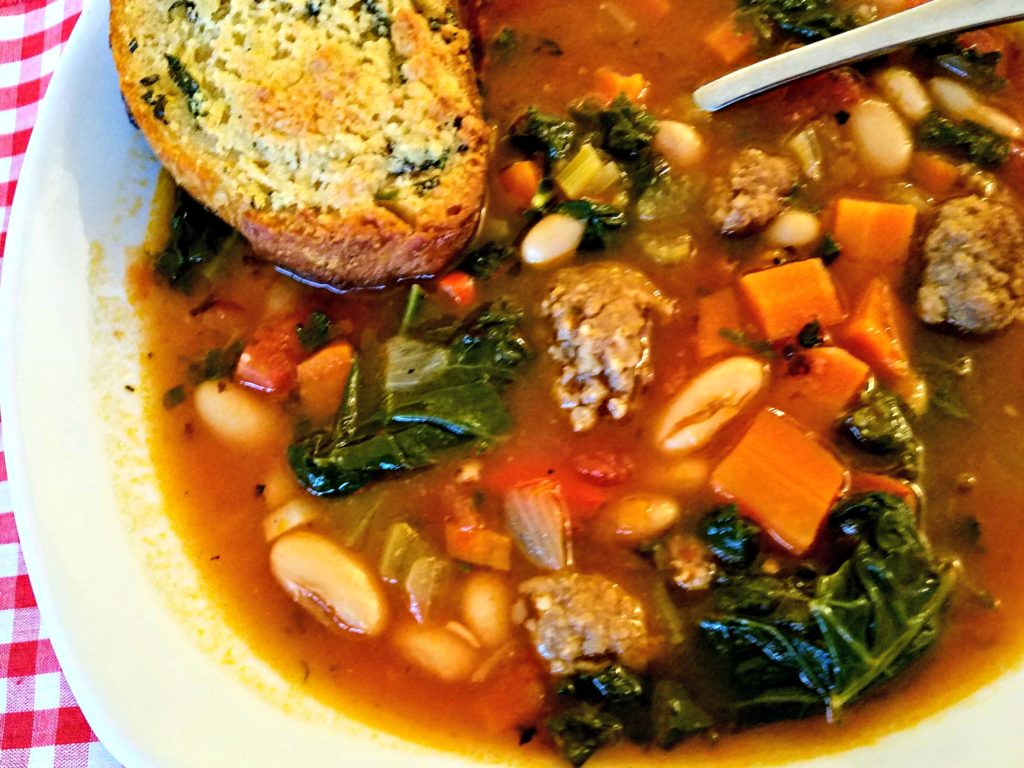 There is nothing like breaking off chunks of that warm bread to dip in the delicious broth…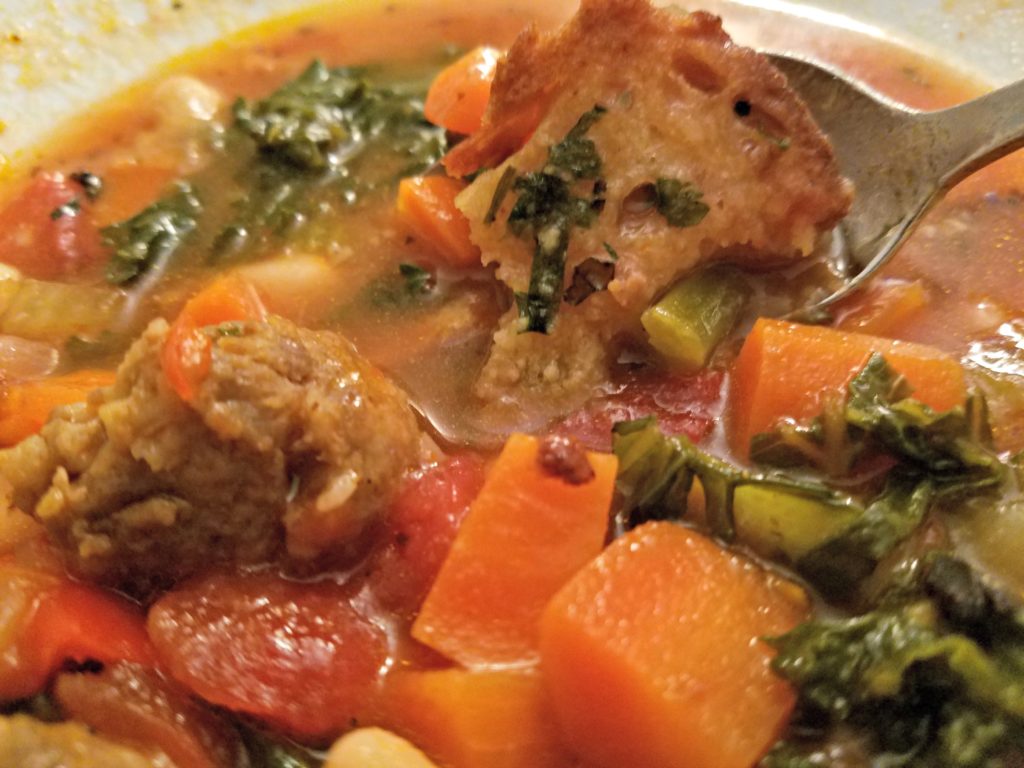 So I hope my fifty years of cooking tips help you. And most importantly I say cook with the ingredients YOU love. Invent your own soup recipes…and then share them with me! And send me your questions or comments. My goal is to help ALL of you become "The Jedi Masters of your own Soup Kitchens".
Bon Appetit!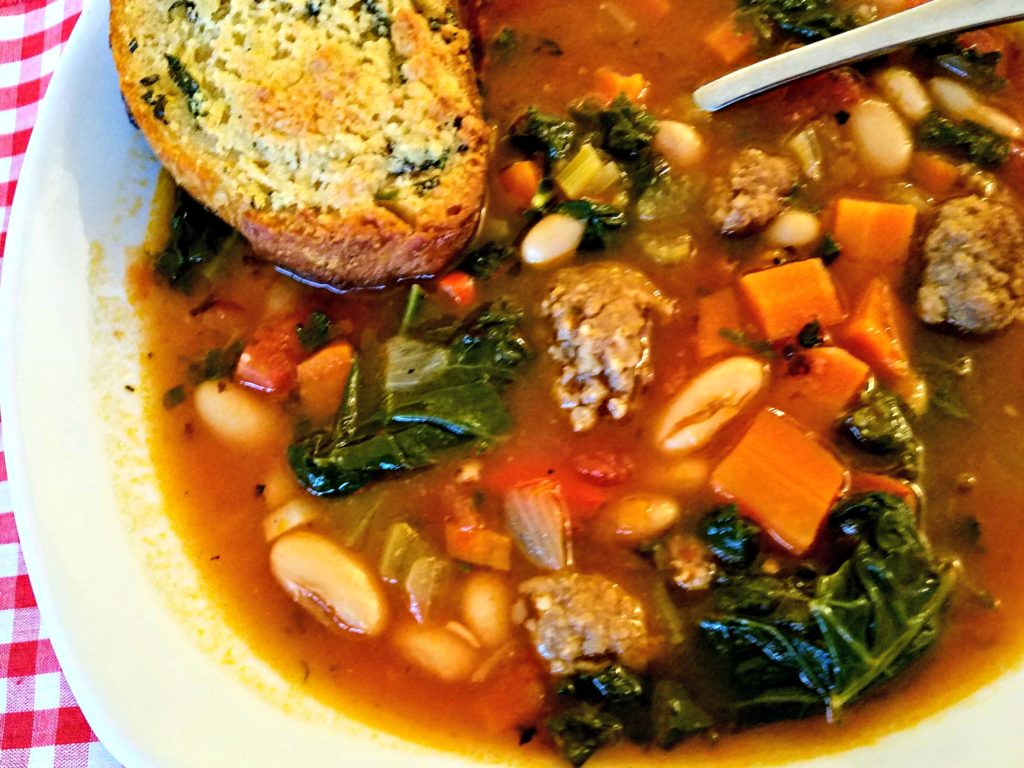 Meemaw's Italian Sausage, Kale and Veggie Soup
2017-01-26 13:49:51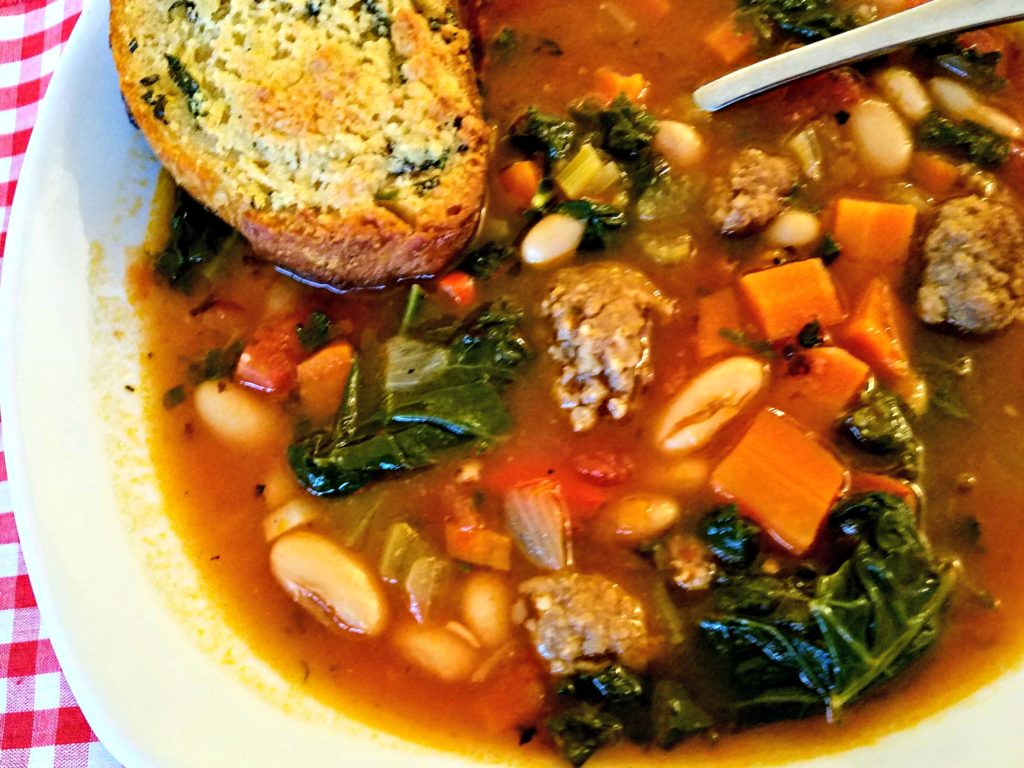 Ingredients
2 Tblsp. extra virgin olive oil
1 pkg. mild Italian sausage (removed from the casings)
1 large onion, diced
4-6 cloved garlic, minced
5 carrots, peeled and diced
2-3 ribs celery, diced
1 14 oz. can diced tomatoes (I used fire roasted)
2 cans white beans, drained and rinsed
6-8 small sweet peppers, seeds removed, diced
1 quart chicken broth
2 oz. tomato paste
1/2 bag chopped kale
1 handful arugula, diced (optional)
1/2 C. grated Parmesan cheese
Instructions
Drizzle olive oil into a heavy bottomed pot and heat.
Remove Italian sausage from casing and break up into the hot oil.
Brown the meat well.
Add the diced onion and garlic and stir for several minutes.
Add the diced celery, peppers, and carrots.
Add the canned tomatoes.
Add the tomato paste.
Add the chicken broth.
Stir in the kale and arugula.
Stir well and simmer for at least 20-30 minutes.
Sprinkle with grated Parmesan cheese and cook at least five minutes before stirring.
Stir well to combine....and serve!
Notes
Serve with my baked Parmesan topped garlic bread slices that have been slathered with my compound herb butter. (Or just open a package of crackers.) Either way you'll love it!
Meemaw Eats http://www.meemaweats.com/